(SPOT.ph) Twenty two years after the first Mission Impossible, a preternaturally ageless Tom Cruise returns as Ethan Hunt in Mission: Impossible—Fallout, the sixth installment of the franchise. One might think that at 56, he would look more like his Tropic Thunder cameo but Cruise is in top form, performing his own practical stunts and even breaking his ankle in pursuit of summer blockbuster dominance.
Written and directed by frequent Cruise collaborator Christopher McQuarrie, who helmed 2015's Mission: Impossible—Rogue Nation, Fallout is the first M.I. film to be helmed by the same director. McQuarrie, whose writing credits include Academy award-winning The Usual Suspects, took the Impossible Missions Force in a bold new direction in Rogue Nation and with Fallout closes the chapter on old characters, namely Ethan's wife, Julia Meade (Michelle Monaghan).
Julia was introduced in JJ Abrams' Mission: Impossible III, giving Ethan Hunt a weak spot that was exploited to terrifying effect by the late, great Philip Seymour Hoffman's Owen Davian. Subsequent films featured Julia post-Ethan, but it hindered the story somewhat to keep revisiting their strained, look-but-no-touch relationship, especially after the introduction of disavowed MI6 agent Ilsa Faust (Rebecca Ferguson) in Rogue Nation, with whom Hunt had an instant connection.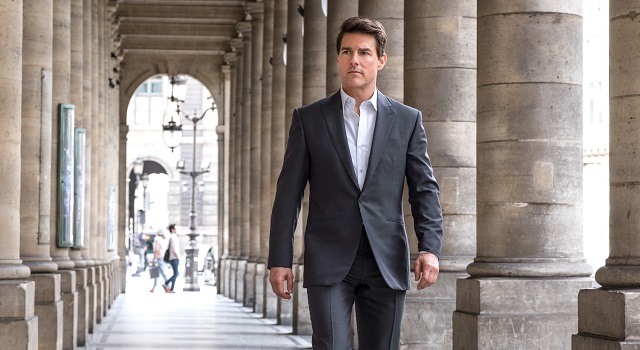 ADVERTISEMENT - CONTINUE READING BELOW
McQuarrie imparts an immense sentimentality to the characters, particularly Ethan, that bends credulity a little more than the high-speed car chases and helicopter somersaults. Hunt is a moralistic do-gooder who can't stand to see a single innocent harmed—a point driven at several junctions in the film, including an imagined scenario that plays out in Ethan's head. If that isn't clear enough, Alec Baldwin as Impossible Missions Force (IMF) chief Alan Hunley also spells it out for you. As incongruent as that may sound when used to describe a hardened secret agent, it's also a welcome character quirk in this day and age where lives lost are reduced to meaningless statistics.
It's this refusal to let innocents die that leads to the predicament in Fallout. Hunt and his team lose three plutonium cores and their mission—which fortunately for viewers, they've chosen to accept—is to retrieve them by any means necessary. Any means except that which costs innocent lives, of course.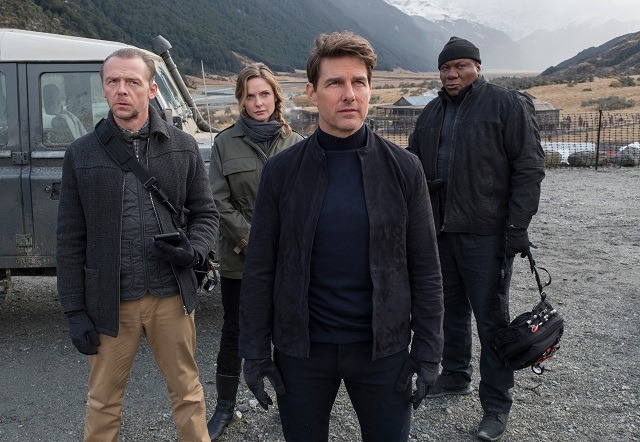 ADVERTISEMENT - CONTINUE READING BELOW
Recommended Videos
Luther Stickell (Ving Rhames) and Benji Dunn (Simon Pegg), who've been with the franchise since the first and third films, respectively, accompany Ethan in his country-hopping escapade. CIA operative August Walker (Henry Cavill) is called in to babysit their mission, which starts off with Hunt and Walker doing a HALO jump over Paris during a thunderstorm. Cavill is a hulking, lumbering mass of a man who dwarfs an already modestly sized Cruise, and their pairing has the promise of a buddy-cop adventure that sadly peaks in a restroom brawl.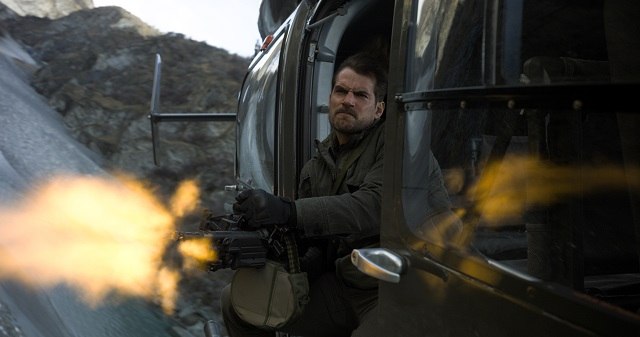 The main antagonist from Rogue Nation, Solomon Lane (Sean Harris) returns and is still up to no good despite being bound in captivity for almost the entire film. Another mysterious baddie named John Lark is working with Lane and is behind the plot to set off nuclear bombs. "There cannot be peace without first a great suffering. The greater the suffering, the greater the peace," Lark writes in his manifesto, and it's the kind of lame ideological drivel you'd expect from paper-thin villains to justify their genocide.
ADVERTISEMENT - CONTINUE READING BELOW
It's the kind of villainy that's right up Hunt's alley to stop, and there's no shortage of derring-do in the process. From driving clockwise against the flow of traffic around the Arc de Triomphe, to running on rooftops (and breaking ankles) in London, to dogfighting commercial helicopters above the snow-capped mountains of Kashmir, Mission Impossible: Fallout doesn't let up on the action. In fact, there's so much high intensity running around—literally and figuratively—it can get a little exhausting.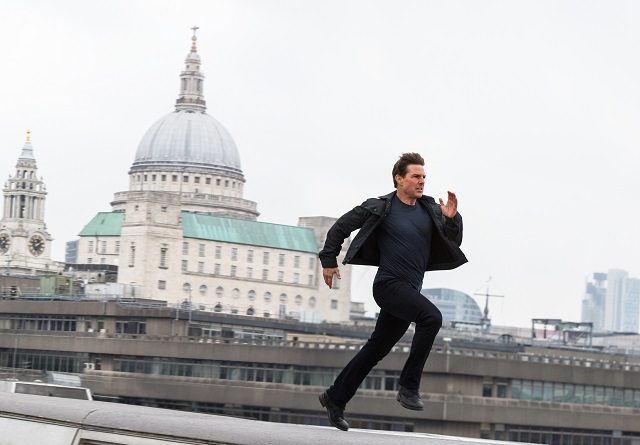 The trouble with action film franchises is that they feel obligated to keep topping previous chapters with more bombastic and outrageous sequences than previous installments, and in this regard, Fallout delivers. Brad Bird raised the bar with the made-for-IMAX vertigo-inducing skyscraper scene in Dubai, but McQuarrie managed to at least equal that by putting Cruise outside a plane. He does it again with the downright ridiculous helicopter chase scene and for good measure, he even includes every Mission Impossible trademark from the masks to last second saves.
ADVERTISEMENT - CONTINUE READING BELOW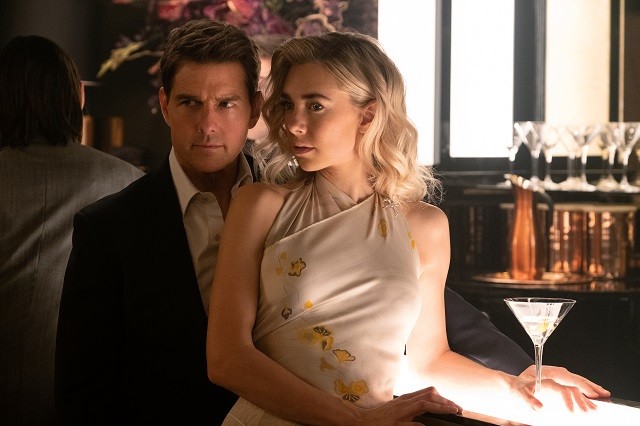 As adrenaline-inducing as the action sequences are, the best parts of the film are when it slows down and explores the relationships of the players. Fallout introduces one of the more interesting characters in the series with Vanessa Kirby's White Widow, who happens to be the daughter of Vanessa Redgrave's arms-dealer character Max from the first film. It's a beautiful nod to continuity, something Fallout makes an effort to thread more than the other films in the franchise. Kirby plays the Widow with a breathless sensuality and subdued excitement that it's a shame she doesn't get to do more.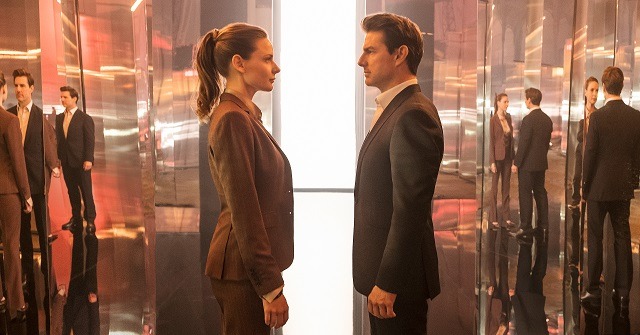 ADVERTISEMENT - CONTINUE READING BELOW
There's more than a hint of predictability to Mission Impossible: Fallout, and it won't surprise anyone when Lark's identity is revealed. It's extremely obvious and actually a little unbelievable, because Lark's actual identity never exhibits enough intelligence to credibly mastermind even the simplest heists. Hunt and his crew are also probably the sloppiest secret agents in history, creating havoc with their car and foot chases all the while exposing their faces for the entire social media-savvy world to see. It's simply astounding how careless they are. It's fun, it's exciting, but it's also extremely dumb.
That said, Mission: Impossible—Fallout is an exhilarating ride that delivers all the requisite thrills of an action film. It rushes through the action at a breakneck pace and never lets up, aided by some of the best sound design in an action film. The car chases in the streets and tunnels of Paris, in particular, stand out with its amazing sound.
Fallout gives a satisfying coda to Julia and Ethan, opening up the door for Ilsa, who appears poised to take a place in the series the way Luther and Benji have. We say goodbye to some characters and get introduced to new ones, all the while following the adventures of an incredibly fit but not-getting-any-younger Ethan Hunt. Until the time comes when a younger actor can play Ethan Hunt with a 3D-printed latex mask Mission Impossible-style, audiences should consider themselves lucky to watch one of the last truly great action stars of our time.
ADVERTISEMENT - CONTINUE READING BELOW
RATING: 4 out of 5 spots
Mission: Impossible—Fallout premieres on July 25.
Photos courtesy of Paramount Pictures
Share this story with your friends!
---
Help us make Spot.ph better!
Take the short survey
Load More Stories