10 Dramatic Movie Scenes in the Rain to Go With This Weather
Bring on the waterworks.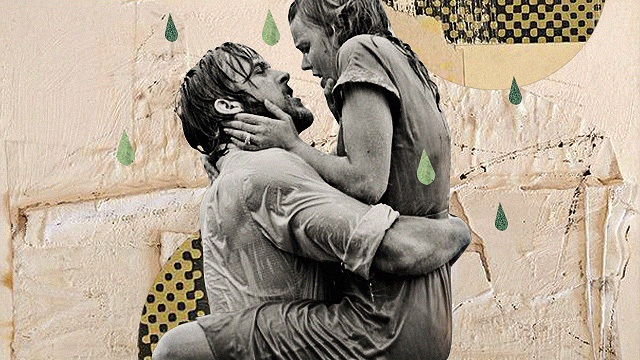 (SPOT.ph) The rain has long been a classic trope in film, which is typically used to signify a strong surge of emotions in the characters. After all, nothing else really drives home the point of one's inner turbulence than seeing them bare their souls while fully drenched. Given the recent sudden downpours we've been experiencing lately, why not take the time to indulge in some drama? Check out our roundup of the 10 feelsy, over-the-top rain-soaked film scenes that are sure to trigger the waterworks.
Noah and Allie kiss in The Notebook (2004)
Directed by: Nick Cassavetes
Ex-lovers Allie (Rachel McAdams) and Noah (Ryan Gosling) are enjoying a blissful canoe ride in a lake while a strong storm occurs out of nowhere and drenches them both. After realizing that they both still have feelings for each other, the two reignite their romance with a kiss so passionate that it won MTV's Movie Award for Best Kiss in 2005.
ADVERTISEMENT - CONTINUE READING BELOW
Dufresne escapes in The Shawshank Redemption (1994)
Directed by: Frank Darabont
Wrongfully convicted inmate Andy Dufresne (Tim Robbins) suffers through decades in prison for a crime he didn't commit. That is, until he executes an elaborate escape plan to get out. Dufresne sneaks out through a hole in his cell wall and climbs through sewer pipes, until he triumphantly stumbles into the welcoming embrace of the rain, relishing the sweet taste of freedom.
Holly looks for Cat in Breakfast at Tiffany's (1961)
Directed by: Blake Edwards
At the end of this classic, free-wheeling party girl Holly Golightly (Audrey Hepburn) is forced to confront her sense of identity as she risks losing two of the loves of her life: Writer Paul Varjak (George Peppard), and her pet cat named...Cat. What ensues is Holly's mad dash into the wet, grimy streets of Manhattan in pursuit of Cat, which ends in the lovers reconciling and Holly achieving a semblance of inner peace.
Carrie and Charles confess their love in Four Weddings and a Funeral (1994)
Directed by: Mike Newell
There are few moments more heartwarming than two people realizing they're meant for each other. This is exactly what happens as Carrie (Andie MacDowell) shows up at the doorstep of Charles (Hugh Grant) to confess how she really feels about him. The two share a tender moment as a sudden downpour punctuates their love-soaked euphoric moment.
Chuck and Kelly reunite in Cast Away (2000)
Directed by: Robert Zemeckis
After believing her fiancé Chuck (Tom Hanks) has passed away in a plane crash, Kelly (Helen Hunt) attempts to move on, gets married, and gives birth to a daughter. But when Chuck reappears out of the blue, Helen wastes no time as she runs into the rain and reunites with the man she loves. Sadly, the two make the decision to part ways, as Helen now has her own family.
CONTINUE READING BELOW
Recommended Videos
Mr. Darcy proposes in Pride and Prejudice (2005)
Directed by: Joe Wright
After barely tolerating each other for months, the haughty Mr. Darcy (Matthew MacFadyen) shocks Lizzie Bennet (Keira Knightley) by proposing to her out of the blue. As they huddle under a garden gazebo amidst the stormy skies, the tension between the two reaches the boiling point as Lizzie accuses him of cruelty and indifference—a classic case of a marriage proposal gone wrong.
Francesca parts with Robert from Bridges of Madison County (1995)
Directed by: Clint Eastwood
Life often forces us to make difficult (and sometimes heartbreaking choices). Such is the case when Francesca (Meryl Streep) chooses to follow her head over her heart and severs ties with her lover, the traveling photographer Robert (Clint Eastwood). With the sounds of the downpour in the background, Francesca grapples with the temptation to elope with Robert, but with much longing ultimately chooses to stay with her family.
Michael passes away in Click (2006)
Directed by: Frank Coraci
A mysterious remote that allows one to control the passage of time has Michael (Adam Sandler) preoccupied, causing him to neglect his wife and children. Now on his deathbed, he struggles to make up for lost time. Michael pushes himself to get up and rush into the downpour to tell his children, one last time, that family should always come first.
Peter rescues Mary Jane in Spider-Man (2002)
Directed by: Sam Raimi
Who knew that a scene from a superhero blockbuster could be so romantic? When he sees his high-school crush Mary Jane (Kirsten Dunst) being threatened by a group of criminals, Peter (Tobey Maguire) wastes no time in saving her. To thank him, Mary Jane kisses her savior in a unforgettable upside-down smooch.
ADVERTISEMENT - CONTINUE READING BELOW
Don falls in love in Singin' in the Rain (1952)
Directed by: Gene Kelly, Stanley Donen
Because really, what is a roundup of rain-soaked scenes without this unforgettable gem? After movie star Don (Gene Kelly) and the ingenue Kathy (Debbie Reynolds) finally confess their feelings for each other, Don walks into the rain with a huge smile plastered on his face and a heart drenched in love. What follows is a tap-dancing sequence complete with puddle-splashing and umbrella choreography that many consider to be one of the most joyous expressions of love captured on film.
Share this story with your friends!
---
Help us make Spot.ph better!
Take the short survey
Load More Stories