10 New Songs Perfect for Long Drives
Whether stuck in city traffic or out on a road trip, Drake, IV of Spades, UNIQUE, and more can keep you company.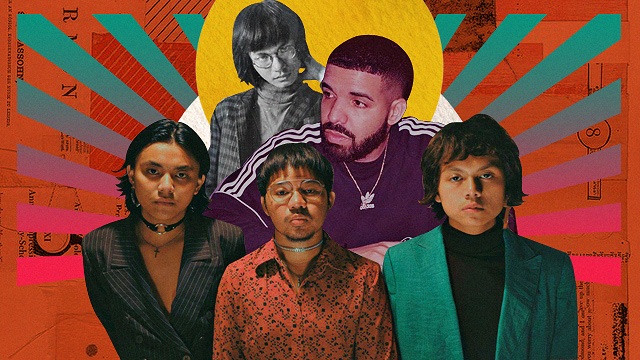 (SPOT.ph) Don't let the hours you spend stuck in Manila traffic induce road rage—have a carefully curated playlist ready to soothe those nerves. Similarly, if you're off on a road trip to escape the city, let our music suggestions keep you feeling fine and dandy. For something chill, check out Drake's hit single, HONNE's collaboration with Anna of the North, and King Princess' heavenly track. David Guetta, Anne-Marie, Sigala, and The Vamps offer something more upbeat, if that's what you fancy. Looking for local? Have a listen to the newest from IV of Spades, UNIQUE, Ben&Ben, Ang Bandang Shirley, and I Belong to the Zoo.
Song: "In My Feelings"
Artist: Drake
Drake's newest smash hit has sparked a viral dance challenge and given birth to countless precious memes. The catchy track, with its irresistible bounce beats and soft croons, has easily been dubbed the best track in Drake's newest album. "In My Feelings" is the rapper's third number-one hit this year, making it a must-have in your driving or commute playlist.
Fun fact: The viral ditty is off Drake's massive fifth studio album, Scorpion, which contains 25 tracks.
ADVERTISEMENT - CONTINUE READING BELOW
Song: "In My Prison"
Artist: IV of Spades
Life goes on for the remaining members of IV of Spades and their fans after lead singer Unique Salonga announced his departure in May. The trio—made up of bassist Zild Benitez, guitarist Blaster Silonga, and drummer Badjao de Castro—recently released a new single with a haunting music video to boot. "In My Prison" shows Benitez take the lead vocals. He, along with Silonga and de Castro, continue rocking the band's funk and disco influences while also mixing in some darker elements in their song.
Fun fact: The same picture frame featured in their "Hey Barbara" music video can be seen in the "In My Prison" music video.
CONTINUE READING BELOW
Recommended Videos
Song: "Feels So Good"
Artists: HONNE feat. Anna of the North
HONNE teamed up with Norwegian singer-songwriter Anna of the North to produce this satisfyingly feel-good track. True to its title, the collaboration feels oh-so-good to listen to, thanks to the soulful vocals and sleek R&B-electro sound.
Fun fact: HONNE is an English electronic music duo consisting of James Hatch and Andy Clutterbuck.
Song: "Midnight Sky"
Artist: UNIQUE
Former IV of Spades vocalist Unique Salonga also released new music recently. His debut single as a solo artist, "Midnight Sky," is a slow and touching ballad that highlights his impressive vocals. Don't expect any funk here—just an honest anthem of heartbreak and longing.
Fun fact: Salonga is now part of Kean Cipriano's new record label, OC Records.
Song: "Don't Leave Me Alone"
Artists: David Guetta feat. Anne-Marie
Anne-Marie is fast becoming a favorite female artist by many. The product of her collaboration with top DJ David Guetta sounds like the summer ditty you need to warm up the rainy days. In "Don't Leave Me Alone," the female vocalist dazzles with that slight rasp in her voice, which goes well against Guetta's glowing and pumping electro beats.
Fun fact: The French DJ is reportedly wrapping up his seventh studio album expected to drop later in 2018, while the British songstress released her debut record, Speak Your Mind, back in March.
ADVERTISEMENT - CONTINUE READING BELOW
Song: "Sunrise"
Artist: Ben&Ben
Wake up to brighter and less stressful mornings with the help of Ben&Ben. Their latest offering, "Sunrise," features an upbeat folk melody and hopeful lyrics that will encourage you to face the future with excitement and optimism.
Fun fact: The visuals for the lyric video were illustrated by Nicolai Maybituin and animated by Rafael Saturno and Wilbur Baniqued.
Song: "We Don't Care"
Artists: Sigala feat. The Vamps
Here's another song to sprinkle some summer vibes onto your long drives. The club banger "We Don't Care" delivers strong tropical beats and is sure to leave you feeling pumped and motivated for the day.
Fun fact: Sigala is English DJ and producer Bruce Fielder.
Song: "Alam Mo Ba? (Ang Gulo)"
Artist: Ang Bandang Shirley
Let this Ang Bandang Shirley gem add both heart and spunk to your driving playlist. Enjoy the danceable rock arrangement and easily sing along to the lyrics. It's something you and your carpool buddies will surely love at first listen.
Fun fact: "Alam Mo Ba? (Ang Gulo)" is included in the band's third album, Favorite.
Song: "Holy"
Artist: King Princess
Slow things down with King Princess' divine new single, "Holy." One of the year's favorite breakout artists continues to wow music fans with her latest blissful release. The dreamy vocals are bound to bring you to a whole 'nother heavenly dimension.
Fun fact: King Princess is Mikaela Straus, an American singer-songwriter and producer from New York.
Song: "Sana"
Artist: I Belong to the Zoo
I Belong to the Zoo tells it like it is with the sentimental ballad "Sana." Musician Argee Guerrero sings about a kind of heartbreak brought about by falling out of love that many might be able to relate to. The track starts mellow and later explodes with heart-wrenching hugot lines.
Fun fact: I Belong to the Zoo is the solo folk music project of Guerrero, who is also a member of rock band Tonight We Sleep.
ADVERTISEMENT - CONTINUE READING BELOW
Share this story with your friends!
---
Help us make Spot.ph better!
Take the short survey
Load More Stories