Here's Everything You Need to Know About Netflix's Luke Cage, Iron Fist, and More
Including Godzilla: Planet of the Monsters and Castlevania.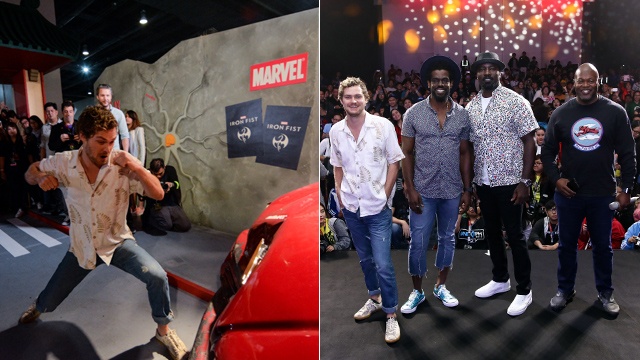 (SPOT.ph) AsiaPOP Comicon Manila 2018, which happened from July 27 to 29 at the SMX Convention Center, might have left you with a major case of conventionitis. So, we're taking a look back at what made Netflix's first Hall presentation—that took place on July 28—one of our AsiaPOP Comicon (APCC) highlights.
ADVERTISEMENT - CONTINUE READING BELOW
CONTINUE READING BELOW
Recommended Videos
Hall N served a generous amount of hype and boasted quite a lineup: Takashi Yoshizawa (Godzilla: Planet of the Monsters), Adi Shankar (Castlevania), Marvel's Luke Cage showrunner Cheo Hodari Coker, Mike Colter (who plays Luke Cage), Mustafa Shakir (Bushmaster), Marvel's Iron Fist's new showrunner Raven Metzner, and Finn Jones (who plays Danny Rand on Marvel's Iron Fist), plus a few more surprises along the way.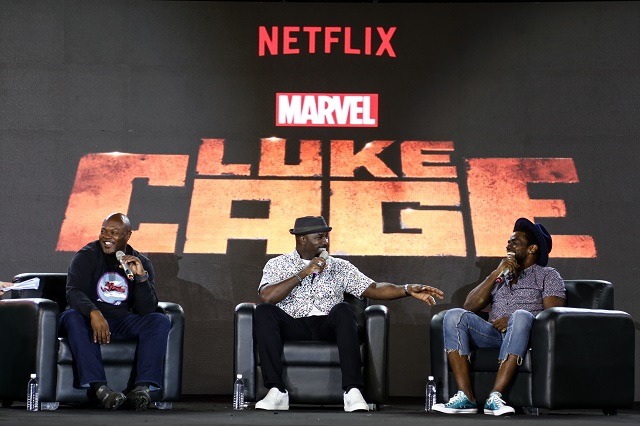 Luke Cage Season 2 and Connecting With Avengers: Infinity War
ADVERTISEMENT - CONTINUE READING BELOW
Team Luke Cage was in full force at Hall N with Mike Colter, Mustafa Shakir, and Cheo Hodari Coker. SPOT.ph got to talk to them during the exclusive Netflix media conference—there are some mild spoilers if you haven't seen the current season—giving us more information on the many surprising moments taking place in the second season.
When discussing Luke's character evolution in the current season, showrunner Coker explains, "If you're looking at Luke Cage, he's now more morally ambiguous. It gives you more room to explore his character. This season was about expanding and deepening Luke Cage. If we're lucky enough to get a season 3, we'll go darker and deeper in terms of, 'Who is this guy? And do we really know him?'"
Colter—Luke Cage himself—tries to explain his character, "It's difficult to play a good guy and try to make it interesting. People gravitate towards people who do things in their best interests. Because that's what you wanna do—you need something, you wish that you could get it. You want to live vicariously through that person. Luke is selfless and is often looking out for others, which makes you wonder why keeps doing that. He has these powers [at his disposal] and you end up getting frustrated [with him]. So I wanted to muddy him up a little bit and see what happens."
ADVERTISEMENT - CONTINUE READING BELOW
Coker adds that Bushmaster was a fascinating character because he turned out to be an anti-hero and you understand the motivations for his actions. Shakir, who plays Bushmaster, explains the correlation between him and his character. "Tenacity. The idea of not giving up is just not in my vocabulary at all. Fierceness. I feel like anything that I want, I'm a hundred and thousand percent about it. That's how tenacious I am. The physicality, his smarts, he's charismatic. The only thing he does that I don't do is behead people…and eat meat."
When asked whether Avengers: Infinity War's "snappening" will have an effect on the Marvel-Netflix world and if they'll encounter any of the Avengers. Mike hilariously answers, "I don't have their numbers. We ain't that close! You gotta call Stan Lee."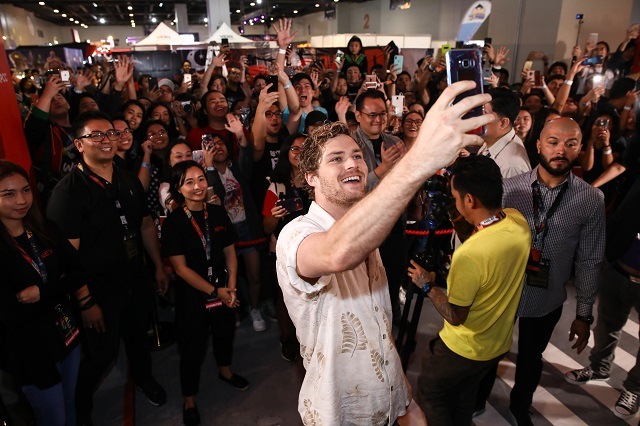 The Luke Cage Cast on Selfies and Social Media
ADVERTISEMENT - CONTINUE READING BELOW
The price of celebrity and fan engagement becomes one of the key plot points in the second season of Luke Cage, so we asked them about it. Coker explains, "The whole thing was like a metaphor for being separated from just trying to go about your life and maintaining a public persona. Because we live in such a public way, people give it a power that you sometimes underestimate. Sometimes, they don't understand how personal [running the show is to me]. They can point out one little thing and isolate and entire experience. If you let it get to you, it's gonna drive you crazy."
Colter adds, "Social media takes a lot out of your headspace. If you let it get to you, it could become a dominant, addictive, and negative force. I'm 'untrollable!' Some people just want to get under your skin. You can say whatever you want and I don't care. I don't have time to sit and talk on the Internet and tweet all day long, so I say my piece and leave it alone."
ADVERTISEMENT - CONTINUE READING BELOW
On whether fans have ever felt entitled to their time, Colter says he hasn't had that experience and is usually the first to engage fans. "No, they're actually shocked when I give them time. They don't expect me to say anything most of the time."
Shakir shares, "I'm about to use the urinal and they'd be like, 'Yo, can I just selfie with you right now?' and I'm like…" In which, Mustafa proceeds to smile nervously for an imaginary camera. Colter then chimes in, "And your hands are full while you're going…" And he also smiles while gamely copying the gesture he was describing. He continues, "But at the end of the day, I love what I do and the reason that I'm able to do it is because of them. So yeah, I'll take that urinal selfie every now and then."
ADVERTISEMENT - CONTINUE READING BELOW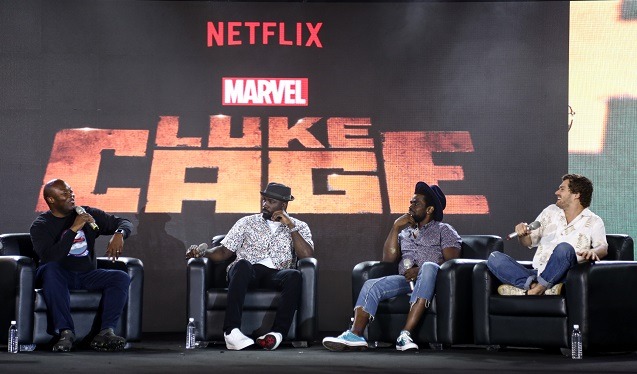 Luke Cage x Iron Fist
When the topic of the epic Luke and Danny crossover episode came about, Finn Jones joined the Luke Cage panel and talked about the teamup, saying, "I was super excited to come on and be on an episode of the show. I was actually training for the second season of Iron Fist, so it was really great to get back into the skin of Danny Rand."
ADVERTISEMENT - CONTINUE READING BELOW
Coker explains, "We incorporated [Finn Jones' meditation and martial arts training] into the script. Danny [was] coming to Luke at a pivotal time. [The episode was] about [the power of controlling your] Chi and channeling anger [so you can] focus."
When Colter was told about the teamup, he was excited, but wondered how they could pull it off organically. He says, "[Danny's presence] felt like a reset for the season. I know everybody wants to see us [Luke Cage and Iron Fist] team up but can we do it right? Can we make it effortless?"
Luckily, the Luke Cage writers nailed it. As Coker states, "[Writers] Matt Owens, Ian Stokes, and Akela Cooper [who wrote the episode 10 crossover] are the hardcore geeks. They were constantly reminding us that, 'Look we can do all the dramatic stuff in the show, but it all comes down to Marvel, it comes down to having a comic book experience.'"
ADVERTISEMENT - CONTINUE READING BELOW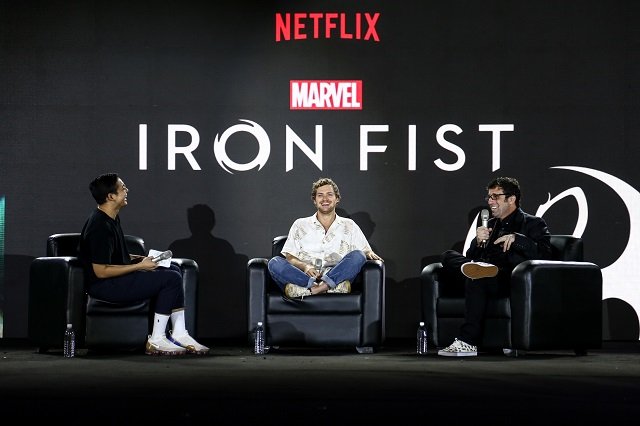 Iron Fist's New Showrunner
Raven Metzner grew up reading comic books, and so spearheading Iron Fist was a fanboy dream come true. The show's lead, Finn Jones, also reveals during an APCC media session that he also has his geeky moments. He's already known for being an audiophile but he also keeps a stack of Iron Fist comics books by his bedside. He's also fond of Adventure Time and Studio Ghibli films (his fave is Pom Poko) and even sang the Ponyo theme song for fans. 
ADVERTISEMENT - CONTINUE READING BELOW
On what fans can expect from season 2, Metzner shares, "There's some really elevated action [scenes]—it's pretty amazing. We really made an effort to be on the streets of New York City." Considering they hired Black Panther's fight coordinator Clayton Barber to handle the show's stunt work, we're looking forward to one heck of a brawlfest.
Regarding the relationship between Danny and Colleen (played by Jessica Henwick), Jones says, "Me and Jess knew each other for a very long time—before Iron Fist was even a thing. We worked together on Game of Thrones and became good friends. It was great to work with her [again] and allow our characters to grow further in season 2. We have a lot of scenes [in this season] because [our characters are] living together and so it brings a new dynamic."
Iron Fist's Season 2 Trailer
We've seen glimpses of the Defenders' comic-book counterparts in their respective solo series. We saw Luke's '70s style garb in the first season of Luke Cage, Trish was holding up a white spandex suit at one point in Marvel's Jessica Jones, and Matt Murdock can be seen running around in his full costume in Daredevil. But where is Danny Rand's mask? In a blink-and-you'll-miss-it moment from the second season's trailer showing Danny's time in K'un-Lun. See if you can find the mask plus other hints of what season 2 has in store for fans.
ADVERTISEMENT - CONTINUE READING BELOW
Castlevania Season 2 Trailer
Castlevania producer Adi Shankar was already a fan of the video-game franchise. The long-time gamer even rocked a Power Glove, a Nintendo accessory from the early '90s, during the Hall N anime panel.
When the enormity of the show's influence was discussed and how it could become a childhood inspiration, he jokes, "If a six-year-old is watching Castlevania, then there's something wrong. Bad parenting!" He discusses how they had to build their production process from the ground up as Western animation still held the stereotype of being a medium catered exclusively to children or used as a form of comedy. Growing up in Asia, Shankar understood the woes of always being behind with pop cultural events since most premieres and launches took place in the West. And so, with that in mind, he decided to debut Castlevania's Season 2 trailer.
He also talks about how it felt to be a driving force in the series. "As an artist, your dream is to have a semblance of an impact on the culture. Especially if it's the culture that impacted you, right? I'm processing the world through nerd culture and to have the opportunity and privilege of not only being able to play a role, but to have some semblance of an impact on nerd culture? It's a dream come true." The second season comes out in October 2018.
ADVERTISEMENT - CONTINUE READING BELOW
Godzilla: Planet of the Monsters
The kaiju (a.k.a. strange beast) has been around for decades and as the creator of the movie, Takashi Yoshizawa puts it, "Godzilla is a part of our daily lives in Japan," and somehow this year's feature was the first time that the well-loved character is adapted into an anime. Yoshizawa continues explaining that since Godzilla is treated as a national treasure, there was immense pressure to do it right in terms of using state-of-the-art computer graphics and giving the story justice. "We didn't want to portray Godzilla as an antagonist because in reality, we [humans] might be the bad guys." Yoshizawa shares that the Planet of the Monsters version of Godzilla is the largest scaled version to date (even compared with the live-action adaptations).
Load More Stories