10 Gripping Films About Real-Life Rescues
They're all sorts of inspiring, too.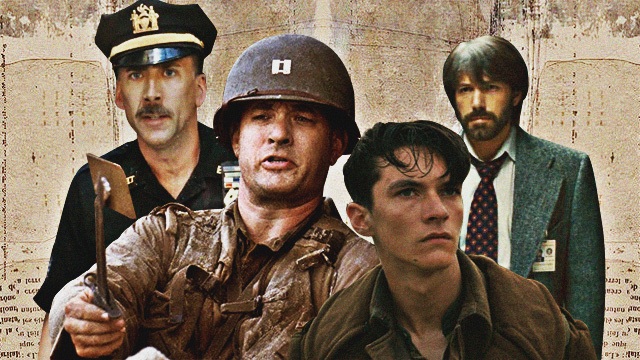 (SPOT.ph) In July, the world was glued to the story of the 12 boys and their coach trapped in a cave in Thailand, with a search-and-rescue mission that lasted almost three weeks. It's not making headlines anymore, but you can expect it to return in a few months. Six films—including the two already in the works while the boys were being rescued—are being produced as of writing. Chances are, at least one will be a satisfying big-screen depiction of the event. But until then, we list 10 of the best and most emotionally stirring rescue films based on real-life stories, from wayward space missions to saving dozens of lives from certain death.
Schindler's List (1993)
Directed by: Steven Spielberg
"I could've saved more..." says Oskar Schnidler (played by Liam Neeson), after saving over a thousand Polish-Jewish refugees from the Holocaust. Steven Spielberg's stunning, tragic, and tender film about Schindler's risky efforts is a classic. Schindler's List may not be as explosive or as thrilling as many other rescue films, but you'll find yourself crying buckets of tears when the credits roll.


ADVERTISEMENT - CONTINUE READING BELOW
Apollo 13 (1995)
Directed by: Ron Howard
While there are several outer-space rescue films out there, from The Martian to Gravity, Ron Howard's docudrama Apollo 13 is based on a real mission. Tom Hanks, Bill Paxton, and Kevin Bacon star as Apollo 13 astronauts on a mission to the moon, who suddenly meet an accident that threatens their lives. NASA and its workers (that includes Gary Sinise) try to figure out how to get the Apollo 13 team back safely, coming up with ways to refuel or get another ship to act as a boat to take them home.


Saving Private Ryan (1998)
Directed by: Steven Spielberg
While not exactly based on one specific historic moment, Steven Spielberg's Saving Private Ryan is based on the American "Sole Survivor Policy" that dictates that soldiers must protect the last remaining member of a family in combat. Robert Rodat wrote the film based on the true story of the Niland brothers, where one of the four brothers was saved and sent home after learning that his three brothers were presumed dead. In the film, set during the Battle of Normandy, a company of men led by Tom Hanks go out to find and effectively rescue the last remaining Ryan brother (Matt Damon) from duty.


CONTINUE READING BELOW
Recommended Videos
Black Hawk Down (2001)
Directed by: Ridley Scott
Black Hawk Down retells the events in 1993 Somalia in which a helicopter is shot down and crashes in the middle of a warzone. It's a rescue mission within an explosive war film. Josh Hartnett, Ewan McGregor, Hugh Dancy, and many more make up the cast in Ridley Scott's action-packed, violent, and brutal thriller.


ADVERTISEMENT - CONTINUE READING BELOW
Hotel Rwanda (2004)
Directed by: Terry George
Don Cheadle plays hotelier Paul Rusesabagina, a man who saved not only his family, but the lives of more than a thousand refugees from the Rwandan genocide by housing them in his hotel. The backstory of this historical biopic is a lot of information to digest; it's about two warring natives in Rwanda and the dangers and threats to everyone's lives. The film heavily focuses on Rusesabagina's efforts to save as many refugees as he can and take them away from the war zone.


World Trade Center (2006)
Directed by: Oliver Stone
The 9/11 terror attack on New York City targeting the World Trade Center is a historical turning point. Oliver Stone's World Trade Center tells the stories of several people—those being saved and those doing the saving. Nicolas Cage and Michael Peña star as police officers who bravely enter the towers to find survivors as the buildings begin to collapse.


Eight Below (2006)
Directed by: Frank Marshall
If you enjoy more of the furry kind of rescue-slash-survival films, then this emotional and inspiring tale about a group of huskies might be perfect for you. This real-life story about a group of researchers and their trusty dogs who get caught in a massive and extreme snow storm was first told in Japan in a film called Antarctica, which retells the survival and then rescue of the beloved dogs. This U.S. version, produced by Disney, makes a few differences to the story, but remains just as inspiring. The late Paul Walker stars as a researcher who is rescued by the dogs, and then later on campaigns hard to rescue the dogs left behind in this heart-wrenching tale of man's best friend.


ADVERTISEMENT - CONTINUE READING BELOW
Dolphin Tale (2011)
Directed by: Charles Martin Smith
If natural disasters are too heavy for your taste, you can find some uplifting tenderness in this story about Winter (who is played by the real-life Winter in the film!), an injured dolphin who has to have part of her tail amputated, effectively handicapping her swimming and threatening her life. A young boy helps bring Winter to an aquarium where they try their best to teach her to swim sideways and give her a prosthetic tail, hoping to return her to the ocean.


Argo (2012)
Directed by: Ben Affleck
While Black Hawk Down and Saving Private Ryan are about rescues between soldiers and within warzones, Argo has a different take. When Iranian activists storm the U.S. Embassy in Tehran and take hostages, six people escape and hide out. CIA specialist Tony Mendez (Ben Affleck, pulling double-duty as director and lead actor) comes up with an insane rescue plan that includes a fake movie, a fake shoot, and a phony filming permit to save the six escapees.


Dunkirk (2017)
Directed by: Christopher Nolan
Based on the historic Dunkirk evacuation—which some have called the Miracle of Dunkirk—Christopher Nolan's film isn't told like your typical rescue movie. It follows the story of regular people and soldiers of different nationalities lending a hand to help save and rescue over 330,000 soldiers stranded on the beaches of Dunkirk. The film features a unique structure that only Nolan could pull off, with inspiring themes of finding hope in tragedy and working together towards a common goal—despite the dangers.
ADVERTISEMENT - CONTINUE READING BELOW
Share this story with your friends!
---
Help us make Spot.ph better!
Take the short survey
Load More Stories