10 Easy-to-Watch Online Series for Your Next Mini Marathon
Shows you can squeeze into your busy schedule.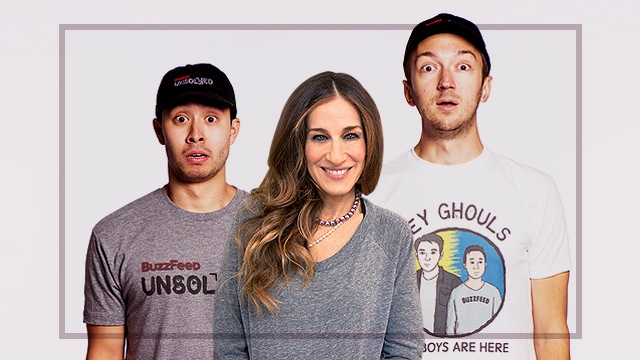 (SPOT.ph) Binge-watching an engrossing show lets you take a little breather before you go back to your daily grind. Although the standard television show episode may be too lengthy (most clock in at around 40 minutes), there are plenty of interesting shows online with a more schedule-friendly run time. We round up 10 must-watch web series for you to check out—chances are, you've stumbled upon them on your news feed!
Script to Screen
Produced by: Script to Screen
Watch it on: Facebook, YouTube
It's a journey to take words off a screenplay and—by the magic of moviemaking—transform it into a fully realized product onscreen. Script to Screen takes memorable scenes from beloved movies such as Whiplash, Up, and Call Me By Your Name, and plays the corresponding clip with the scene's original script scrolling at the bottom of the script. After watching each video, you'll understand how acting and art direction can breathe life into words.



ADVERTISEMENT - CONTINUE READING BELOW
73 Questions
Produced by: Vogue
Watch it on: YouTube
Since launching in 2014, 73 Questions has put a new spin on the typical celebrity interview with its raw and rapid-fire interview style. Get to know your favorite personalities in an intimate and candid way—check out Kendall Jenner's on-point mimicry of bird noises, listen to Lupita Nyong'o speak in three languages, and watch Reese Witherspoon do an impressive trampoline somersault, among others.



Binging with Babish
Produced by: Andrew Rea
Watch it on: Facebook, YouTube
Ever wished you could taste delectable dishes from your favorite films and TV shows? Then check out this online cooking show hosted by Andrew Rea, as he attempts to recreate some of pop culture's most lip-smacking eats. Standouts include his version of Ross' Thanksgiving sandwich from Friends, the Szechuan sauce from Rick and Morty, and the famed Krabby Patty from Spongebob Squarepants.



CONTINUE READING BELOW
Recommended Videos
Buzzfeed Unsolved: True Crime
Produced by: Buzzfeed
Watch it on: YouTube
Those who want to get on the true crime train may want to begin with Buzzfeed Unsolved's LOL-worthy and easy-to-digest episodes. Ryan Bergara and Shane Madej try to solve the world's biggest crime mysteries (such as the Jack the Ripper murders, the kidnapping of JonBenét Ramsey, and the drowning of Natalie Wood)—all while entertaining viewers with their comedic hijinks and witty sidebars.



Notes on a Scene
Produced by: Vanity Fair
Watch it on: YouTube
Notes on a Scene gives you an insider's step-by-step look into the creation of Hollywood's most beloved films, as guided by some of the most prestigious figures in the movie industry. Ever wondered how La La Land's showstopping "Another Day of Sun" opening number was choreographed, or what went into the filming of Black Panther's casino fight scene? Then this series is worth your time.



ADVERTISEMENT - CONTINUE READING BELOW
Now Let Me Explain
Produced by: Facebook Watch
Watch it on: Facebook
In the mood to watch something that will broaden your worldview? Then put Now Let Me Explain on your queue. Spanning a variety of topics, this series explores provocative viewpoints and opinions through the words of industry experts. Tune in and discover how timeouts can be harmful for children, why monogamy isn't realistic, and why models don't necessarily need to be pretty.



ADVERTISEMENT - CONTINUE READING BELOW
Small Thing, Big Idea
Produced by: TED-Ed
Watch it on: Facebook
Ever wondered how the things around us first came to be? This insightful web series takes commonplace items—such as the pencil, button, and even the hoodie—and traces the ideological shifts and historical events that led to its invention and how it appears today.



Sweet Digs
Produced by: Refinery29
Watch it on: YouTube
If you keep a Pinterest board for your dream apartment, then you'll probably love watching this web series. Get a glimpse into real-life millennial homes in a variety of budgets and décor styles—from a compact-yet-vibrant art-filled studio in L.A. to a chic and cozy apartment on Manhattan's Upper East Side.
Tell My Story
Produced by: SoulPancake
Watch it on: YouTube
Tired of watching The Bachelor? You should probably check out this inventive online dating show. Tell My Story invites two strangers to bare their assumptions about each other through a series of fill-in-the-blanks-type of questions (i.e. "Your three biggest fears are ______"). The results are sometimes hilarious, and often heartwarming.
Vox Borders
Produced by: Vox
Watch it on: YouTube
In Vox Borders, American journalist Johnny Harris explores the significance of a nation's borders and what it says about a country's desires, priorities, and fears. Join him as he takes a trip around the world exploring how Haiti came to separate from the well-off Dominican Republic, or the pains America takes to keep illegal immigrants away from its Mexican borders.
Share this story with your friends!
---
Help us make Spot.ph better!
Take the short survey
Load More Stories