10 Great Friendships From Sitcoms
These fictional best buds are definitely #goals.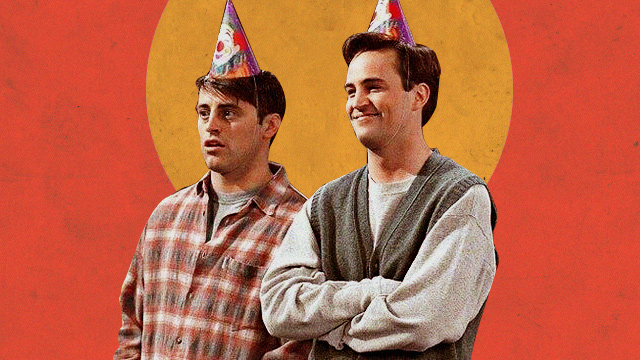 (SPOT.ph) Besides the laughs, visual gags, and snappy one-liners, the one thing most beloved sitcoms have in common is a focus on tight-knit, rock-solid friendships. Although the characters might clash every now and then, they always look out for their pal's best interests and have got each other's backs. Check out our list of the most heartwarming sitcom friendships—you might feel the urge to call your besties afterwards!
Blanche Devereaux, Dorothy Zbornak, and Rose Nylund
As seen in: Golden Girls (1985 to 1992)
Besides casting senior female characters in a new light, Golden Girls is well-loved for depicting the strong bond between sarcastic high school teacher Dorothy (Bea Arthur), man-crazy Blanche (Rue McClanahan), and the sweet-and-ditzy Rose (Betty White). Despite their different personalities, the trio is always supportive of one other and willing to discuss their problems and feelings—preferably over a slice of cheesecake.


ADVERTISEMENT - CONTINUE READING BELOW
Chandler Bing and Joey Tribbiani
As seen in: Friends (1994 to 2004)
As expected from a television show entitled Friends, this hit series shows some pretty strong bonds among its main cast of characters. But no pairing comes close to roommates and best friends, Chandler (Matthew Perry) and Joey (Matt LeBlanc). The funny duo always have each other's back—both when it comes to emotional and even financial support—and are willing to do whatever it took to keep their friendship strong. (Remember that Thanksgiving episode where Chandler stayed in a wooden box until Joey forgave him?)


Lorelai Gilmore and Rory Gilmore
As seen in: Gilmore Girls (2000 to 2007)
Who says you can't be best friends with your mom? Often mistaken as sisters by strangers, Lorelai (Lauren Graham) and Rory (Alexis Bledel) have a unique mother-daughter relationship that's comparable to the friendship of teenage girls. The two are joined at the hip, engage in the most witty conversations, and are always there for each other through thick and thin.


CONTINUE READING BELOW
Recommended Videos
Lizzie McGuire and David "Gordo" Gordon
As seen in: Lizzie McGuire (2001 to 2004)
The sweet and neurotic Lizzie (Hilary Duff) has a tendency to get carried away with her daydreaming. Good thing the practical and snarky Gordo (Adam Lamberg) is there to ground her! The best thing about their friendship is how selfless it is: When he realizes that he's in love with Lizzie, Gordo chooses to be there for her without any hidden motives instead of wallowing in the friendzone. High school would definitely have been easier with a Gordo in your life.


ADVERTISEMENT - CONTINUE READING BELOW
Marshall Eriksen and Ted Mosby
As seen in: How I Met Your Mother (2005 to 2014)
Having started out as college roommates, Ted (Josh Radnor) and Marshall (Jason Segel) have remained good friends, even going so far as to serve as each other's best man at their respective weddings. The two go through plenty of life's biggest milestones together, including failed relationships, babies, and the occasional road trip. But their bond stays strong, proving that college friendships can continue to blossom even years after graduation.


Abed Nadir and Troy Barnes
As seen in: Community (2009 to 2015)
Despite getting off to a rocky start, Troy (Donald Glover) and Abed (Danny Pudi) end up having a pretty tight-knit bromance. The inseparable duo act like two rowdy little boys and have the most fun together—whether it involves hosting a morning radio show, role-playing their favorite sci-fi show, or building a campus-wide blanket fort.


Leslie Knope and Ann Perkins
As seen in: Parks and Recreation (2009 to 2015)
Two is always better than one, as the close friendship of Leslie (Amy Poehler) and Ann (Rashida Jones) illustrate. As best friends, they would constantly let the other know how awesome she is, and both would freely share their feelings without fear of being judged. Leslie and Ann are so close that strangers would mistake them for a lesbian couple.


Jake Peralta and Charles Boyle
As seen in: Brooklyn Nine-Nine (2013 to present)
Brooklyn Nine-Nine puts a hilarious spin on the stereotypical cop show, with the detective tandem of Jake (Andy Samberg) and Boyle (Joe Lo Truglio) adding to the fun. The charming partners-in-crime know they can always count on each other, whether they're fighting crime or walking through minefields in their personal lives. And, let's be honest, it would be nice to have your personal cheerleader a la Boyle.


ADVERTISEMENT - CONTINUE READING BELOW
Grace Hanson and Frankie Bergstein
As seen in: Grace and Frankie (2015 to present)
If there's anything that would make two rivals become the best of friends, it's finding out that their husbands are gay and are leaving them. Although the uptight Grace (Jane Fonda) and the free-spirited Frankie (Lily Tomlin) may constantly get on each other's nerves, the two become an unlikely source of support for one another as they both struggle to rebuild their lives from scratch.


Eleanor Shellstrop and Chidi Anagonye
As seen in: The Good Place (2016 to present)
Upon entering the afterlife, Eleanor (Kristen Bell) panics as she believes she's been sent to the Good Place by mistake. Luckily, her assigned afterlife soulmate Chidi (William Jackson Harper) is an ethics professor who takes it upon himself to teach Eleanor how to be good and earn her slot in heaven. Aren't best friends those who push you to grow and be a better person?


Share this story with your friends!
---
Help us make Spot.ph better!
Take the short survey
Load More Stories