10 Reasons We Can't Stop Rewatching To All the Boys I've Loved Before
Again and again and again.
(SPOT.ph) Admit it. You've seen To All The Boys I've Loved Before more than once. There is no shame in confessing. Rom-com-a-holics everywhere have been awakened, thanks to Netflix's new release from this genre, with most agreeing that To All the Boys I've Loved Before (TATBILB) may be its best one yet. Ever since the film debuted on August 17, the Internet has been gushing over Lara Jean (Lana Condor) and Peter Kavinsky (Noah Centineo)'s romance. Here are 10 reasons to rewatch TATBILB one more time.
A Great Soundtrack
Good music puts the audience in the right mood for anticipation, joy, and romance. You were probably rooting for Lara Jean with drums and percussion music playing in the background as she mustered the courage to tell Peter, "Let's do this!" You were gloating during their first public appearance as a couple to fun dance-electronica tunes with "Boyfriend" by Confidence Man. You were waiting with bated breath during the hot tub scene to the sexy strains of "Lovers" by Anna of the North. The ending "Cool Out" by Matthew E. White featuring Natalie Prass brought you back to the '80s on a feel-good high. And of course, the movie's piece de resistance, Lauv's "I Like Me Better," perfectly captures the sugar-sweet taste of young love. Don't we all wish our lives were playing out to a soundtrack?


ADVERTISEMENT - CONTINUE READING BELOW
CONTINUE READING BELOW
Recommended Videos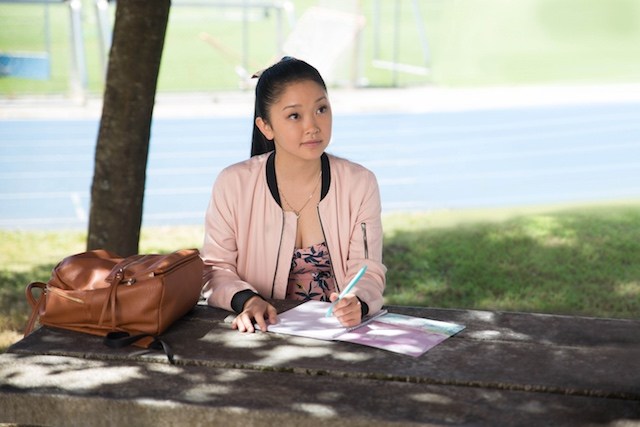 The Nostalgic-But-Stylish Fashion
Prior to filming the series, TATBILB author Jenny Han made a mood board of Lara Jean's style for the producers, which she describes as "'60s meets '90s meets Asian streetwear." (Fun fact: Filipina blogger Tricia Gosingtian was one of her fashion pegs!) She felt strongly about the outfits being crucial to understanding the character—and rightly so! Lara Jean's vintage chic outfits take you back to the '90s with its Clueless-style plaid skirts, striped turtlenecks, platform combat shoes, denim jackets, and chokers.


ADVERTISEMENT - CONTINUE READING BELOW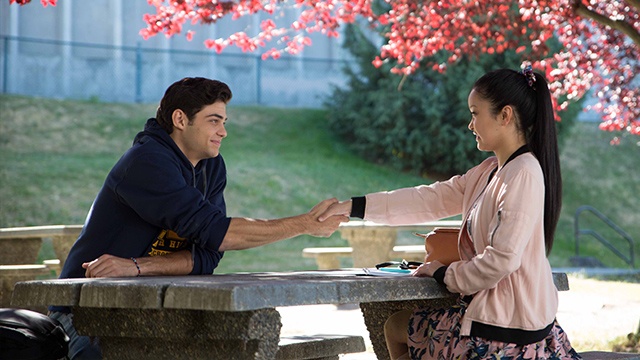 Eye-Candy Cinematography
The sets and backdrop were just visually gorgeous. The film's director of photography (Michael Fimognari) carefully put together a sunny, vibrant world painted in happy pastels that made us all but want to move to Portland, Oregon. From the pink-tree canopy and rustic picnic bench of the contract-signing scene, the '80s vibe of the Corner Café, the vast and manicured expanse of the lacrosse field, to the vintage whimsical turquoise wallpaper and the eclectic pieces in Lara Jean's room—there were many reasons why all of us ended up wanting to live in TATBILB's world—and, maybe, become Lara Jean, too.


ADVERTISEMENT - CONTINUE READING BELOW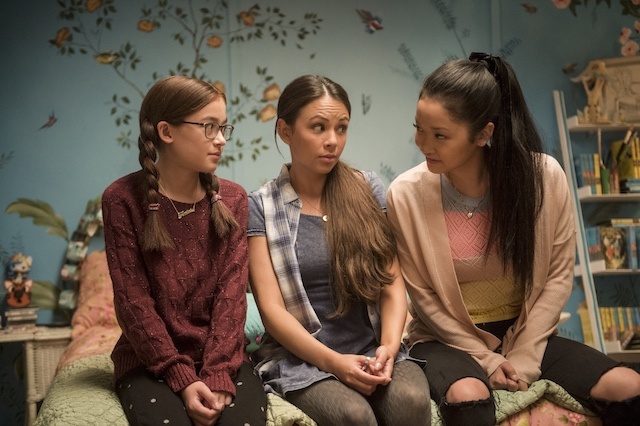 The Covey Girls
The other love story in TATBILB is that among the Covey sisters. Margot (Janel Parrish) and Lara Jean's devotion to their trio is legendary. And let's not forget that Kitty's (Anna Cathcart) intentions were quite noble—she wanted to push Lara Jean into living her best life. Now, the way that she did this might be quite extreme, but her heart was in the right place. And at the end of the day, despite her fury, Lara Jean's love for Kitty won over.


ADVERTISEMENT - CONTINUE READING BELOW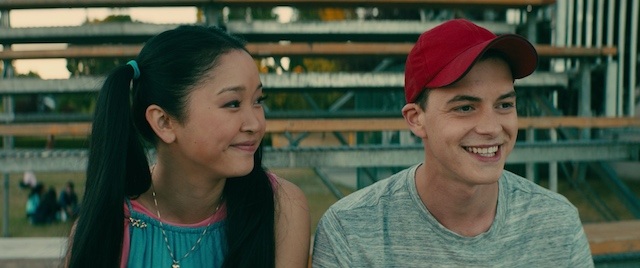 An Asian Heroine in the Spotlight 
It's nice to see that movie kept true to its roots: A coming-of-age story with a Korean-American heroine. Here was a face splashed across the big screen that a lot of people can relate to. Lana Condor's acting chops and comedic timing were impeccable, and the media interviews have her gushing over how thrilled and honored she is with this casting and what it may represent for Asians everywhere. Finally, Hollywood is shining its light on Asians and Asian culture (thanks to Crazy Rich Asians too!). Wasn't it a thrill to see Peter chugging Yakult, or watching John Corbett (Sex in the City's Aidan) trying to cook bossam, a Korean pork dish?
ADVERTISEMENT - CONTINUE READING BELOW
Killer Lines
There were the lines that made you swoon ("You were never second-best," "There is no one like you, Covey," "I like you, Peter Kavinsky, and not in a fake way.") and those that made you LOL ("Well, it wasn't tongueless to me!" "I will be in the nurse's office, with a headache, googling Justin Trudeau shirtless."). The movie was chock-full of witty comebacks and classic one-liners that you'll probably use as a reference with your friends who are just as addicted as you are.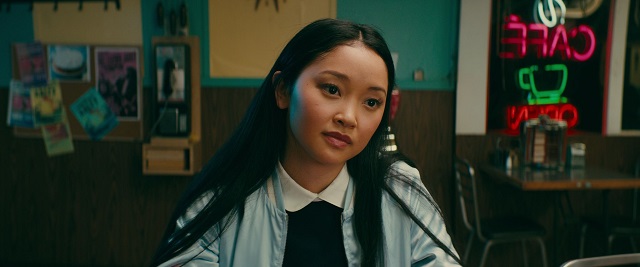 Lara Jean Covey
ADVERTISEMENT - CONTINUE READING BELOW
Her name is Lara Jean Song Covey, and you can call her Quirky. Of all the young-adult heroines in recent years, she's one of the best and most interesting ones. She lives in fantasy land acting out romance novels in her head. In her spare time, she likes baking and watching Golden Girls reruns with her sister on Friday nights. You can't help but love the hare-brained way she dealt with being outed (about liking Josh), the way she wanted to put all the fake-dating terms in a contract, how she wanted to save her firsts for when she really fell in love (imagine telling Peter K not to kiss her anymore! The horror!), and how she wasn't like all of the other girls who were getting their panties in a knot for "the king of the cafeteria crowd." From insisting on the handshake that sealed the contract, to her judgy face upon finding out that Peter still texts Gen, to her wanting Peter to turn around before she delivered her love confession—she was simply adorable.
ADVERTISEMENT - CONTINUE READING BELOW
Peter Kavinsky
Every teenage girl is gushing over Peter K. If you must ask why, let's count the ways (while you skim through the movie and rewatch all of these scenes.) There's the look that he gives her after Lara Jean jumped him—like he's already half in love with her! There's also the back-pocket spin and the way he kept saying "whoa, whoa, whoa" trying to catch Lara Jean everywhere! The look of disbelief (and adoration) over having to seal the deal with a handshake. The hot tub-put-Lara Jean-on-his-lap maneuver. Post-reconciliation, that uncertain but also cocky way he said "You gonna break my heart, Covey?" And of course, you'll always remember how Peter is so giddy after finally saying, "I love you."


Those Kissing Scenes
Does this even need an explanation? There's the seventh-grade spin-the-bottle game that started everything. There's Lara Jean jumping Peter. There's Peter kissing Lara Jean during practice in front of everyone. There's that sweet cheek kiss at the party. There's the steamy hot tub scene. And of course, the final one on the lacrosse field.


ADVERTISEMENT - CONTINUE READING BELOW
A Classic Cinderella Story—Without the Makeover
At the heart of the movie is a story of a high-school wallflower who learned how to come out of her shell and show the world that she was beautiful inside and out. Lara Jean didn't need a fairy godmother, or a crazy shopping spree, or a full-on makeup session to do this. She simply needed to be herself, and she stayed true to herself despite being thrust in the spotlight. 
Load More Stories