10 Upcoming Pinoy Films We're Excited to See
2018 still has a couple of movie gems left!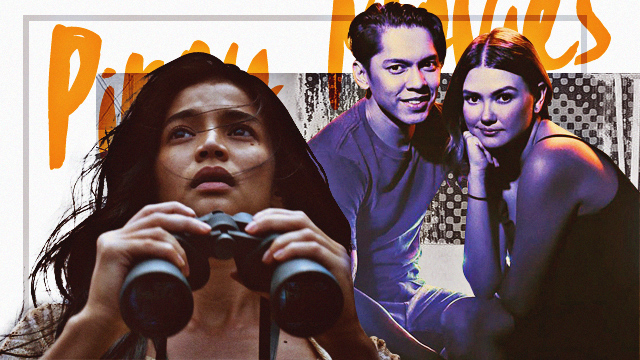 (SPOT.ph) Over the past few months, Filipino theaters have been crowded with local productions thanks to the Cinemalaya Film Festival and the Pista ng Pelikulang Pilipino being so close to each other. There was a stretch of several weeks where all you would find in cinemas were Pinoy films, from mainstream flicks featuring the biggest stars (The Hows of Us), to indie auteur work (Citizen Jake), to independent films featuring one of the country's biggest stars (BuyBust). As the year goes into the "ber" months, there is still a lot left in store for filmgoers. Not only do we have the QCinema Film Festival, Cinema One Originals, and the Metro Manila Film Festival all coming up, there are tons of local productions on the horizon that showcase Pinoy talent at its finest.
ADVERTISEMENT - CONTINUE READING BELOW
CONTINUE READING BELOW
Recommended Videos
The Hopeful Romantic
Directed by: Topel Lee
Release date: September 12
Ang Probinsyano breakout Pepe Herrera stars in Topel Lee's romantic comedy of errors that is sure to bring laughs and kilig to moviegoers. In The Hopeful Romantic, Pepe plays Jess, a 30-something virgin who has promised to only lose his virginity to his true love. When he finally finds her (rising star Ritz Azul), she thinks he's rich—but surprise, surprise, he's really not quite a crazy rich Asian. The Hopeful Romantic looks to buck the trend of sappy rom-coms with its irreverent humor, unpredictable chemistry, and its willingness to push the Pinoy version of this genre into more R-rated territory.


Exes Baggage
Directed by: Dan Villegas
Release date: September 26
What better way to talk about past relationships than to cast a couple of exes in real life? Carlo Aquino and Angelica Panganiban star in Dan Villegas' latest foray into the romance genre (after the likes of English Only, Please and The Breakup Playlist). The former love team (way back in G-Mik) reunite, playing two strangers who meet at a bar and hit it off. The teasers show the two flirting and discussing their past experiences when it comes to love. So far, there have only been bits and pieces, but nostalgic fans of the love team, as well as newer viewers look to be in for a treat.


ADVERTISEMENT - CONTINUE READING BELOW
Paglisan
Directed by: Carl Papa
Release date: October 12
Details about the films premiering at the Cinema One Originals Festival are still scarce. But going by the entries announced, this one stands out. From the filmmakers of Cinema One Originals alum Manang Biring, this self-described animated-musical-drama-comedy Paglisan might be one of the most exciting titles. The film aims to tackle Alzheimer's disease as well as depression as it centers on a couple hoping to survive life together.


Billie and Emma
Directed by: Samantha Lee
Release date: October 21
With a Cinema One Originals Audience Award already under her belt, Samantha Lee returns to the director's chair with a film focusing on young female friendship and love. While this may not look as starry as the Jasmine Curtis-Smith-led Baka Bukas, Lee has a distinct style that fits in telling these small, heartfelt stories, especially about LGBT characters. Billie and Emma hopes to continue Lee's winning streak in the genre.


ADVERTISEMENT - CONTINUE READING BELOW
DOG DAYS: Pinoy Hoop Dreams
Directed by: Timmy Harn
Release date: October 21
Director Timmy Harn has been a production designer for films like the horror movie Lily and the award-winning Balangiga: Howling Wilderness, but he finally gets to go back to the director's chair for his second film. This time, Harn centers on something many Filipinos love: Basketball! Centering on a half-black, half-Filipino wannabe basketball star named after the one and only Michael Jordan, it's one of the more interesting films on QCinema's slate this year.


Eerie
Directed by: Mikhail Red
Release date: October 31
After the success of Birdshot, Mikhail Red turned his talents to the horror genre. Set at a Catholic School for girls (because of course it is), the school guidance counselor played by Bea Alonzo squares off with an abusive and terrifying nun played by Charo Santos-Concio as mysterious and violent deaths haunt the said school. Alonzo's guidance counselor sets out to solve the mystery, and we're excited to join her for the horrifying ride.


ADVERTISEMENT - CONTINUE READING BELOW
Aurora
Directed by: Yam Laranas
Release date: December 25
The Metro Manila Film Festival is packed with huge stars once again, with a Vic Sotto-Coco Martin movie and a Vice Ganda-Dingdong Dantes taking up most of the headlines, it's Yam Laranas' latest horror flick that is catching our attention. Anne Curtis, in her third major film of the year after Sid & Aya (Not a Love Story) and BuyBust, stars as a woman living quiet peace on an island until a mysterious ship called the Aurora crashes near her home. Laranas, known for his expertise in the horror genre, is sure to make another creepy and terrifying effort after the likes of The Road and Sigaw, and Curtis is more than capable of becoming a scream queen.


Hayop Ka!
Directed by: Avid Liongoren
Release date: TBA
We don't get a lot of local animated films, so when Hayop Ka! was announced, there was a lot of excitement—because not only are we getting a locally made animated film, but it's also going to be directed by Saving Sally director Avid Liongoren. The visuals of Saving Sally were easily the best part of that film, and it will be wonderful to see it carried over to what seems to be this quirky and unusual animated film about a cat caught between two lovers—both of whom are dogs. The voice cast is also very impressive, with Angelica Panganiban, Robin Padilla, and Sam Milby voicing the lead roles.


ADVERTISEMENT - CONTINUE READING BELOW
Gulong ng Palad
Directed by: Laurice Guillen
Release date: TBA
Director Laurice Guillen looks to replicate the dramatic magic of her 2000 film Tanging Yaman with this star-studded film adaptation of the classic drama TV series Gulong ng Palad. Gabby Concepcion, Jodi Sta. Maria, Edgar Allan Guzman, Amy Austria, and more will star in this family drama. Not much is known for now, and the film is seemingly targeting a 2018 release with no confirmation just yet, but we're definitely looking forward to bringing our tissues to this one!


Watch Me Kill
Directed by: T.A. Acierto
Release date: TBA
Feeling a bit like a throwback to films from the '70s and '80s, Watch Me Kill stars Jean Garcia as a badass hired killer, which is a sentence that is already exciting enough. In the film, Garcia saves a young girl from a man she was hired to kill, and builds a strong relationship with the young girl. Shot on Super 16mm, the film looks incredible visually, and if the story is any good, this could be a breakout hit.
ADVERTISEMENT - CONTINUE READING BELOW
Load More Stories