The Story Behind the Name: Maroon 5, Urbandub, Eraserheads + More
Now playing: "Hari ng Sablay" by...Brown Sugar?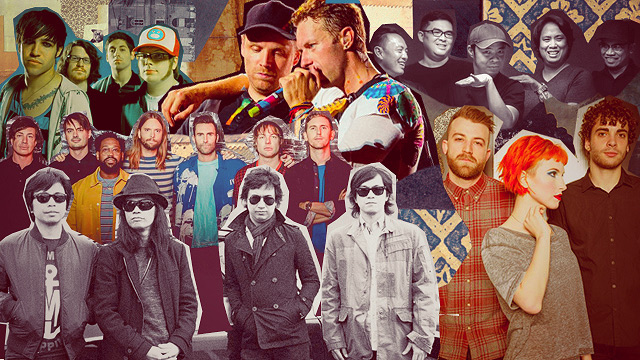 (SPOT.ph) It's interesting to learn the story behind your favorite artists' songs—is it about a messy break-up, or maybe it's about a complete stranger's love story? It becomes a sort of guessing game especially when it's inspired by true-to-life stories. Then there's the origin story of a band name. Some are more interesting than others and sometimes, it's just as simple as picking out a random name and being stuck with it. Read on to find out what the story is behind 10 of your favorite bands' names.
Eraserheads
The seminal rock band known for hits such as "Pare Ko," "Toyang," "Magasin," "With A Smile," "Ang Huling El Bimbo," and many others, took inspiration from director David Lynch's 1977 horror film Eraserhead. Their music was anything but terrifying and their career that spanned 13 years—with nine records with even more chart-topping hits—continues to be an influential part of OPM to this day.


ADVERTISEMENT - CONTINUE READING BELOW
Maroon 5
Before they were even Maroon 5, core members Adam Levine (vocals), Jesse Carmichael (guitarist), Mickey Madden (bass guitarist), and Ryan Dusick (drummer) were known as Kara's Flowers. The '90s alternative rock group was named after a groupie who had a crush on the guys. They released two albums before becoming Maroon 5 and releasing Songs About Jane in 2002. As for the origin of their current name, Levine told David Letterman in an interview that he will never reveal the story behind it. "The origin of the name is so bad. It's such a horrendous story that we decided that shrouding it in mystery will make it a better story than the actual story." You know who you could ask? Billy Joel, who is apparently the only one outside of the band who knows the actual meaning behind the name.


CONTINUE READING BELOW
Recommended Videos
Rivermaya
It is Lizza Guerrero Nakpil, along with co-creator director Chito Roño, who is credited with ownership of Rivermaya and its trademark. The original line-up included vocalist Jesse Gonzales, guitarist Kenneth Ilagan, bassist Nathan Azarcon, drummer Rome Velayo, and keyboardist and back-up vocalist Rico Blanco. They were initially called Xaga before becoming Rivermaya, which was suggested by Perf de Castro, owner of the rehearsal studio where the band would jam. He took on the role of guitars after Ilagan left the band. The group saw many more changes including the addition of Mark Escueta, who replaced Velayo and Bamboo Mañalac, who replaced Gonzales. Currently, the band is composed of Escueta, Azarcon with Mike Elgar and Ryan Peralta.


ADVERTISEMENT - CONTINUE READING BELOW
Coldplay
Did you know that they originally would have been called Pectoralz (yikes) or Starfish? But thank goodness for their friend's band who decided they no longer wanted Coldplay as their band name. Chris Martin and the rest of the band co-opted the name and have been known as such ever since. The original band got the name from a collection of poetry by Philip Horky.



Urbandub
The band that originated in Cebu started out playing ska, dub, dancehall, hiphop, and rock. Songs like "Sailing" and "Eating Me" would support the fact that they were originally meant to be a reggae band—and this is where they got their name Urbandub. According to frontman Gabby Alipe, the name kind of stuck even if their music evolved into something else so they ended up not changing it.


Paramore
"Paramour" is listed in the dictionary as a secret lover. As for the band's name, the homophone was one of many they were choosing from. Hayley Williams says it was during one of their first shows when they sat in then-lead guitarist Josh Farro's room thinking of what to call themselves. Williams shares in an interview for the Honda Civic Tour concert series, "It was something we were kind of like nervous about committing to. And it was a one-word name, and it was like, I don't know. But in the end, it fit!" According to Williams, the name is also derived from the mother's maiden name of one of their original bassists. We wonder, is it the same bassist who sued the band not too long ago?


ADVERTISEMENT - CONTINUE READING BELOW
Parokya ni Edgar
They were originally called Comic Relief, which speaks a lot about the type of music they were putting out—hilarious riffs on both local and foreign songs. The band's frontman Chito Miranda shared on their Facebook Page that the origin of their name came from a joke made in Filipino class while they were discussing Noli Me Tangere. The teacher asked their classmate where Crisostomo Ibarra studied and the classmate answered, "Parokya ni Edgar." The band was introduced with that name during their first live performance and it stuck. A lot of people refer to them as "Pambansang Banda ng Pilipinas."


Fall Out Boy
The band name is from the Simpsons character of the same name, the sidekick of comic-book superhero Radioactive Man. And it was a fan who christened them with that name. At one of their first shows, they hadn't decided on a name yet (the original was reportedly a nod to Tom Waits) when someone from the crowd yelled, "F*ck that. No, you're Fall Out Boy!" While this story is true, vocalist Patrick Stump credits their band moniker to Rise Against's Tim McIlrath. He tells ABC radio a story of when they played with McIlrath's band. "He goes, 'I want to thank Fall Out Boy,' and we're like, 'That's not our name,' and he's like, 'Yeah, it is,'" shares Stump.


Sugarfree
The three-piece band that brought us favorites like "Telepono," "Burnout," "Mariposa," and "Hari ng Sablay,"—among many others—had a career that spanned 12 years before they disbanded in 2011. They released four studio albums and countless chart-topping hits. Frontman Ebe Dancel tells SPOT.ph that Jal Taguibao, their bassist, originally wanted to name the band Brown Sugar. He says, "His mom, who has diabetes, suggested Sugarfree instead. The name stuck." And the rest, as they say, is history.


ADVERTISEMENT - CONTINUE READING BELOW
Blink 182
Bassist and co-lead vocalist Mark Hoppus tells Amy Schumer in an interview for Fuse TV that they were already called Blink when their label called them up to ask them to change their name because there was already a band going by the same name. After weeks of following up, they still hadn't thought of a new name until their label pressured them into thinking of one or else they'd make up one for them. They then decided on Blink 182 with no rhyme or reason and ended up making up stories on why they chose that particular number. Hoppus shares, "It was my ideal weight; it was the ship number my grandfather worked on in World War II; it was number of times Al Pacino said f*ck in Scarface…" Turns out Al Pacino's agent told him this particular origin story and he "thinks it's great." How's that for cred?
Share this story with your friends!
---
Help us make Spot.ph better!
Take the short survey
Load More Stories