10 Korean Actors and Their Most Memorable K-Drama Roles
No wonder they're so popular!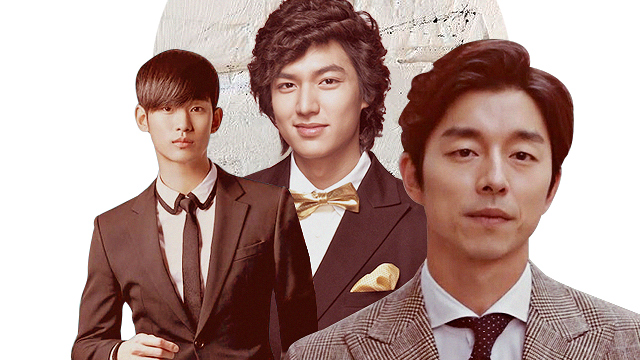 Korean dramas are giving Hollywood shows a run for their money because of its excellent plots and impressive cinematography. Admittedly, some K-Dramas are inspired by existing TV series, movies, and even literature, but for some reason, Koreans find a way to make their adaptations seem fresh and in some cases, better. It helps that there's no shortage of talent in South Korea's entertainment industry—this roundup lists some of the most talented actors and their most remarkable role in a K-Drama so far.
Lee Min Ho in Boys Over Flowers
The Korean adaptation of the Japanese manga series Hana Yori Dango is Lee Min Ho's first major lead role. Competition for the role of Gu Jun Pyo was reportedly so intense that after multiple callbacks, Min Ho found out about his casting through a newspaper! In Boys Over Flowers, Jun Pyo is the leader of a group of rich and influential students called F4 and the heir to the Shinhwa Group, one of the biggest conglomerates in South Korea. Jun Pyo is hot-tempered, extremely arrogant, and unable to express his feelings well. So when a new student named Geum Jan Di (Ku Hye Sun)—who was offered a scholarship at the rich kids' school after she saved a student from committing suicide—dares to stand up against him, Jun Pyo proceeds to torment her, only to realize that he's actually fallen in love with her. He ends up in a (not-so-bitter) rivalry with his best friend Yoon Ji Hoo (Kim Hyun Joong) and has to fight for his love for Jan Di amidst schemes by his disapproving mother. The show also stars Kim Bum and Kim Joon as the other members of F4.
ADVERTISEMENT - CONTINUE READING BELOW
Aside from it being his first big role, most fans remember Min Ho as Goo Jun Pyo for his permed hairstyle (the equivalent of his Taiwanese counterpart's "pineapple hair"). It became Min Ho's starting point to star in other big dramas and films such as City Hunter, Personal Taste, and Gangnam Blues. Due to the show's popularity not just in Korea but in other Asian countries like Philippines, Taiwan, and Vietnam, the drama's local filming locations such as the Damyang Dynasty Country Club and Ragung Hanok Hotel became tourist attractions.
Park Bo Gum in Love in the Moonlight
This 2016 historical romance drama set during 19th-century Joseon Dynasty established Park Bo Gum's place in Filipino fans' hearts. Based on the novel Moonlight Drawn by Clouds written by Yoon Yi-soo, Bo Gum played the role of Prince Lee Yeong, the only son of the King and heir to the throne. He's adorable, smart, unpredictable, and a little mischievous, which makes most of his servants dislike him. Also, he's into arts and music! The story revolves around Prince Lee Yeong and his struggles as he falls in love with one of his eunuchs Hong Ra On (Kim Yoo Jung), who's actually a girl crossdressing as a man. Popular and street-smart Hong Ra On was raised as a boy by her mother and made a living by disguising herself as a male relationship counselor and romance novel author before becoming a eunuch to the prince. Although the girl-dressed-as-a-boy trope has been done several times, Bo Gum and Yoo Jung's chemistry made it work and the drama was well-received both in Korea and the Philippines.
CONTINUE READING BELOW
Recommended Videos
ADVERTISEMENT - CONTINUE READING BELOW
The show's main cast includes actors Jin Young, Chae Soo Bin, and Kwak Dong Yeon. Park Bo Gum also sang "My Person" for the drama's official soundtrack, which was co-written by composer Kim Se Jin. Bo Gum received several awards for the role, including a Best Actor nomination and Popularity Award at the 53rd Baeksang Arts Awards and the Top Excellence Award at the 30th KBS Drama Awards.
After Love in the Moonlight, Korean fans started calling Bo Gum the "Nation's Crown Prince." His other notable role is a psychopathic lawyer in Hello Monster in 2015. He was also part of the ensemble cast of Reply 1988, which aired from 2015 to 2016.
Song Joong Ki in Descendants of the Sun
The Korean actor took on the role of Special Forces Alpha Team Captain Yoo Si Jin in Descendants of the Sun after completing his mandatory military service. The romance drama, also known as DOTS, paired Song Joong Ki with Song Hye Kyo (as Kang Mo Yeon). Fun fact: The two fell in love in real life and got married a year after the show aired!
In the show, Si Jin is in the military while Mo Yeon is a doctor, and while they are visibly attracted to each other and even go on a few dates, they come to the conclusion that they just can't make the relationship work. Months pass and they meet again after Mo Yeon is forcibly sent to do volunteer work in Uruk where Si Jin is leading a military station. What follows is a series of crisis situations where the two must work together. Needless to say, everyone fell in love with Joong Ki after watching him play Si Jin. After all, who doesn't love a man in uniform?
ADVERTISEMENT - CONTINUE READING BELOW
Due to the show's success in China, their government reportedly issued a warning about the "dangers" of obsessively watching Korean dramas through their Weibo account. Joong Ki's other acting stints include the historical drama Sungkyunkwan Scandal, the variety show Running Man, and the melodrama The Innocent Man. He was also the lead character in feature films A Werewolf Boy and most recently, Battleship Island.
Kim Soo Hyun in My Love from the Star
In this fantasy drama, Kim Soo Hyun stars as Do Min Joon, a cold and distant character who once loved a girl who lived during the Joseon period. He's actually an alien with supernatural powers who can teleport and stop time! After the girl dies from saving him, Min Joon is resigned to living in isolation for centuries as he waits to return to his original home planet. Until, that is, he meets Cheon Song Yi (Jun Ji Hyun), a blunt and self-absorbed actress who develops feelings for him and tries to make him fall for her. The drama is one of a kind because it features a female lead that we're not used to: Song Yi is not at all demure, she believes that all guys are into her, and she actively does everything in her power to get the guy. And although Min Joon doesn't say much at first, Soo Hyun's portrayal of the alien has made us all fragile.
Here's a fun fact: Due to its popularity in mainland China, the series was re-edited into a two-hour feature-length film and was released in theaters in the summer of 2014! My Love from the Star also garnered awards from the 24th Seoul Music Awards, the 2014 SBS Drama Awards, and the 9th Seoul International Drama Awards. Actor Kim Soo Hyun is also known for for his roles in television dramas Dream High, Moon Embracing the Sun, and The Producers. His filmography includes The Thieves, Secretly, Greatly, and Real. My Love from the Star gained a strong following in the Philippines and even had a local adaptation starring Jennylyn Mercado and Gil Cuerva.
ADVERTISEMENT - CONTINUE READING BELOW
Park Seo Joon in Fight For My Way
Fight For My Way is arguably Park Seo Joon's best work so far, mostly because of its realistic and true-to-life plot. Seo Joon stars as Ko Dong Man opposite Kim Ji Won who portrayed Choi Ae Ra. Together with Kim Joo Man (Ahn Jae Hong) and Baek Seol Hee (Kim Ha Eun), they form the "fantastic four," a group of young people who are struggling to survive in the real world as they work hard to make their dreams come true. Dong Man is a former taekwondo player who used to be famous in his teens. He had to stop because of a painful past and is now a nameless mixed martial arts fighter. Instead of being a star athlete, he works for a pest control company. Later in the story, he falls in love with his longtime best friend Ae-ra, a department store employee. This slice-of-life series, although not as lavish and dramatic as its predecessors, was relatable to millennials. The characters are having a tough time, they're broke, and they don't know what they want out of life. They're literally fighting for their way.
Park Seo Joon won accolades for the show at the 13th Seoul International Drama Awards, the KBS WORLD Global Fan Awards, and the 31st KBS Drama Awards. Seo Joon's other works include Kill Me, Heal Me, Hwarang: The Poet Warrior Youth, and Midnight Runners. Another fan favorite is She Was Pretty, where Seo Joon and Hwang Jung Eum reunite for a rom-com. Seo Joon's most recent drama is What's Wrong with Secretary Kim?, where he stars opposite Park Min Young.
ADVERTISEMENT - CONTINUE READING BELOW
Nam Joo Hyuk in Weightlifting Fairy Kim Bok Joo
Nam Joo Hyuk started off as a model before he became an actor. He made his acting debut in a K-Drama called The Idle Mermaid in 2014. Joo Hyuk followed that up with supporting roles in Who Are You: School 2015, Glamorous Temptation, Cheese in the Trap, and Moon Lovers: Scarlet Heart Ryeo but what captured everyone's hearts was his role as Jung Joon Hyung, the funny, lovable swimmer in Weightlifting Fairy Kim Bok Joo.
2016 was a big year for Joo Hyuk because he landed the lead role in Weighlifting Fairy Kim Bok Joo alongside fellow model-actress Lee Sung Kyung, who portrays Bok Joo, a young weightlifter with a lot of potential. Joon Hyung and Bok Joo run into each other in school and immediately realize that they were childhood friends. The two initially don't get along, their relationship made more complicated by the fact that Bok Joo falls for Joon Hyung's cousin-older brother, Jae Yi (Lee Jae Yoon), who thinks she's a cellist, not a weightlifter. In the process of helping Bok Joo win Jae Yi over, Joon Hyung doesn't realize that he's the one falling in love.
After the drama ended, news broke that Joo Hyuk and Sung Kyung actually went from reel to real, which added to the show's popularity. The two have been longtime friends before they worked on the show, so everyone was shipping this couple hard. They broke up in less than a year, right after Joo Hyuk signed on for another drama with Shin Se Kyung: The Bride of Habaek.
ADVERTISEMENT - CONTINUE READING BELOW
Gong Yoo in Goblin
Did you know that Gong Yoo is just a stage name? He was actually born Gong Ji Cheol. At 39, he's one of the most recognized faces in South Korea. He entered show business as a VJ on Mnet in 2000 and debuted as an actor in 2001. Gong Yoo's first lead role was alongside his now-best friend Gong Hyo Jin in Hello My Teacher, but what put him on the map was his portrayal of Choi Han Kyul in Coffee Prince. He made several dramas and movies once he got back from the military, and finally, after a lot of convincing from writer Kim Eun Sook, Gong Yoo agreed to star as Kim Shin in Goblin, a fantasy-romance drama.
The role of Kim Shin is what shot Gong Yoo into the global spotlight. Goblin is a story of a 939-year-old immortal who's waiting for his "bride" to free him of his punishment for taking thousands of lives in the past. Once he meets his bride, he can finally die and move on to the afterlife. The legendary goblin's bride is a high school student named Ji Eun Tak (Kim Go Eun). She finds a way to summon him and ends up living with him and the Grim Reaper (Lee Dong Wook), whose past is somehow intertwined with Kim Shin's.
As mentioned, the drama was written by Kim Eun Sook, the same genius behind Secret Garden, The Heirs, and Descendants of the Sun. Needless to say, Goblin was a huge success—both locally and internationally. Still, there were those who were bothered by the show's plot, specifically concerning the huge age gap between the leads.
ADVERTISEMENT - CONTINUE READING BELOW
Lee Jong Suk in Pinocchio
Believe it or not, Lee Jong Suk and Gong Yoo actually started similarly in that they both trained their acting chops through the School series, a "star-maker" in the Korean entertainment industry. Jong Suk appeared in the reboot School 2013, where he played Go Nam Soon, who became fast friends with the new transferee Park Heung Soo (Kim Woo Bin). Jong Suk appeared on everyone's radar when he starred in I Can Hear Your Voice, where he played a man with telepathic abilities.
His biggest role, however, has got to be as Ha Myeong/Dal Po, a vengeful news reporter in Pinocchio. As a child, Ha Myeong loses his father, a firefighter, through a tragic accident. His father is wrongfully accused of starting the fire and his family is destroyed by the media. Ha Myeong is adopted by a rural family after being saved by an elderly man; in his "new life," he is called Dal Po and he falls in love with the granddaughter of the man who saves him. The granddaughter is played by Park Shin Hye. They both eventually end up as reporters and struggle with the meaning of justice. Fun fact: The role of Ha Myeong/Dal Po was actually initially offered to Kim Woo Bin, but he had to turn it down due to conflicts in his schedule.
His undeniable chemistry with Shin Hye led to five major acting awards including: Best Actor (Korea Drama Awards, 2015), Most Popular Actor (PaekSang Arts Awards, 2015), Best Couple Award, Ten Star Award and SBS Special Award (SBS Drama Awards, 2014), Most recently, Jong Suk worked with Suzy Bae in the hit drama While You Were Sleeping.
ADVERTISEMENT - CONTINUE READING BELOW
Ji Chang Wook in Healer
Not a lot of people know that Ji Chang Wook began his showbiz career through musical theater. His first big gig was Smile Again, a 159-episode daily drama that won him Best Actor in a Daily Drama at the KBS Drama Awards in 2011. Chang Wook apparently trained for four to five hours a day to bring the role of a short track speed skater to life.
He also revealed his impressive acting skills as Ta Hwan in Empress Ki, where he played a young king that earned him critical acclaim. His most remarkable role is Seo Jung Hoo in Healer. An action-thriller drama, Healer is the story of an "illegal" night courier who works under the name "Healer." His advanced fighting skills and knowledge of technology makes him the best at what he does. He had his future planned out until he was assigned to protect a young reporter, Chae Young Shin (Park Min Young). Ji Chang Wook studied martial arts to improve his fighting skills. He soon became very popular in China and all over Asia after the show wrapped up.
Both Chang Wook and Min Young won big awards, thanks to this hit drama. Ji Chang Wook won the Popularity Award (Actor) and Park Min Young bagged the Excellence Award (Actress in a Mid-Length Drana) at the 2014 KBS Drama Awards, respectively. As a couple, they also took home Best Couple Award.
Kim Woo Bin in The Heirs
Like Nam Joo Hyuk, Kim Woo Bin kicked off his career as a runway model. He appeared in School 2013 alongside best friend Lee Jong Suk. In the same year, he landed his breakthrough role as Choi Young Do in The Heirs, where he acted alongside Lee Min Ho and Park Shin Hye.
ADVERTISEMENT - CONTINUE READING BELOW
The Heirs, as the name suggests, is about a group of rich, privileged high school students (think Gossip Girl) who are poised to take over their families' big, successful companies. The main characters are Kim Tan (Min Ho) and Cho Eun Sang (Shin Hye). Kim Woo Bin is set up to be the "villain" in this drama. Young Do is Tan's best friend-turned-enemy; he takes it upon himself to make Eun Sang's life miserable. Little did he know, he was falling in love with her, and of course, a love triangle forms.
It wasn't until 2015 that Kim Woo Bin starred as a lead in a drama, but it was worth the wait: He made hearts flutter with Suzy Bae in Uncontrollably Fond. Right now, Woo Bin is in recovery, having been diagnosed with cancer in May 2017. He began drug and radiation treatment and was exempted from the military.
This story originally appeared on Cosmo.ph. Minor edits have been made by the Spot.ph editors.
Share this story with your friends!
---
Help us make Spot.ph better!
Take the short survey
Load More Stories