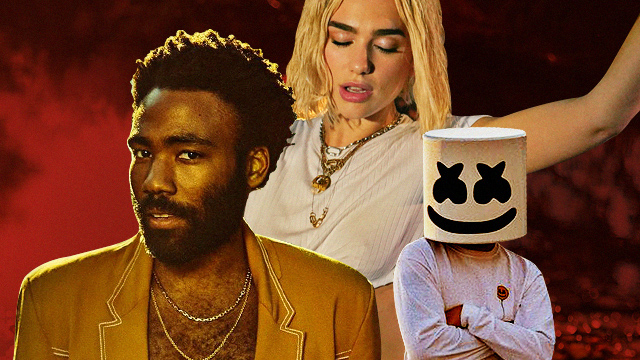 (SPOT.ph) Halloween long weekend is still a few weeks away, but it's never too early to prep the perfect road-trip playlist. You can queue our recommendations for this month and liven up your long drive with friends and family. We've got upbeat selections featuring collaborators Sigala, Ella Eyre, Meghan Trainor, and French Montana; Silk City and Dua Lipa; plus Marshmello and Bastille. Slow things down with the latest from hitmakers Childish Gambino and Khalid. Not to be outdone, our very own IV of Spades, Imago, Sheila and the Insects, Lenses, Ben&Ben, and Clara Benin have a little something for you, too. Enjoy these road trip songs and drive safe!
ADVERTISEMENT - CONTINUE READING BELOW
Song: "Just Got Paid"
Artists: Sigala, Ella Eyre, Meghan Trainor ft. French Montana
Throw caution to the wind and feel like a total big shot on your way out of town for the next long weekend. "Just Got Paid" may remind you of your adult responsibilities for a second, but the catchy dance ditty encourages you to reap the rewards of your hard work. We think you'll love the instrumental break in the chorus, too.
Fun fact: Sigala is 25-year-old Bruce Fielder from Norwich, Norfolk, England.


Song: "Bata, Dahan-Dahan!"
Artist: IV of Spades
Balance things out with the three-piece band's newest single. "Bata, Dahan-Dahan!" reduces the funk and highlights a darker rock flavor. Listen closely to the hard-hitting lyrics and more experimental arrangement. Don't worry—although a little different, the song is just as impressive as the trio's earlier releases.
Fun fact: Among the group's musical favorites are Earth, Wind & Fire, Phoenix, and Michael Jackson.


ADVERTISEMENT - CONTINUE READING BELOW
Recommended Videos
Song: "Electricity"
Artists: Silk City and Dua Lipa
Roll down the windows, feel the wind on your face, and sing along to this instant club banger by Silk City and Dua Lipa. A sure hit with your road trip buddies, "Electricity" features the songstress' sultry vocals paired with piano-based house beats.
Fun fact: Silk City is the collaborative project of DJs-slash-producers Diplo and Mark Ronson.


ADVERTISEMENT - CONTINUE READING BELOW
Song: "Alam Na"
Artist: Imago
If Pinoy rock is more your thing, have a listen to Imago's latest gem, stat. "Alam Na" will bring back fond memories of trips taken with old friends (and maybe not-so-fond memories of exes, too). The sweet vocals of band's vocalist Mayumi Gomez are in perfect contrast with the familiar Filipino rock sound.
Fun fact: Gomez directed the music video for the song.


Song: "Happier"
Artists: Marshmello ft. Bastille
Marshmello and Bastille's collab may be LSS-inducing, but it's the message that will stick with you. "Happier" is about making the ultimate sacrifice in love—letting someone go for their own happiness. The lyrics and the music video might just make you cry but it'll make you contemplate on life while you're cruising down the expressway.
Fun fact: Marshmello is American electronic music producer and DJ Christopher Comstock, who gained international fame after the success of his collaborations with Khalid ("Silence") and Selena Gomez ("Wolves").


ADVERTISEMENT - CONTINUE READING BELOW
Song: "Alarm"
Artist: Sheila and the Insects
Sheila and the Insects is making noise with "Alarm." Let the new wave single remind you of the good old rock music you and your buds were crazy about back in the day. It should keep you up and alert while driving, too.
Fun fact: The band's new album, Love or Limbo, is set to come out in November.


ADVERTISEMENT - CONTINUE READING BELOW
Song: "Feels Like Summer"
Artist: Childish Gambino
Childish Gambino tells you to slow down in "Feels Like Summer." When the sun has set and everyone in the backseat is having a snooze, the chill track will let you savor the quiet moment. The lyrics will also make you think about the world we live in and the careless ways we treat it.
Fun fact: The animated music video for "Feels Like Summer" features cartoon cameos from the music industry's biggest names like Drake, The Weeknd, Kanye West, Solange, Future, and Nicki Minaj, among others.


Song: "Ikaw Lang Ang"
Artist: Lenses
Another soothing track, "Ikaw Lang Ang" will add a touch of sweet jazz to your playlist. It'll complement a sunny day out on the road while you're traveling with your closest friends. The gentle vocals dish out lyrics about the pain and suffering we endure for those we deem worth it all.
Fun fact: The indie jazz band is composed of Aaron Gonzales, Jason Conanan, Gilbert Asuque, and Abby Clutario.


ADVERTISEMENT - CONTINUE READING BELOW
Song: "Better"
Artist: Khalid
Khalid is set to overcome the sophomore slump with the release of his latest single in anticipation of his second record. "Better" is a mellow, radio-friendly R&B track with sensual beats and smooth croons. You'll want to play it during while driving to your destination at night and you'll feel like you're starring in your own music video.
Fun fact: The artwork for the single pays homage to the young artist's hometown of El Paso in Texas.


Song: "Burnout"
Artists: Ben&Ben and Clara Benin
Local favorites Ben&Ben and Clara Benin made everyone swoon with their version of the Sugarfree classic, "Burnout." Their stripped-down take on the OPM hit elevates the song to a whole new level of emotional—making it great background music for your heart-to-heart talks with your friends on the road.
Fun fact: A Ben&Ben&Benin back-to-back show is scheduled for October 6 at the ABS-CBN Vertis Tent in Quezon City.
ADVERTISEMENT - CONTINUE READING BELOW
Share this story with your friends!
---
Help us make Spot.ph better!
Take the short survey
Load More Stories