Top 10 Scariest Pinoy Horror Movie Monsters
They've probably kept you up at night.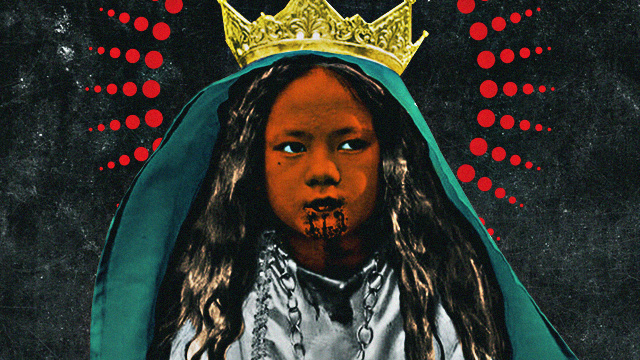 (SPOT.ph) Spooky season is upon us, and what better way to celebrate than by taking a look at the locally created horror movie characters that sent chills down your spine and gave you nightmares! Filipino mythology has given you tons of monsters over time—aswangs, halimaws, tikbalangs and more. Below, we've listed not just the scariest, but the best and most unforgettable local horror movie monsters that have terrified audiences on the big screen. If you end up having nightmares, don't say we didn't warn you!
ADVERTISEMENT - CONTINUE READING BELOW
10. The Nurse from Bliss (2017)
In Jerrold Tarog's mind-boggling psychological horror film Bliss, Adrienne Vergara plays an unusual and haunting nurse tasked to take care of an ailing actress played by Iza Calzado. Like a mash-up of Nurse Fletcher from One Flew Over the Cuckoo's Nest and Annie Wilkes of Misery, Vergara's nurse is creepy, off-putting, abusive, and downright terrifying when she needs to be. She's instantly memorable, especially in the last few sequences where her nursing goes way over the line.
9. Evil Spirit from Shake, Rattle & Roll III (1991)
Known as the Queen of Philippine Horror Movies, Lilia Cuntapay has played many an aswang, but it was her first appearance in the legendary Shake, Rattle & Roll film series (the third installment, to be exact) that really put her in the Pinoy horror movie lexicon. In Shake, Rattle & Roll III's "Yaya" segment, Cuntapay plays a malevolent spirit terrorizing the character of the Pinoy Scream Queen herself, Kris Aquino, and her family in the movie. Cuntapay made waves because of her naturally haunting look and the way she used her face and her body to scare Aquino and the audiences—and this was only the beginning of a long career scaring Filipinos.
ADVERTISEMENT - CONTINUE READING BELOW
8. Killer Refrigerator from Shake, Rattle & Roll (1984)
Okay, maybe in today's time, a killer refrigerator isn't the most horrifying thing and it may sound like one of the dumbest things on paper. But in the '80s, this segment of the very first Shake, Rattle & Roll (SRR) series had a generation of people double-checking their refrigerators to make sure it wasn't possessed. This classic SRR segment had a fridge devouring unsuspecting victims, while haunting others with horrifying, bloody, and highly disturbing visions of chopped-up body parts—including heads and limbs—stored in the refrigerator. While the idea may sound insane, the effective execution gives the Killer Refrigerator a spot on this list.
7. Halimaw sa Banga from Halimaw (1986)
Pasty-white, with long white hair and scary claws, the halimaw in this segment of a two-part film left an impression on anyone who's seen it. While the film itself may suffer from primitive effects and overworked atmosphere nowadays, the creature itself is an icon in Philippine movie history. The striking look of the vengeful demon and the way she picks off her prey really made audiences not want to take a peek into those giant jars for a while.
ADVERTISEMENT - CONTINUE READING BELOW
6. The Mysterious Teenager from The Road (2011) 
Yam Laranas is one of the top names working in Philippine horror, and in his 2011 film The Road, he directed a pre-AlDub Alden Richards to play a mysterious teenager who ultimately turns out to be the one your mother warned you about. It's very off-putting to see a good-natured, nice-looking guy start attacking young girls, and Richards pulls it off so terrifyingly and convincingly that it's hard to see him turning into the heartthrob that he is today. Disaffected and emotionless, Richards' teenager from The Road sends shivers down your spine in the most unsettling way.
5. Ruth and The Doll from Patayin sa Sindak Si Barbara (1974)
Chuckie and Annabelle? They don't quite match up to the doll in Patayin sa Sindak Si Barbara, a possessed toy bent on revenge. When the crazed Ruth suspects that her husband is having an affair with her sister Barbara (Susan Roces), she commits suicide and becomes a murderous doll who—aside from possessing other humans and things—walks around and pops up unannounced all covered in blood. It's an absolutely terrifying image, and Ruth has remained a fixture in the Pinoy horror movie world thanks to several remakes both on film and TV, with one that includes Dawn Zulueta playing the murderous spirit of Ruth.
ADVERTISEMENT - CONTINUE READING BELOW
4. The LRT Monster from Shake, Rattle & Roll VIII (2006)
Mike Tuviera's segment in the 2006 edition of Shake, Rattle & Roll is frightening in more than one way. First, it covers an attack by a monster in the LRT station, which makes commuting late at night scary. Then it shows a corrupt and abusive governing body, which is scary in itself. And then you have this violent alien-esque half-man, half-monster ripping the hearts out of LRT passengers, and that's not comforting either. With no eyes, the monster is already quite striking, and its take-no-prisoners attitude as it massacres the likes of Eugene Domingo makes it a classic among all of SRR's many monsters. Everyone loves a good slasher movie monster, and the LRT monster delivers.
3. Anghela from Seklusyon (2016)
Children in horror films are never a good sign, and when this child is spitting out black liquid, it's a wonder how you're not running in the other direction. Erik Matti's Seklusyon takes place at a monastery where aspiring priests are sent for a week of seclusion on the last seven days of their training, while at the same time, a miraculously powerful child supposedly healing the sick is being investigated. The deacons and aspiring priests are scared by visions of their sins, and Rhed Bustamante's Anghela feels like a direct link to the strange events. She's not a normal child, for sure, and she makes sure to show you just how un-normal she is in the most haunting ways.
ADVERTISEMENT - CONTINUE READING BELOW
2. Tiyanak from Tiyanak (1988)
The demonic child baby called a tiyanak is already a staple in Philippine horror mythology. And it got an even stronger pop-culture impact when it appeared in the 1988 film starring Janice de Belen. De Belen plays a woman who's gone through so many miscarriages that when a random baby appears, she believes it to be a repayment from God for all the miscarriages. The mysterious baby of course turns out to be a murderous monster, which is just nightmare fuel for all.
1. Lotus Feet and the Bagua Mirror from Feng Shui (2004)
Probably the most unforgettable horror figure in Philippine cinema not based on Philippine mythology, Lotus Feet and her click-clacking still makes horror-movie fans shudder. Lotus Feet, a name that comes from the Chinese tradition of binding feet, is the pasty-white central monster in Chito Roño's massive hit, Feng Shui. While she doesn't really make a lot of straight-up appearances, only haunting from a distance, it's her possessed bagua mirror that pops up often in Kris Aquino's house which causes the most terror, killing people who look into it. This mix of a supernatural spirit haunting the halls, plus that everyday object-turned-murder machine is what Philippine horror is all about, and it's used to great effect in Feng Shui.
ADVERTISEMENT - CONTINUE READING BELOW
Are you sure you want to delete this list?

Recommended Videos
Load More Stories