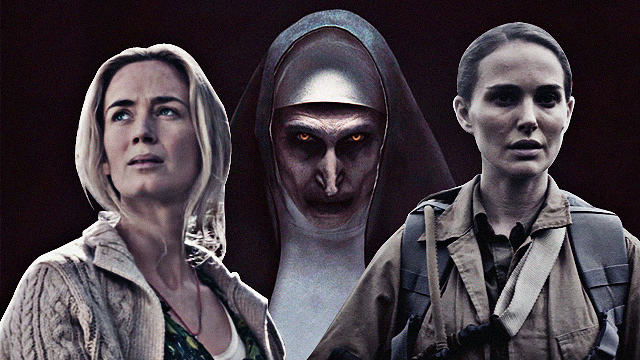 (SPOT.ph) There's no better way to celebrate October, the spookiest month, than by gorging on horror films. Fans of the genre would know that 2018 has produced some real gems as well as a few stinkers. From brilliantly harrowing psychological thrillers to wonderful new concepts, there's a whole lot of horror to indulge in. There's even a kid-friendly family movie in the mix, so the whole family can enjoy getting spooked together.
Hellraiser: Judgment
Directed by: Gary J. Tunnicliffe
Pinhead will forgive you (or probably not) for not hearing about this sequel to Clive Barker's take on the hierophants of hell. This direct-to-video offering directed by Gary J. Tunnicliffe is arguably the best among the direct-to-video sequels in a series that spans a whopping 10 films, expanding on Barker's lore while staying true to the sadomasochistic spirit of the original and starring a brand-new Pinhead (Paul T. Taylor). If you're a fan of the Hellraiser series, this should give you hope for more B-movie goodness to come.
ADVERTISEMENT - CONTINUE READING BELOW
Winchester
Directed by: Michael Spierig and Peter Spierig
This film makes the list for two reasons: Helen Mirren, who plays the widow of gun manufacturer William Winchester, is always a joy to watch; and the fact that the Winchester house is a real place. Neither of these things actually make for a true fright fest but the film itself is a visual treat reminiscent of 13 Ghosts and a thinly veiled statement about gun control. The thrills and the story may not be exceptional, but the film works as a sort of virtual tour as most of the set is based on the actual, weird architecture of the Winchester Mystery House.
Annihilation
Directed by: Alex Garland
Ex Machina director Alex Garland's slow-burn sci-fi thriller is a mind-bending exploration of first contact. Natalie Portman plays a scientist who goes into "The Shimmer" in search for answers to the disappearance of her husband (Oscar Isaac). The film is beautiful and disturbing all at once—and arguably should've been one hour shorter but it stands out for pure craftsmanship. While it might've worked better as a standalone episode of Black Mirror, Annihilation touches upon themes that can sit with you after the credits roll.
The Nun
Directed by: Corin Hardy
The latest entry to the Conjuring-shared horror universe is a prequel that explores the origins of the creepy, Marilyn Manson-like demon nun Valak in a fun romp through a 1950s Romanian abbey. It's a by-the-numbers horror film that's filled with good old gothic imagery and Catholic iconography. It's the least frightening Conjuring-related film with a low body count but it's possibly also the most fun.
ADVERTISEMENT - CONTINUE READING BELOW
Recommended Videos
The First Purge
Directed by: Gerard McMurray
This prequel of the Purge franchise explores the origins of the first Purge, where the New Founding Fathers in this dystopian alternate future come up with the utterly insane but also utterly vicarious idea of legalizing all crime for 12 hours every year. It's a social experiment gone awry, inevitably and predictably tinged with corruption and greed. It's more of the same but adds to the growing lore of the Purge setting, and leads directly to the events of the past films and the television series.
The House with a Clock in Its Walls
Directed by: Eli Roth
The only family-friendly entry on the list, this spooky tale of an orphan (Owen Vaccaro) who finds his way to his magician uncle (Jack Black) and his best friend (Cate Blanchett) works as sort of a gateway drug to horror. With reanimated corpses, killer pumpkins, freaky moving mannequins, and magic spells, this movie adaptation of the eponymous book can teach kids that horror can actually be a lot of fun.
The Predator
Directed by: Shane Black
Thirty-one years after the debut of the remarkable hunting alien, along comes the fourth installment of the Predator franchise. Although not strictly horror, this Shane Black-directed soft reboot blends enough tension, action, humor, and respectable body count in this tale of an invisible alien with dreadlocks and a fanged mouth to merit inclusion on this list. As a bonus, the film also has a cute trick or treat scene, making it appropriate for the season.
ADVERTISEMENT - CONTINUE READING BELOW
Unsane
Directed by: Steven Soderbergh
There are schlocky horror films, and then there's Steven Soderbergh. Unsane is a deeply disturbing psychological thriller featuring Claire Foy as a woman seeking refuge from a traumatic experience with a stalker and ends up being institutionalized against her will. It's the stuff nightmares are made of, and there's just enough happening under the surface to make you question your sanity. Soderbergh applies his signature directorial aplomb and it's just as enjoyable to take in the craftsmanship of the film as it to be utterly terrified.
A Quiet Place
Directed by: John Krasinski
This sci-fi thriller about sound-seeking aliens who wipe out nearly all of humanity took everyone by surprise when it hit the theaters. John Krasinski's directorial debut shows a masterful grasp of the genre, making munching on popcorn or chips at the theater a very uncomfortable experience. Starring Krasinski and his wife Emma Blunt, the story follows a family struggle in the aftermath of a tragedy. Krasinski's careful handling of its characters and story—there'll be tears and triumph—make it stand out not only as one of the year's best horror films, but a film that'll be remembered for some time to come.
Hereditary
Directed by: Ari Aster
Hereditary's unbridled venture into the most sinister aspects of the supernatural is reminiscent of The Exorcist or Rosemary's Baby. Unlike many films where some protagonists feel protected by the storytelling, there's absolutely no feeling of safety here and viewers can come away feeling not only disturbed but deeply vulnerable. If you believe in the devil, this may well be the film to make you wet your pants; and if you don't, this film just might change your mind.
ADVERTISEMENT - CONTINUE READING BELOW
Share this story with your friends!
---
Help us make Spot.ph better!
Take the short survey
Load More Stories