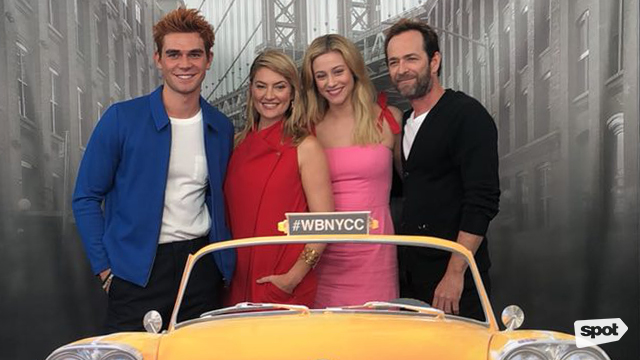 (SPOT.ph) The second season of Riverdale still probably has you asking what the heck happened to Archie (KJ Apa) after Hiram Lodge (Mark Consuelos) had him arrested and how Veronica (Camila Mendes) feels about all of it. You're also probably still not over Jughead (Cole Sprouse) asking Betty Cooper (Lili Reinhart) to be his Serpent Queen. Well, you're in luck, because SPOT.ph got to drop by the 2018 New York Comic Con last weekend to sit down with Apa, Reinhart, Mädchen Amick (who plays Alice Cooper), Luke Perry (who plays Fred Andrews), and executive producer Roberto Aguirre-Sacasa, and we talked about what fans can expect from the upcoming season of the show!
ADVERTISEMENT - CONTINUE READING BELOW
You'll see a Riverdale now run by mobsters.
After Season 2, Hiram Lodge basically now runs the entire town. It doesn't help either that his wife is the mayor. Aguirre-Sacasa says, "The main character of the show really is the town, so every year we talk about all of the characters and plan out what their season arcs are and we always talk about the town." He also compares how different Season 2 is from Season 3. "Last year, the theme was sort of like civil war—North versus South. This year, the town's story is sort of, what is it like to live in a small town that's basically been taken over by corruption? And that has a mob boss in charge and his wife is a mayor? It feels very different from the huge tension between the South side and the North side. It feels like the dark side sort of won and that's what we're living in."
There's going to be a lot more action.
You can't have Archie arrested and not expect him to get into some sort of trouble. When asked about what Archie's life is like in juvy, Apa says, "Archie's in survival mode, he's figuring out a way to get by. There's people in there who he knows." He also says Archie will have meatier action sequences. "There' s probably more physical stuff in the first half of this season than the first and second combined for Archie, which is great. I love the physical stuff—when it's not winter time," he jokes.
Even Perry says his character Fred might just do some more teaming up to take down Lodge. "I couldn't do it myself, though I slapped him around a little bit. But to actually get him out of town and get him gone is gonna take a group effort."
ADVERTISEMENT - CONTINUE READING BELOW
Expect to see more drama between the parents and their kids.
After the events of the second season (a.k.a. finding out her son is alive, then actually not), Alice is just trying to get over everything that happened. "Alice has gone into complete cult, hippie, farm mode. So she's turned over a new leaf, she's eating healthy. She's burning incense, she's wearing crystals. Like, she's gone all the way—which Alice always does. Anything she ever does, she goes all the way," Amick says. "So, she's healing some wounds and not really facing what happened. She's just covering up what happened." But of course, this doesn't sit well with Betty.
Reinhart says, "Betty is kind of freaked out by what happened. But I think it makes her more suspicious of the farm, because she's like, 'Okay, now that my mom is like, with the farm, all these weird things are happening.'"
ADVERTISEMENT - CONTINUE READING BELOW
Even Archie and Fred will be going through their own problems, especially since Archie's going to juvy. "This season we see his relationship with Fred change a lot in terms of how he's growing into more of a man and he sees his dad differently," Apa says. He also knows it'll affect Veronica's relationship with her dad. "I bet that'll cause a lot of strain on her relationship with her old man. She's not stupid either, she knows what's going on with them."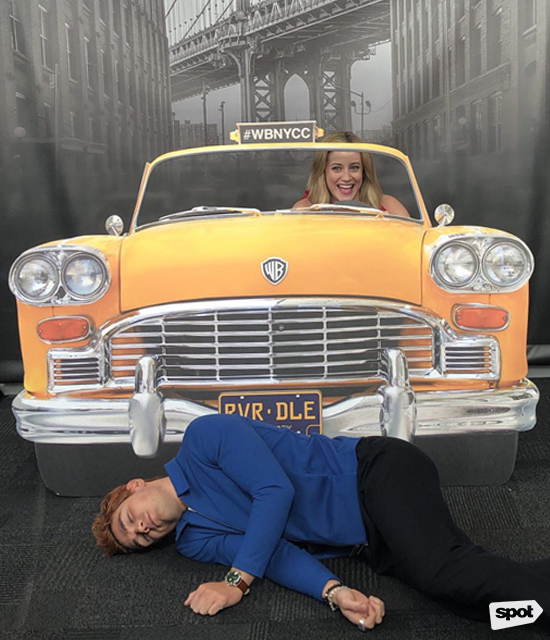 ADVERTISEMENT - CONTINUE READING BELOW
You'll be seeing more of sleuthing Bughead after Jughead asks Betty to be his Serpent Queen.
The mystery of the Black Hood might be solved, but there's a new killer on the loose—the Gargoyle King. And of course, being the badass couple that they are, Betty and Jughead are the first to investigate. 
This, of course, comes after Jughead asks Betty to be his Serpent Queen—which Reinhart clarifies isn't an engagement. "A lot of people sort of took it as an engagement, which at one point or another, maybe it was written that way, but no. I think honestly it was just kind of Jughead's way of solidifying Betty in with the South side." She continues, "I think it's kind of like his way of saying, 'Hey, you're my partner in this, I want you to help me. I appreciate your help with the Serpents. I recognize you, I see you.' So, I think it was just a very sweet kind of bonding moment between them."
ADVERTISEMENT - CONTINUE READING BELOW
Dark Betty is back and more badass.
Betty and Jughead make a cute and super-cool couple together, but that doesn't mean Betty needs Jughead to be badass. She can do that on her own—and without her dark wig, apparently. "No more wig. It's gone. I got rid of it, I threw it away. But the anger, the self-harm, the deep kind of bubbling thing that she has inside of her is 100% there and you see it at its full throttle at one point," Reinhart shares. "It's not a facade, because she is a badass, and she has it inside of her. But it's just her survival mode in a way. It's what she has to do to get by. You'll see that for sure, this season. And it's scary. She's not a monster, she's still Betty, she just has some anger that she's gotta get out."
ADVERTISEMENT - CONTINUE READING BELOW
You might just see another birthday episode soon.
Jughead's birthday in Season 2 was eventful, to say the least. But that's also why fans can't wait to see who'll be celebrating their birthday next. Aguirre-Sacasa says, "We haven't talked about it, but they all have birthdays... Yeah, we should do one—another birthday. We try not to talk about what characters' ages are on the show. And if you notice on Jughead's birthday, we never say, 'Oh my God, you'e turning X.'" As for whose birthday he wants to do next? "Cheryl's birthday would be fun."
Archie, Veronica, Jughead, and Betty are going to have one last fun weekend together—before going on their own (mis)adventures.
In the trailer for Season 3, we see the gang going on what seems to be a carefree vacation, despite the last scene of the season showing Archie going to jail. Apa says, "Archie just literally wants to spend what could be his last summer with them for a long time. He just wants to have a good time with them before he goes away and I feel like that's all that is—the four of them just cherishing that moment and the time that they're together."
ADVERTISEMENT - CONTINUE READING BELOW
After that, though, it'll just be Betty, Veronica, and Jughead figuring things out. Still, Reinhart explains that Veronica won't end up being a third wheel. "They all kind of get wrapped up in their own things. Betty and Jughead do take on the mystery of the Gargoyle King together, but Veronica is very busy running her speakeasy and trying to get Archie out and doing everything that she can—not to say that Betty and Jughead aren't. It's just I feel like they feel like they've exhausted their resources and that there's not much left to do. And there is this new mystery in town so they're gonna go take care of that and leave Veronica to helping Archie."
There'll still be a couple of musical numbers.
One of Riverdale's highlights are the musical numbers from the different characters. So far, Archie doesn't have a performance—yet. Apa says, "As of now, while we're shooting Episode 9, there's nothing for Archie so far. Obviously because of what's going on and stuff, but there will be some towards the end. He gets back into it." But Aguirre-Sacasa reassures fans that there'll be a couple of numbers to look forward to. "We're definitely doing the musical numbers. Episode 1 doesn't have one but Episode 2 has an amazing one. And Episode 3 has probably the best one we've done. I love the musical episodes."
ADVERTISEMENT - CONTINUE READING BELOW
There might just be a crossover with Netflix's new show, Chilling Adventures of Sabrina.
Given that Aguirre-Sacasa is also one of the masterminds behind Chilling Adventures of Sabrina and that it's basically from the same producers as Riverdale, it wouldn't be far-fetched to assume that there'll be a crossover with Riverdale. But, he says, there's no solid plan for it yet. "You know, I'd love to do it. I'm a huge comic-book nerd. And I loved when there were crossovers." He continues. "I think right now, everyone is wisely focused on launching [Chilling Adventures of] Sabrina on its own and really making sure that Riverdale Season 3 is as good as others seasons, if not better. So, hopefully, someday. You know it has to be the right story but I think we've got a couple of good ideas."
As for Apa, he couldn't be more excited for the possibility. "Absolutely! As long as Archie's not getting into the satanic kind of stuff. I'm not into that kind of stuff."
ADVERTISEMENT - CONTINUE READING BELOW
Riverdale Season 3 is now on Netflix.
Share this story with your friends!
---
Help us make Spot.ph better!
Take the short survey
More Videos You Can Watch
Load More Stories