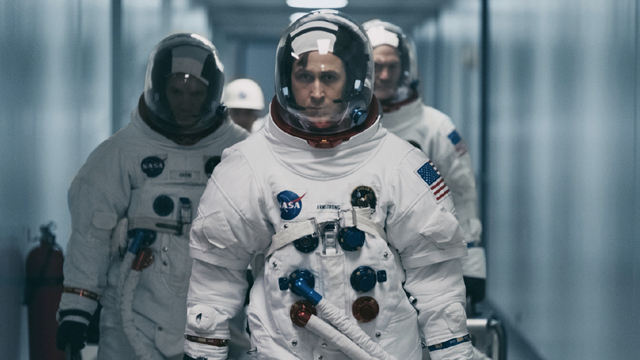 (SPOT.ph) A character-focused space-race drama filled with lots of rocket science doesn't sound like the natural follow-up for someone who directed musically driven films like La La Land and Whiplash. Still, director Damien Chazelle took on the challenge. After winning the Oscar for Best Director in 2017 for La La Land, Chazelle grabbed Ryan Gosling once again and went to work on First Man. The drama, centered around astronaut Neil Armstrong, is based on an official biography written by historian James R. Hansen. Dropping the fast-paced editing and the toe-tapping musical numbers of his previous films, Chazelle attempts a slower, heavier, more serious film to mixed but ultimately satisfying results. While an unenergetic and dull launch threatens to derail the ship, First Man manages to fly smoothly into its conclusion and nail a successful landing.
Working as a test pilot, Neil Armstrong (Gosling) is struggling at his job, and the bad breaks don't stop there. His young daughter dies of a brain tumor, and rocks his steady life with his wife Janet (The Crown's Claire Foy). Neil, in what seems to be just a way to start afresh, applies to become an astronaut. He is accepted, and moves his entire family to Houston where he starts working at NASA as the agency gears up during the Space Race, wherein the United States is losing to Russia in almost every aspect.
ADVERTISEMENT - CONTINUE READING BELOW

The story follows Neil as he goes into training, meets several other astronauts and pilots (played by a who's who of recognizable actors such as Patrick Fugit, Pablo Schreiber, Kyle Chandler, Christopher Abbott, and Jason Clarke), goes into heart-racing missions. Until finally, he goes on—insert an almost 50-year-old spoiler alert here—the monumental flight to the moon. All the while, we (kind of) see Neil struggle with his daughter's death, his lifeless marriage, and the dangers of the space race.
The filmmaking on display in First Man is really stunning. The way Chazelle uses point of view really throws you into the action whenever it's there. The shot is right there when Neil is training to become an astronaut and the camera is spinning dizzyingly out of control, almost as if you were on a terrible carnival ride. The camera is also used terrifically in Neil's first flight into space on the Genesis 8 as Chazelle keeps the camera within the small and cramped ship. The result is a claustrophobic, breathless, and exciting sequence. The launch of Apollo 11 is masterful. Chazelle is no doubt talented on this front, and with the help of his mega-talented cinematographer Linus Sandgren (who also won for La La Land), First Man delivers an exceptional filmmaking experience. It may not be as groundbreaking as something like Alfonso Cuaron's Gravity, but there's no denying the talent behind the camera.
CONTINUE READING BELOW
Recommended Videos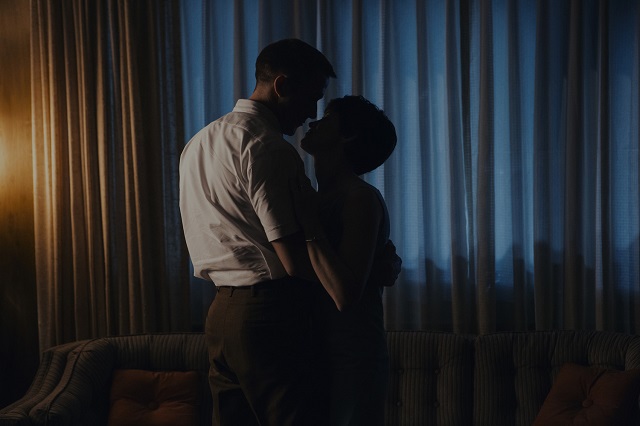 First Man doesn't quite stick its landing in its telling of this story in a sympathetic and fresh way. It's an impressive story, no doubt, and screenwriter Josh Singer (an Oscar winner for Spotlight) does a solid job of moving this immense and important story, but Chazelle, Singer, and Gosling seem to have decided to portray Armstrong as hard, distant, and reserved. While the real Armstrong may have been like that, it makes for a film character that is difficult to connect with because of a lack of emotion. This is even more on display when the film introduces the more showy and outgoing Buzz Aldrin played by Corey Stoll. Because Armstrong is central to this film—and the film is more about Armstrong than the Space Race itself—this makes for a movie that is also distant and often too muted.
This isn't all a failure, though, as it does make for a very interesting film. We see a man so focused on his work and so good at what he does, sacrifice so much and punish himself in order to attain something that people once thought was impossible. It's a tale of danger and suffering to achieve a goal, and it is a very respectable effort from Chazelle. Unfortunately, that also means some parts of First Man is a real drag to get through. Even the marriage scenes are so blank, it feels as if the incredible Foy is kept on the backburner for most of the film.
ADVERTISEMENT - CONTINUE READING BELOW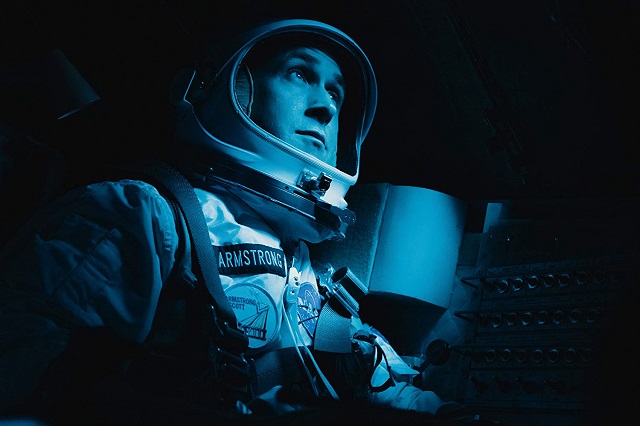 It's when the film lets you in just a tiny bit where it really shines. Through this hard exterior, First Man, like Gosling playing Neil, opens up just a tiny bit for you to still feel something. Foy is let loose to deliver massive monologues once in a while, and she just takes the bull by the horns whenever she's allowed. When something incredible is achieved, you find yourself amazed at the effort and the artistry that just took place. Gosling has moments where you get a sense of Neil's emotions and it's so oddly engaging the way he under-acts it, Jaclyn Jose-style. There are moments of brilliance, and it's enough to look over some of the faults.
Ultimately, this film is centered on the moon landing, and just like that event, First Man nails the landing. The entire sequence is absolutely stunning, and the way the story wraps up is really satisfying and leaves a great taste in your mouth even if the first few bites don't quite match up. Overall, the package of this film is a great leap for filmmaking, though some will find it too emotionally distant to really care. The terrifying POV shots, the attention to detail, the screeching sound design, even the La La Land-esque score make for a really beautiful film to watch and experience, even if you're not quite attached to the ship by the end of it.
ADVERTISEMENT - CONTINUE READING BELOW
Rating: 4 out of 5 spots
First Man is out in theaters on October 17.
Photos courtesy of United International Pictures
Share this story with your friends!
---
Help us make Spot.ph better!
Take the short survey
Load More Stories