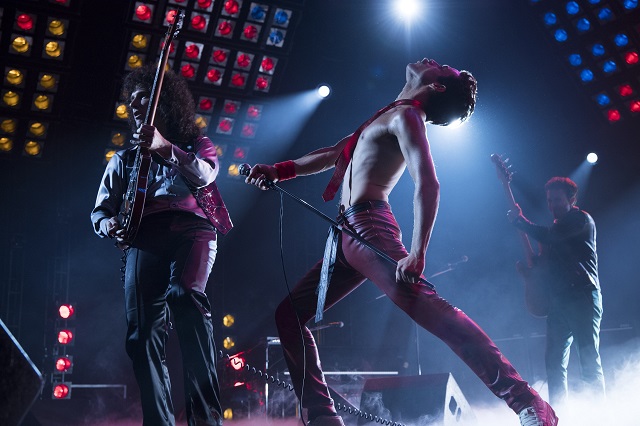 (SPOT.ph) Is this the real life? Is this just fantasy? Some of Bohemian Rhapsody might as well be a fantasy, as this biopic about the rise of the legendary rock band Queen that focuses specifically on lead singer Freddie Mercury's life jumbles real life events around to fit the dramatic narrative. That doesn't take away from the electricity and thrill that comes when Queen's music is played. Put the music together with Rami Malek's spirited performance as Mercury makes for a truly crowd-pleasing film. Does it really matter to the film that it's non-musical moments range from hollow to badly melodramatic, or that its writing and directing aren't anything to champion? Probably not when you have an iconic playlist of songs like Queen's.
ADVERTISEMENT - CONTINUE READING BELOW
Bohemian Rhapsody follows the creation and the rise of the British rock band Queen. After a snippet of the legend that Queen becomes is shown, the film goes back to 1970 when an airport baggage handler from Zanzibar named Farrokh "Freddie" Bulsara (Malek) approaches a couple of musicians after a small college show to try and form a band. Fast forward to a year or so later as Queen starts taking off, creating an album, and getting managed by one of the top record labels.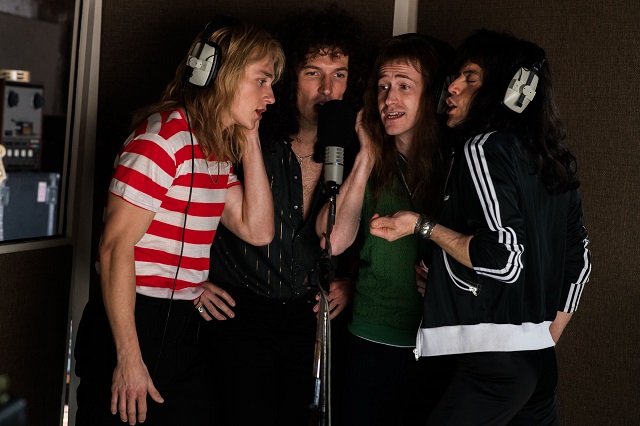 Freddie's larger-than-life personality and the entire Queen's songwriting talent put Queen front and center of rock 'n' roll. The film hits all the important songs and moments of Queen—from the creation of the titular song to Queen's most famous performances. Of course, success doesn't always bring happiness, as Freddie's life starts spiraling with crazy drug-fueled parties and drifting away from his bandmates. The movie also tackles Freddie's sexuality and his struggles head on, which brings in the more dramatic parts of the film.
For the most part, Bohemian Rhapsody feels like a CliffsNotes version of Queen's life. It doesn't feel like it gives this celebrated and storied band, or the legendary members of it, enough justice. The film was directed by Dexter Fletcher—though it's former director Bryan Singer (known for his work on the X-Men films) who is credited. Bohemian Rhapsody barely scratches the surface of what is clearly a very complicated life. Moments and story beats—like Freddie's sexuality, or band members' irritation for a certain person—just casually drop in when it's convenient to the story. The writing and storytelling feel incredibly inorganic, putting everything in bullet points then figuring out what works for a certain part. The first 40 minutes, for example, works basically as a montage to get you to the moment that the titular song "Bohemian Rhapsody" is created. And even if the story slows down when it gets to that moment, it's not long before the film starts hitting all the checkpoints without exploring the in-between.
ADVERTISEMENT - CONTINUE READING BELOW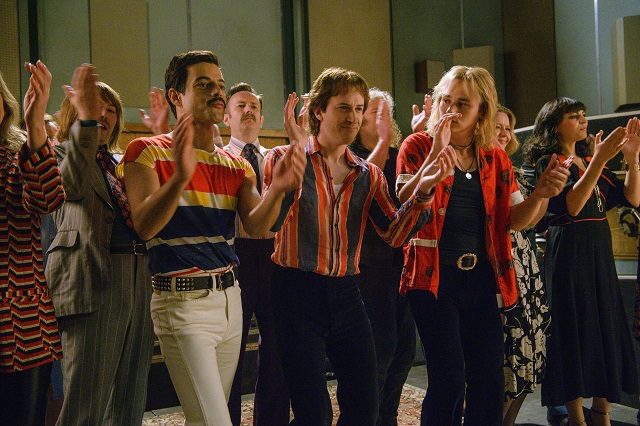 What the film does do justice with is Queen's unforgettable set of songs, including "Bohemian Rhapsody." The most exciting parts of the film are when the band is performing, writing, and creating. It's visually and aurally thrilling, and will definitely have audiences rocking. The film's climactic scene recreates one of Queen's most memorable and recognizable performances to extremely stellar detail. You can't help but clap along, sing along, and feel absolutely moved by the beauty of this performance. It matches Lady Gaga's performance of "Shallow" in A Star is Born in pure emotion in a musical performance. Some songs, such as "Who Wants to Live Forever" and "Under Pressure" are used as music cues and are not diegetic—which works sometimes, but usually comes off too "on the nose." Despite this, it's still a great time to toe-tap your way through the songs.
ADVERTISEMENT - CONTINUE READING BELOW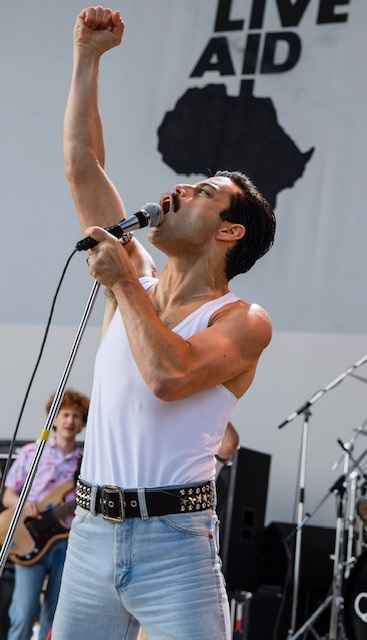 Malek—stoic and emotionless in Mr. Robot—goes the extreme opposite end of the spectrum and is energetic, expressive, and full of life in Bohemian Rhapsody. At times, the performance does feel a bit like a caricature, but when he's on stage as Mercury, Malek absolutely shines. He also showcases his acting skills during quieter, more dramatic moments, often paired with Lucy Boynton, who continues to grow her already impressive résumé. Malek, with giant fake teeth, and every bit of movement that made Freddie, well, Freddie, is an absolute star. Even if he doesn't do the actual singing (Mercury's singing voice in the film comes from three different people, one of them Mercury himself), Malek manages to make everything look good.
ADVERTISEMENT - CONTINUE READING BELOW
The film struggles when it goes away from the musical parts and the performances, mainly because the script is so cheesy and the directing so plain that it lets down Malek's performance and the musical numbers. Despite this, Bohemian Rhapsody is a film designed to celebrate Queen's music and the legends that they are. When you've got a set of songs like this, the music makes the rockin' world go round.
Rating: 3 out of 5 Spots
Bohemian Rhapsody is out in theaters on October 31.
Photos courtesy of 20th Century Fox
Update as of October 26, 2018 (6:45 p.m.): This article has been updated to reflect that Bryan Singer is credited as Bohemian Rhapsody's director, though Dexter Fletcher took over after Singer left the project.
Share this story with your friends!
---
Help us make Spot.ph better!
Take the short survey
More Videos You Can Watch
Load More Stories