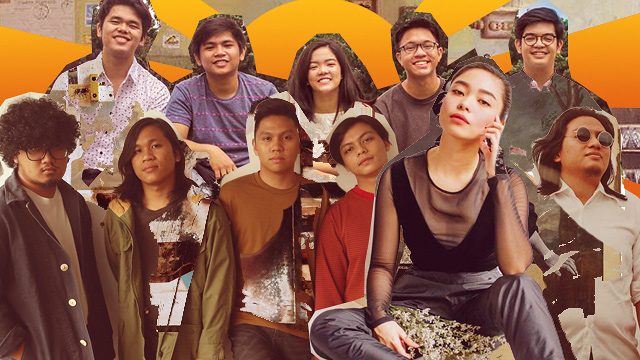 (SPOT.ph) The local music scene is so alive with unique talents that, more often than not, it almost becomes overwhelming to keep up with all the acts you need to know. When it comes to exploring indie musicians, in particular, not many may even get on your radar as more mainstream artists continue to dominate the airwaves and social media. But independent performers are worth just as much attention and appreciation, as we're sure you know by now. Below, we help you discover some low-key indie names and some of their musical offerings. Add them to your playlist today, and catch them on their next gigs soon!
Memory Drawers
Listen to: "For Any of This," "Esc Esc Esc," and "Maybe"
Get your dose of fresh dream-pop and lo-fi music from Memory Drawers. The young trio's otherworldly sound will have you bewitched and lost in thought. A little rough around the edges, Memory Drawers intrigues and teases, getting you excited for whatever they have in store next.
ADVERTISEMENT - CONTINUE READING BELOW
Fiona
Listen to: "Dreamer" and "Not a Love Song"
Acoustic singer and songwriter Fiona Comendador isn't new to the local gig circuit, but her recent online releases show her potential to become a crowd favorite. Fiona's sweet and dreamy vocals, paired with her playful acoustic stylings, will remind you of female music gems Ingrid Michaelson and Sarah Bareilles.
Nathan & Mercury
Listen to: "Fools," "Swing," and "Rumors" 
Newcomer Nathan & Mercury will regale you at first listen with their interesting fusion of pop, soul, R&B, funk, and jazz elements. It's the unpredictability of their sound and the inability to box them in one clear-cut genre that increases the likability of this fast-rising four-piece act. With limited online releases, you'll need to catch them at one of their live performances around the metro to hear more of their original music.
Shirebound and Busking
Listen to: "Waltz of Four Left Feet," "Pahintulot," and "A Million Little Things"
You may have heard songs by Iego Tan's solo folk project from indie films such as Kuya Wes and I'm Drunk, I Love You. The appeal is in their poetry and sincerity, as they tackle love and heartbreak in such relatable fashion. His heartfelt confessions, soulfully crooned over stripped-down arrangements, are sure to resonate with you.
One Click Straight
Listen to: "She," "Honey," and "Small Talk"
One Click Straight is gaining a lot of traction, so expect to hear more about them soon. Their recently released debut album, The Midnight Emotion, is an enjoyable introduction to the band's upbeat medley of indie, pop, and rock sounds. Feel the four-piece band's raw energy through their songs laced with synths, drowned-out vocals, and danceable melodies that will easily make you a fan.
CONTINUE READING BELOW
Recommended Videos
The Geeks
Listen to: "I Hate This Place as Much as Liz Hates the Winchester," "I Want You to Stay," and "Do You, Too?"
This indie quartet, often compared to local band Ciudad, is slowly but surely making a name for itself in the local indie music scene. The sweet and fuzzy guitar-pop sound fits both their mushy and heartbreaking themes. Savor the band's guitar-heavy, mid-tempo tunes as you go for a drive or simply reminisce the loves you've lost and found.
Memoryville
Listen to: "Quit Feeding Off the Loneliness of a Generation," "Unexpected Caller," and "Don't Leave"
Kurvine Chua's music project Memoryville features an eclectic mix of new wave and emo elements. The lyrics may seem too melodramatic (and may not be for everyone), but his work was not designed to please everybody anyway. The young musician created Memoryville to creatively express the sadness and darkness in him.
Any Name's Okay
Listen to: "Clouds" and "Hawaiian"
Another newcomer to the indie music scene, the fresh-faced group Any Name's Okay is one definitely to watch. Vocalist Sofia Abrogar's gentle singing voice adds a soft touch to their upbeat pop-rock tunes. Officially formed late last year and out with their debut single "Clouds," the band is set to share more of their music with a bigger audience.
Munimuni
Listen to: "Sa Hindi Pag-Alala," "Tahanan," and "Sa'yo
Don't miss out on the makata-pop offerings of Munimuni. The promising band has been making waves in the indie music scene and slowly breaking into mainstream popularity with its poignant folk-rock singles woven together by lyrics that tug at the heartstrings. If spoken word is your thing, you'll appreciate their thoughtful songwriting.
ADVERTISEMENT - CONTINUE READING BELOW
Mariamaria
Listen to: "Figure It Out," "Hello to the New," and "We Used To"
From posting cover songs on Twitter Music and Soundcloud, Mariamaria has taken the big leap and started releasing her own music. The young and stylish songstress produces soothing electro-R&B tracks highlighted by her sultry vocals. Add her to your list of favorite female artists, stat.
Share this story with your friends!
---
Help us make Spot.ph better!
Take the short survey
Load More Stories