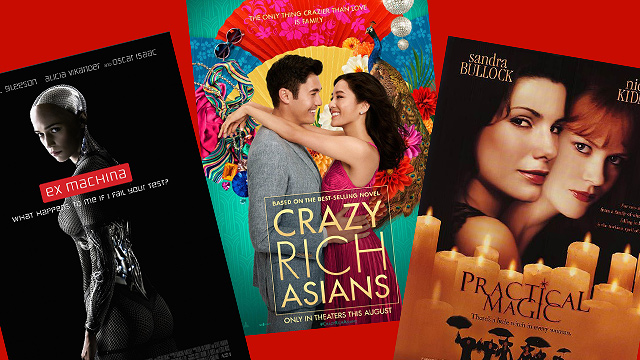 (SPOT.ph) There have been a few movies that got a second life on the small screen—and some even turned out better than the others. Buffy the Vampire Slayer was a film first, starring Kristy Swanson in 1992. Five years later, Sarah Michelle Gellar debuted as Buffy Summers in The CW series that spanned seven seasons. Even the classic rom-com 10 Things I Hate About You got a TV show under ABC Family on its 10th anniversary. In the local scene, On the Job is set to get the series treatment.
While there are stories made for the big screen, there are some details that essentially get lost when you try to compress a story into an hour and a half. Character development and back stories are sacrificed to keep the moviegoer on the edge of their seat for the movies' entire running time. But in the era of streaming and binge-watching, wouldn't it be interesting if some of the films (and characters) we couldn't get enough of were turned into TV series? Here's a roundup of movies we think could be translated into a TV show.
ADVERTISEMENT - CONTINUE READING BELOW
Crazy Rich Asians (2018)
The main focus of the Hollywood blockbuster hit was Rachel Chu's story, but for fans of the Kevin Kwan books, they know that there are more juicy stories that could have made it onscreen. While a movie trilogy is possibly in the horizon, we wonder if a TV series based on the Crazy Rich Asians characters could turn out even better than the film. Imagine if we got an entire episode focusing on just one character's backstory! Plus, it could even be narrated a la Gossip Girl by Radio One Asia.
Ex Machina (2014)
The sci-fi movie starring Alicia Vikander, Domhnall Gleeson, Oscar Isaac, and Sonoya Mizuno was thrilling to watch on the big screen. But the story—of a highly sophisticated human-like AI experiment—could still very well be expanded into a 10-episode series. We imagine it would be a binge-worthy companion to Black Mirror.
Legally Blonde (2001)
The Reese Witherspoon starrer has already been turned into a musical, but we think a TV series could work, too. Just imagine Elle Woods joining the ranks of legal dramas like Ally McBeal, Law & Order, The Practice, and How to Get Away with Murder. She'll continue to win cases with her extensive knowledge of the cardinal rules of perming and fighting sexual harassment in the #MeToo era.
You've Got Mail (1998)
In an updated version of the Meg Ryan-Tom Hanks classic, the TV show can be reimagined in present day, where their characters exchange messages through Instagram, Twitter, or Facebook Messenger instead of e-mail.
Scott Pilgrim vs. The World (2010)
The Edgar Wright film is like a video game come to life with Scott Pilgrim (Michael Cera) dealing with his ex-girlfriend's evil ex-boyfriends. Though the movie was already fun enough to watch, a TV show would allow us to get deeper into each evil ex-boyfriend's history and be rewarded with an even more epic battle scene at the end of each episode.
Gone Girl (2014)
After seeing how brilliantly Sharp Objects was translated on the HBO limited series of the same name, we had to look back on the Gillian Flynn novel that was adapted into film. With Rosamund Pike's A+ portrayal of Amy Dunne in the chilling movie, we can already imagine all the cliffhangers that would definitely have us screaming at the TV.
The Addams Family (1991)
There are many family sitcoms streaming today, but none quite as morbidly interesting as the Addams family. Though we can keep re-watching all the existing films, how fun would it be to see their story play out on the small screen? Think Modern Family, but make it horror-comedy.
Eternal Sunshine of the Spotless Mind (2004)
If we're reimagining this film as a series, it would be along the lines of Netflix's Maniac. Instead of rushing through the painful process of erasing memories, a TV show could explore the history between Clementine and Joe even further. We can even get to see a closer look at Lacuna Inc. and all the people who work there. It's safe to say, it would probably be even more heartbreaking than the film.
ADVERTISEMENT - CONTINUE READING BELOW
Practical Magic (1998)
One hundred and four minutes are simply not enough to delve into the world of two witch sisters in the novel written by Alice Hoffman. How trippy would it be to get an original series based on the book and possibly have the younger members of the cast (Camilla Belle and Evan Rachelle Wood) star in it? Other possible movies that can fit this TV genre: Hocus Pocus and The Craft.
To All the Boys I've Loved Before (2018)
Everyone seems to be onboard with the idea of a sequel for this hit Netflix Original—including main star Noah Centineo, who plays Peter Kavinsky. "All I know is that every single person involved in the making of that film wants a sequel," he says, then adds, "We've all talked about it in depth. I'll do as many as they want me!" A sequel has yet to be confirmed—in the mean time, we'll keep our fingers crossed for more of LJ and PK!
Share this story with your friends!
---
Help us make Spot.ph better!
Take the short survey
More Videos You Can Watch
Load More Stories