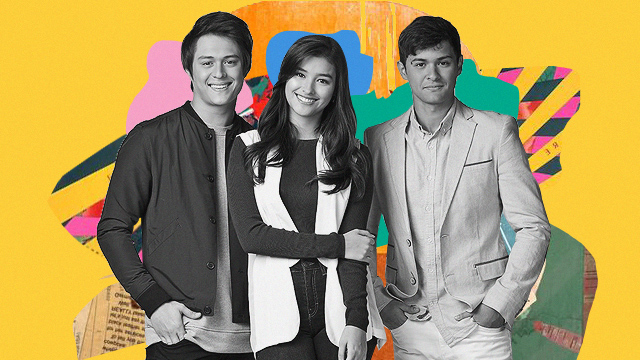 (SPOT.ph) If we were asked to identify what makes a TV drama click among Filipino viewers, we'd have to say that a complex plot, an intense power struggle, and an almost impossible, you-and-me-against-the-world kind of love story, are some of them. The intricately woven love stories are made even more exciting when there are more than two people involved—a love triangle is nothing but a difficult but nonetheless surmountable challenge in a teleserye romance. We've witnessed love triangles unfold in numerous TV shows over the years—just like 2018's Halik—and there are quite a few that we find divisive and truly memorable. We list down 10 of them.
Mara Davis, Christian, and Derrick from Mara Clara (1992)
Played by: Judy Ann Santos, Wowie de Guzman, and Rico Yan
This is possibly the mother of all teleserye love triangles. For those who even remember (and as far as anyone was concerned), Judy Ann Santos as Mara was every underdog's heroine, and Clara (Gladys Reyes) was the most hated teenage villain of all. Mara, being the nice girl, of course, won the hearts of two cute boys with hearts of gold: Her childhood friend, Christian; and Derrick, the scion of a rich family. A remake of Mara Clara was released in 2010, with Kathryn Bernardo and Julia Montes in the titular roles.
ADVERTISEMENT - CONTINUE READING BELOW
Amor Powers, Eduardo Buenavista, and Claudia Buenavista from Pangako Sa 'Yo(2000)
Played by: Eula Valdez, Tonton Gutierrez, and Jean Garcia
Forbidden love is a touchy subject on its own, but it becomes an even more sensitive topic when it involves people from different social classes when they're already committed to someone else. There were elements outside of Angelo (Jericho Rosales) and Yna's (Kristine Hermosa) romance that made the plot as compelling as it is. There was Amor's (Eula Valdez) vow to seek vengeance on Eduardo (Tonton Gutierrez), her former lover, and the rest of her family; Claudia's (Jean Garcia) relentless campaign to permanently shut Amor out of Eduardo's life; and the rivalry and struggle between Amor and Claudia, which is rooted in having passionate feelings for the same man. Pangako Sa'Yo became such a hit that it eventually spawned a remake with Jodi Sta. Maria as Amor, Ian Veneracion as Eduardo, and Angelica Panganiban as Claudia in 2015. 
Shan Cai, Dao Ming Si, and Hua Ze Lei from Meteor Garden (2001)
Played by: Barbie Hsu, Jerry Yan, and Vic Zhou
In the Taiwanese TV adaptation of the Japanese manga series Hana Yori Dango (Boys Over Flowers), a poor teenage girl named Shan Cai (Barbie Hsu) meets F4, a clique of privileged and popular boys at her school. After a confrontation, F4's leader, Dao Ming Si (Jerry Yan), makes life difficult for Shan Cai by bullying her. In time, however, Shan Cai gains Dao Ming Si's respect and eventually, his affection. The two fall in love, and viewers bear witness to arguably one of the most endearing star-crossed lovers in Asian telenovela history.
As most rich-boy-meets-poor-girl stories go, the romance goes sour and the guy who's always ready to offer a shoulder to cry on gets his turn to shine in the spotlight. The kind-hearted and sensible Hua Ze Lei (Vic Zhou) may be a friend of Dao Ming Si, but he would have been a strong contender for winning Shan Cai's heart—if only she didn't love Dao Ming Si so much.
Jade Dimagiba, Andy Wu, and Onyx Dimalanta from My Binondo Girl (2011)
Played by: Kim Chiu, Xian Lim, and Jolo Revilla
Kim Chiu plays Jade, the unwanted daughter of a wealthy Chinese tycoon played by Richard Yap. She has a modest upbringing—raised by a Filipina mother (Ai Ai delas Alas) who was deprived of any form of support from her father. Jade's best friend and confidant, Onyx (Jolo Revilla), stays by her side through thick and thin, listening intently even as she discloses the details of her sordid family history. Onyx falls in love with Jade, but the latter seems keen on accepting that the two of them could be more than friends.
Jade somehow finds her way into her father's circle and meets Andy Wu (Xian Lim), a business rival who eventually becomes a love interest. Chiu and Lim's tandem as Jade and Andy became such a hit with the fans, and the rest, as we say, is history. KimXi remains one of the most adored love teams in showbiz to this day.
ADVERTISEMENT - CONTINUE READING BELOW
Mikay, Gino, and Prince Jao from Princess and I (2012)
Played by: Kathryn Bernardo, Daniel Padilla, and Enrique Gil
Have you had enough of the rich-boy-meets-poor-girl scenario yet? Mikay (Kathryn Bernardo), the poor girl in this teleserye is actually a princess, but it takes her a long time to discover her roots. Meanwhile, she meets Kiko (Khalil Ramos), her eventual best friend who secretly has a crush on her; and Gino (Daniel Padilla), yet another arrogant young man who belongs to an affluent family in the teleserye universe.
Mikay wins a trip to the fictional kingdom of Yangdon where she meets Prince Jao (Enrique Gil), who, unbeknownst to her, is the link to the secrets behind her real identity. The prince develops an attraction for the young Filipina student. Soon after Mikay returns to the Philippines, Gino realizes he has feelings for Mikay. And not long after that, Prince Jao pays the Philippines a visit. Plot twist: Gino and Jao are actually childhood friends, and they have both fallen for Mikay, the lost princess. This is where the real love triangle begins. But we all know who won Mikay's heart—in reel and real life—don't we?
Eric del Mundo, Vincent Soriano, and Lally Agatep-Soriano from My Husband's Lover (2013)
Played by: Dennis Trillo, Tom Rodriguez, and Carla Abellana
My Husband's Lover was the subject of controversy, and for good reason. It openly depicted a scenario that would make most conservative married folk squirm: The possibility that one's husband could be a closeted gay man having an affair with another man. It can ignite arguments on morality, on what's wrong versus what's right; in the eyes of God, from the point of view of society, and in the name of love.
Chichay, Joaquin, and Alex from Got to Believe (2013)
Played by: Kathryn Bernardo, Daniel Padilla, and Liza Soberano
After making an impression as a love team in Princess and I, KathNiel returns to primetime television to tell the story of Chichay (Kathryn Bernardo) and Joaquin (Daniel Padilla). They were childhood acquaintances who, through the power of coincidence and the workings of fate, see each other again later in life and eventually fall in love.
All is fine and dandy until the show shifts gears in Season 2, which takes place two years after the events of the first season. Chichay and Joaquin are living separate lives and their paths intersect again in Singapore. However, Joaquin's brain has sustained further damage and he does not recognize Chichay, the girl from his past. He is, however, smitten by the gorgeous Alex (Liza Soberano).
Cardo Dalisay, Carmen, and Glen from Ang Probinsyano (2015)
Played by: Coco Martin, Bela Padilla, and Maja Salvador
Before meeting and eventually marrying Alyanna (Yassi Pressman), Cardo (Coco Martin) was pretending to be his late twin Ador. As Ador, he was torn between Carmen (Bela Padilla), Ador's wife; and Glen (Maja Salvador), his best friend since childhood who joins him when he signs up for the police force. Needless to say, the complicated set-up led to so many awkward yet amusing moments involving these three characters in the first season of Ang Probinsyano.
ADVERTISEMENT - CONTINUE READING BELOW
Iris Duico, Basti Valderama, and Ali Nicolas from Till I Met You (2016)
Played by: Nadine Lustre, James Reid, and JC Santos
When the first teaser trailer for this teleserye hit the airwaves, fans were more than thrilled to see an LGBT storyline. Ali (JC Santos) and Iris (Nadine Lustre) start off as an item. The two meet Basti (James Reid) when they go to Greece, where Ali falls for Basti and admits that he is gay. When Ali realizes that Basti and Iris are falling for each other, however, he gives way and becomes supportive of their blossoming romance.
Serena Marchesa-Ibarra, Tenten Ibarra, and Giancarlo de Luca from Dolce Amore (2016)
Played by: Liza Soberano, Enrique Gil, and Matteo Guidicelli
The idea that a young, beautiful woman (Serena played by Liza Soberano)—who was raised by a wealthy family in Italy—would choose to fall in love with a pen pal she barely knows and is working as a callboy in third-world Philippines (Tenten played by Enrique Gil) over an educated, handsome, and muscled European (Giancarlo played by Matteo Guidicelli) is highly unlikely IRL. But hey, that's how we like our teleseryes. Plus, this story's twists and turns made it all the more riveting for hopeless romantics.
Share this story with your friends!
---
Help us make Spot.ph better!
Take the short survey
More Videos You Can Watch
Load More Stories