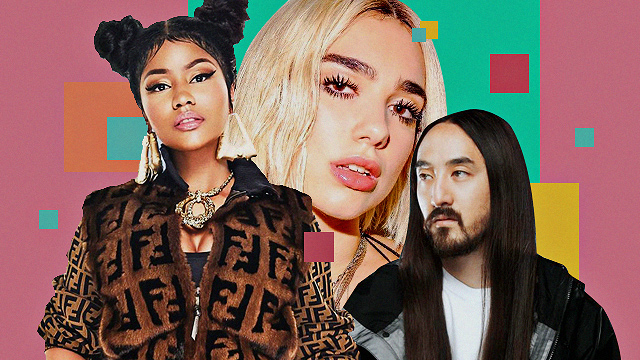 (SPOT.ph) In the last few years, Korean music superstars have started dominating airwaves and selling out concert venues in Asia; they have also infiltrated, and successfully so, the highly competitive music scene of the West. Much has been written about the winning formula of modern K-Pop: Diversely talented and stylish idols, visually stunning music videos, LSS-inducing melodies, and impressive choreography, and what more if you add western pop influences to the mix? It's not rare to hear K-Pop hits with English lyrics, and now, the bar is set higher as more and more Korean megastars collaborate with equally famous Western artists. See, even international pop stars and top producers recognize the added value of the K-Pop touch.
ADVERTISEMENT - CONTINUE READING BELOW
Below, we list 10 K-Pop collaborations this 2018 that we think you ought to hear. Haven't caught the K-fever yet? Well, be warned: These can get highly addictive.
"Kiss and Make Up"
Artists: Dua Lipa and BLACKPINK 
Many lost their minds when Dua Lipa confirmed a new song with Korean quartet BLACKPINK. "Kiss and Make Up," an electro-pop club banger with tropical tones, is one of three new tracks in the recently released Dua Lipa - Complete Edition. It's also the first international collaboration of the Korean girl group, which the British singer met while in Seoul and thought was the perfect collaborator for the track she had written a year before. Lipa teased the partnership when she tweeted about the contents of the then-upcoming record complete with black and pink heart emojis.
"Waste It On Me"
Artists: Steve Aoki and BTS 
BTS and Steve Aoki know their dynamic works, and they're taking advantage of it. "Waste It On Me" is the third collaboration between the Korean boy band and the American DJ and producer, following their collaborative hits "Mic Drop" and "The Truth Untold." "Waste It On Me" is BTS' first all-English song, bridging the language gap between the supergroup and their English-speaking fans. The electro ditty features trop-pop flavor for easy listening, plus the BTS boys' (RM, Jungkook, and Jimin) irresistible croons and raps.
"Written in the Stars"
Artists: John Legend and Wendy of Red Velvet
The soothing vocals of singer-songwriter John Legend and top girl band Red Velvet's Wendy are in perfect harmony in "Written in the Stars." The dreamy R&B ballad, all in English, is part of SM Entertainment's Station X 0 project, which until recently had only featured collaborations between Korean acts from different agencies and genres. The cinematic music video was reportedly shot in a Southern California desert.
"Lo Siento"
Artists: Super Junior and Leslie Grace
Everyone's favorite K-Pop boy group Super Junior and Dominican-American songstress Leslie Grace teamed up to deliver this sexy trilingual (English, Spanish, and Korean) dance track. "Lo Siento," heavily inspired by Latin pop's tropical sound, is the first K-Pop track to chart on Billboard's Latin Digital Song Sales Chart. It is also Super Junior's first ever collaboration with a foreign artist, and is the lead single off their recently released Replay album.
ADVERTISEMENT - CONTINUE READING BELOW
"Dopeness"
Artists: Black Eyed Peas and CL
The Black Eyed Peas (BEP) and CL (of 2NE1 fame) are making a dope comeback. Off the American trio's newly released album titled Masters of the Sun Vol. 1, "Dopeness" brings back BEP's kickass sound. It marks BEP's first album since 2010 and CL's first song in 2018, although it is not the first time the two acts have collaborated. Watch for CL's quick-fire verses in this all-English number.
"IDOL"
Artists: BTS and Nicki Minaj
K-Pop juggernaut BTS has no doubt been successful in crossing over to the West, thanks in part to their various collaborations. The alternate version of their Love Yourself: Answer album's lead single "IDOL," in particular, was an explosive hit upon its release. In the high-energy dance party anthem, rap queen Nicki Minaj intensifies the track's hip-hop influence with her ace rhymes. The superbly colorful music video and BTS' killer dance moves will blow your mind, too.
ADVERTISEMENT - CONTINUE READING BELOW
"If You're Over Me" (Remix)
Artists: Years & Years and Key of SHINee
British synth-pop trio Years & Years enlisted the help of K-Pop favorite Key (from SHINee) to sing some verses in English and a bridge in Korean in this remix of their single "If You're Over Me." The bouncy track retains the song's original melody but features enhanced vocals by both acts. Fans will be pleased to hear Key's sizable contribution to this celebrated collaboration.
"What We Talkin' Bout"
Artists: NCT 127 and Marteen
NCT 127 (the second sub-unit and Seoul-based unit of the K-Pop boy group NCT) and American singer-songwriter Marteen teamed up to produce the sleek single, "What We Talkin' Bout." The predominantly English R&B slow jam is one of four tracks in the boy band's freshly dropped digital album, Up Next Session: NCT 127. The partnership was confirmed back in June when the official NCT Twitter account uploaded a video of the group working with Marteen and American producer Harvey Mason Jr.
ADVERTISEMENT - CONTINUE READING BELOW
"Seoul"
Artists: RM of BTS and HONNE
BTS group leader RM recently released a seven-track playlist (not a mixtape as emphasized on the cover image) titled mono, which features a few collaborations. For the single "Seoul," RM worked with the English synth duo HONNE to produce a contemplative and relaxed electronic track. In it, RM both raps and sings about his roots, as well as the beautiful and mundane aspects of his Seoul experience.
"Don't Look Back"
Artists: PREP, Shownu of MONSTA X, and So!YoON! of Se So Neon
British band PREP and Korean artists Shownu (from MONSTA X) and So!YoOn! (from K-Indie band Se So Neon) are doing all things right in this jazzy after-hours number. The woozy "Don't Look Back," off the band's new EP titled Line By Line, offers rich synths, a verse by Shownu, and some backing vocals and guitars by So!YoON! It's certainly refreshingly different from the usual K-Pop collaborations we've heard.
ADVERTISEMENT - CONTINUE READING BELOW
Share this story with your friends!
---
Help us make Spot.ph better!
Take the short survey
More Videos You Can Watch
Load More Stories