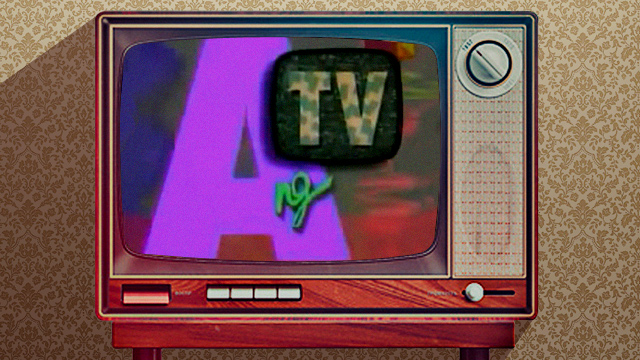 (SPOT.ph) If you can remember sitting through the actors of your fave series be introduced one by one, then you're qualified to be called a TV veteran. Now, if you're watching online, you can just as easily skip the intro or hover to when the episode actually starts. Still, there are some opening credits from TV shows that were so catchy, they've stood the test of time—and short attention spans. They're the kind you remember long after you've outgrown the show. We round up the most memorable ones that, when they played, automatically had you glued to the screen.
ADVERTISEMENT - CONTINUE READING BELOW
Sineskwela
You probably have memories of running to the TV whenever you heard the first few notes of Sineskwela's theme song. Looking back, the intro is actually just a bunch of clips of kids intently staring at random objects combined with animals, plants, and other science-y things. And of course, who could forget that jumping pencil and all the other letters that made up Sineskwela's logo?
Batibot
Batibot's opening song really takes you back to those times when you'd spend your afternoon just lazing around before heading out to play with your friends. You'll see favorites like Pong Pagong ang Kiko Matsing along with Kuya Bodjie (Bodjie Pascua) and Ate Sienna (Sienna Olaso) discovering and learning new things together.
Home Along da Riles
Here's a fun fact if you haven't figured it out already: Home Along da Riles—well, the title, at least—is based on Home Alone. That's why Dolphy's character is named Kevin. But it's not just the name of the comedy show that's amusing. Before you watch Mang Kevin and his kids live life by the train tracks, you'll see the cast, which includes Nova Villa, Bernardo Bernardo, Smokey Manoloto, Claudine Barretto, and Vandolph depicted as caricatures while a cartoon train passes through the screen. There's also the catchy theme song performed by some cast members where they sing about their home literally being shaken because of the train (which always happens on the show).
Ang TV
First, you heard, "4:30 na, Ang TV na!" Then, you saw the "channels" flipping before finally settling on Ang TV. Manfred Mann's "Do Wah Diddy Diddy" played while the show's cast—which included Angelica Panganiban, Shaina Magdayao, Claudine Barretto, John Prats, Camille Prats, and Jolina Magdangal to name a few—were introduced one by one while posing for the camera.
Epol Apol
There's the carabao eating grass, the rooster sitting on top of a fence, the nipa hut on top of a hill, and of course, the futuristic red-blue-and-white door that brought you (and Kuya Bodjie) to a whole new dimension. Though the opening credits for Epol Apol only lasted a few seconds past one minute, you immediately knew you were in for another English-speaking ride.
T.G.I.S.
Blue jeans, black turtlenecks, and the actors playing with props while "Walking on Sunshine" plays in the background? Sounds like a peak '90s opening credits sequence. But your prepubescent self probably looked forward to spending every Saturday with Bobby Andrews, Onemig Bondoc, Angelu de Leon, and the other stars of T.G.I.S. You get plus points too if you tried figuring out how their names fit on the crossword puzzle that flashes for only five seconds.
ADVERTISEMENT - CONTINUE READING BELOW
G-Mik
Before starring in a blockbuster reunion movie, Angelica Panganiban and Carlo Aquino were on G-Mik with Camille Prats, Benjamin Jimenez, John Prats, and Miko Samson. They were all introduced one by one in the show's opening credits while the camera panned over their adorable baby pictures and headshots.
Hiraya Manawari
You just knew you were about to have a great day in school when your teacher had to bring you to a special TV room so you could watch another educational episode of Hiraya Manawari. Chances are, you entered that room with every intention of catching some z's but actually left it with a new life lesson—and appreciation for the whimsical theme song.
Math Tinik
Solving equations didn't seem too bad when Math Tinik's intro made it look so cool. The numbers were all jumping around, complemented by the obviously '90s graphic design and the kids you now realize were standing in the middle of green screens looking so amazed at everything. How cool was the satisfying domino sequence at the end that spelled out the title of the show?
ADVERTISEMENT - CONTINUE READING BELOW
Bayani
There's no denying that there's a certain sense of Pinoy pride that swelled up in you whenever the opening credits of Bayani came on. It had clips of reenactments of pivotal moments in Philippine history and sometimes you even tried to name or guess what was happening during those clips, like when the members of KKK raised their fists up in the air. In the middle of those scenes, though, were the two kids in a bubble floating through the screen.
Share this story with your friends!
---
Help us make Spot.ph better!
Take the short survey
More Videos You Can Watch
Load More Stories