Ralph Breaks the Internet: Wreck-It Ralph 2 Dials Up the Fun
Besties Wreck-It Ralph and Vanellope take on the World Wide Web.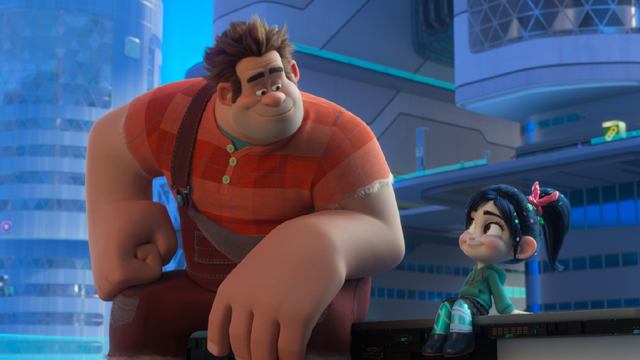 (SPOT.ph) When the Oscar-nominated Wreck-It Ralph broke into the scene in 2012, it rode high on the nostalgia of classic arcade games featuring cameos from beloved characters like Zangief from Street Fighter or, for those who remembered, the armless, orange Q*Bert. Disney fashioned the first film's games Wreck-it Ralph and dessert-themed racer Sugar Rush on the arcade classics. This time around in Ralph Breaks the Internet: Wreck-It Ralph 2, six years after the events of the first film, odd-couple besties Ralph (voiced by John C. Reilly) and Vanellope (Sarah Silverman) have settled into a comfortable rhythm behind the scenes of Litwak's arcade. They go into their respective games to work when the sun comes up, and back into game hopping when the sun comes down.
ADVERTISEMENT - CONTINUE READING BELOW
CONTINUE READING BELOW
Recommended Videos
That routine has worked well for Ralph, content with the world he knows, but Vanellope yearns for something more, having grown bored with the three track options available in Sugar Rush and the predictability of every outcome. For Ralph, it's comfort. For Vanellope, it's a cage. The pair's relationship is strictly platonic, and despite the fact that it's a grown man and a perennial child, their dynamic echoes that of a couple whose life paths are set to diverge without being creepy.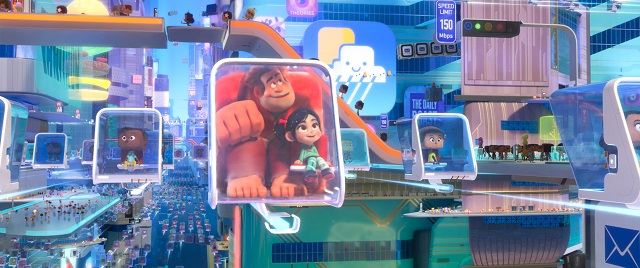 ADVERTISEMENT - CONTINUE READING BELOW
That Disney managed to not cross this line while exploring the very real spectre of toxic masculinity as Ralph acts like a needy, entitled male afraid to let his female friend explore other relationships is a remarkable feat. At all times, Ralph and Vanellope's relationship is treated very carefully while still being representative of the controlling boyfriend trope. That the lumbering Ralph is significantly more childlike and immature compared to the precocious Vanellope sells this thesis and we learn lessons about love and friendship on different levels all at once.
The allegory of jumping from a closed system to an open one as Mr. Litwak (Ed O'Neill) plugs into the Internet for the first time is perfect. As a metaphor for the trust and freedom demanded of every mature relationship, it's great. As a device for extracting the most humor, homages, and Easter eggs, it's pure gold. While the first film mined a treasure trove of retro references, Ralph Breaks the Internet goes in the other direction and pokes fun at everything from the Dark Web to dial-up, from eBay to eSports. The inside jokes are cheap and cheesy, but they just work. The older the viewer—and therefore more familiar with the Internet's growing pains—the more nuanced the humor becomes.
ADVERTISEMENT - CONTINUE READING BELOW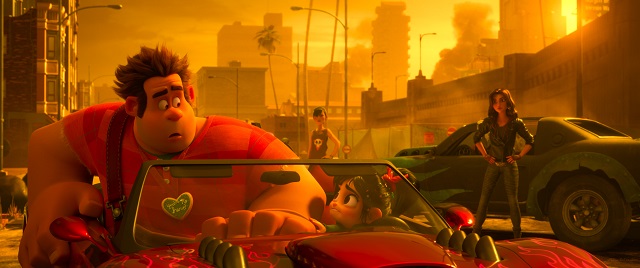 Vanellope explores new territory as she meets and is fascinated by the badass and beautiful Shank (Gal Gadot). It's mutual admiration at first race, as Vanellope and Shank drift and dash across the ever-changing landscape of Slaughter Race. Meanwhile, Ralph explores the wild world of social media pursuant to their quest to acquire a replacement steering wheel for Sugar Rush, which is in danger of being permanently unplugged and thereby leaving Vanellope and the rest of the game's inhabitants with nowhere to go.
ADVERTISEMENT - CONTINUE READING BELOW
Ralph's extremely fragile ego suffers a terrible blow when he stumbles upon the comments section. "Never read the comments section," social media algorithm Yesss (Taraji Henson) warns him belatedly. It reiterates the danger of seeking affirmation from the likes and "hearts" of strangers, and reminds us that true friendship stems from shared experiences. And boy, what experiences Ralph and Vanellope have! From deadly races to meme-making, from pop-up ads to eBay auctions gone awry, the pair traverses the wild, wild Web as only the clever minds at Disney can imagine it.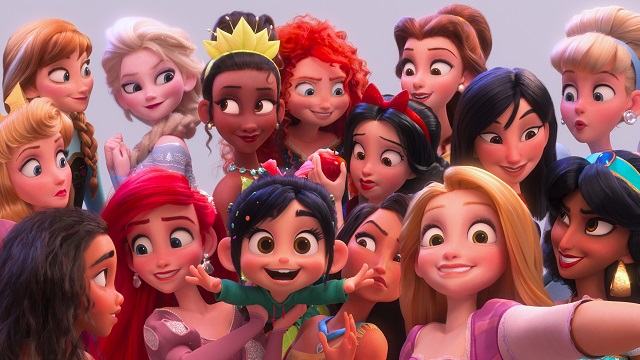 ADVERTISEMENT - CONTINUE READING BELOW
Disney's Internet is an overcrowded metropolis, bursting at the seams with its inhabitants, and the film's best parts are when Disney parodies itself. We see cameos from Disney properties like Star Wars and Marvel superheroes. Even the late, great Stan Lee makes an endearing cameo that's made more poignant with his passing. When it humanizes the Disney princesses by outfitting them in their own casual wear inspired by Vanellope's urban get-up, it's hard not to want for more. The girls even play a larger, more action-filled role in one climactic sequence and one wonders if this isn't part of a Disney ploy to spin-off a meta sitcom series that follows the princesses in their downtime. One can only hope!
In the third act, all of Ralph's ugliness and vulnerability is exposed, thanks in no small part to a virus unleashed by what is arguably Disney's most disturbing character yet: a strangely phallic slug-like creature made entirely out of spam called Double Dan (Alfred Molina), who almost certainly is also Disney's knowing nod to porn (how can there be a movie about the Internet without at least tipping a hat to its most purveyed commodity?). The resultant ugly Ralph is the embodiment of the insecure, controlling partner every woman fears and Ralph and Vanellope's struggle to overcome it is what elevates this chapter over the first one.
ADVERTISEMENT - CONTINUE READING BELOW
At its core, stripped of all the abundant jokes and references—it'll take more than one viewing to catch them all—Ralph Breaks the Internet: Wreck-It Ralph 2 is a story about growing older, growing apart, and staying together as friends despite all of it. This is what makes Ralph Breaks the Internet so great. It works on so many levels that kids of varying ages can appreciate it on different levels. Here are some thoughts from junior viewers about the film:
"The movie was really amazing. There were some really funny scenes, specially the princesses and bunny pancake. Kids and adults alike will love it." —Valor Phoenix, age 6
"I think Disney did a really great job in making Ralph Breaks the Internet. It was so much better than Wreck-It Ralph because it went deep into the meaning of friendship and caring for the people that matter to you. I love it and I hope you enjoy it once you watch it at the cinemas (So hard to not give spoilers!)." —Autumn Story, age 8
ADVERTISEMENT - CONTINUE READING BELOW
"The movie really showcased the true meaning of friendship. They showed it through a very modern and funny way. It also explains that people change sometimes and we just have to accept that." —Zoe Fable, age 11
Highly entertaining, highly recommended, make sure to stay all the way until after the credits!
Rating: 5 out of 5 spots
Ralph Breaks the Internet: Wreck It Ralph 2 opens in cinemas on November 21.
Photos courtesy of Walt Disney Studios
Are you sure you want to delete this list?

Load More Stories