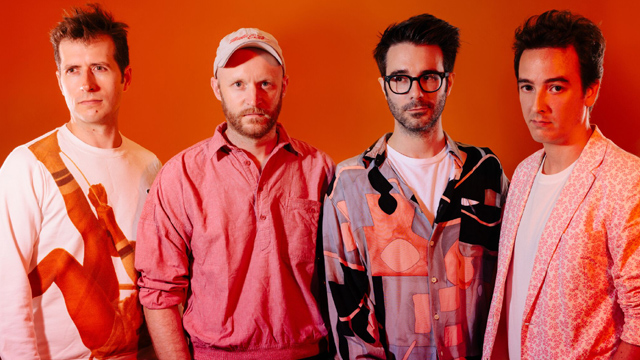 (SPOT.ph) There was a time when it felt like Snakehips, Tinashe, and Chance the Rapper's "All My Friends" was all you heard on the radio, at the gym, and at the bar. After all, it is a song about your friends getting wasted. At one point, it kind of died down a little bit, only to come back with a groovier and smoother vengeance when U.K. band PREP put their own spin to it.
ADVERTISEMENT - CONTINUE READING BELOW
For some fans, PREP's remix of "All My Friends" was the start of a low-key love affair with the quartet's eclectic mix of funk, jazz, R&B, and electronic music. And soon enough, they found themselves listening to the band's 2016 EP Futures on repeat. You'll find yourself enjoying the seamless transition between their different music styles—a feat made possible given members Llywelyn Ap Myrddin, Tom Havelock, Guillaume Jambel, and Dan Radclyffe's different musical expertise. Myrddin composes classical music, Havelock is a singer-songwriter, Jambel is a house DJ, and Radclyffe produces hip-hop tracks.
There's this urge to want to keep their songs a secret so you can enjoy it without it becoming too "mainstream." But it's hard not to immediately share them with others—not when they've got songs as soulful as "Cheapest Flight," "Sunburnt Through the Glass," "Who's Got You Singing Again," and their first EP's titular track, "Futures." These were the songs they performed when they came to Manila in December 2017.
Needless to say, they've won over more people over since then, especially with two new EPs Cold Fire (released in May 4) and Line by Line (released just in November 9). Both are four-track collections that are worthy additions to any music fan's late-night-drive and beach-trip playlist. Now, those tunes are what'll make up the set list for the band's sold-out performance at 19 East on November 19.
SPOT.ph got to catch up with PREP's drummer Jambel and guitarist Radclyffe before they arrived in Manila for their one-night show and we asked them about their new music, collaborating with more artists, and their Pinoy fans.
Congrats on your new EPs! How has the response been so far?
Radclyffe: Fantastic! We're getting more and more listeners every day, and the collaboration with Shownu has picked the interest of many K-Pop journalists and fans. Feels like a big step up. 
In what ways are your new songs and and previous releases similar? How are they different?
Radclyffe: I think the obvious thing is the prominence of the electric guitar. It's never featured particularly heavily in our songs, but there is obviously a guitar solo on here by So!yoON! of Se So Neon, Cory Wong from Vulfpeck, and Paul Jackson Jr. of Michael Jackson's Thriller and Bad LPs.
ADVERTISEMENT - CONTINUE READING BELOW
Did you feel any pressure when you were making Cold Fire given how well-received Futures was?
Radclyffe: No, not at all. We make what we make, and when it comes out we don't have much control over how it's going to be received. We believe that great music finds a way to reach people, even if it takes a little longer!
Jambel: When we made Futures we didn't even have a name, so there were no plans back then. But after the EP was well-received, we had to put more thoughts onto what's coming next. But still, we only make music that we like and want to listen to, that's the golden rule.
How would you describe your sound? Has it changed since you first started out as a band?
Radclyffe: I think so, yes. When we started it was a little more Soundcloud-y, as that's where the music we liked at the time was residing. We feel that sound might be a bit played-out now, and we've progressed to a more 'band-like' sound, particularly in the drums, [while] still keeping the synths and bass modern.
ADVERTISEMENT - CONTINUE READING BELOW
You've performed in festivals before. How does it compare to headlining a show of your own?
Radclyffe: Well, depending on where you are on the bill, it can vary greatly! We generally have only played in front of loyal fans, but playing lower down the bill means you have to work that bit harder to win the crowd over. We like that challenge!
This tour around Asia is your biggest one yet. How different do you think your shows are here compared to shows in other parts of the world?
Radclyffe: Apart from our forthcoming U.S. tour, we've never played in any other part of the world! Our show is expensive to put on, a lot of gear and six musicians onstage, so we only play if the offer is right. Obviously, we'd love to play everywhere we have fans, but it isn't always possible.
You collaborated with South Korean musician DEAN on "Cold Fire." How was it like working with him? How did it happen?
Radclyffe: We got to know DEAN online. He's a good guy with absolutely rock-solid taste in music. It was all very easy. He came to London for writing sessions and a friendship blossomed. He was really happy to sing on "Cold Fire"—no fee, no contract. He did it for the love. So we've got his back forever!
ADVERTISEMENT - CONTINUE READING BELOW
Reva Devito sought the band out for a collaboration and produced "Snake Oil" as a result. How was it like?
Jambel: Reva reached out to us on Instagram and after exchanging a few messages, we asked her to do Bvs for an upcoming song we had. She sent us her parts and voila! We've never met.
Your remix of Snakehips' "All My Friends" made rounds on the Internet when it was released. What made you want to put your own spin on the song? Did you expect the positive feedback?
Jambel: PREP isn't very fond of remixes; we take way too long to write original music anyway. But when we had an opportunity to remix this song we thought it would be a solid challenge, so we went for it and pretty much re-wrote the whole thing. And the Snakehips boys liked it enough to put it out. We had no idea anyone would even hear it.
ADVERTISEMENT - CONTINUE READING BELOW
Who else do you want to collaborate with?
Jambel: Donald Fagen, Thundercat, Tyler the Creator… Tatsuro Yamashita! There are so many…
A lot of your music videos take the viewer around a busy city. Is there a particular reason behind that? How does this tie in with your sound?
Jambel: We've been extremely lucky to be approached by filmmakers that offered their services purely because they loved our music. This busy-city theme belongs to the vision of the directors as all of them did what they wanted to do. A great coincidence.
The four of you have diverse musical backgrounds. How do you use your different skills when coming up with your songs? Do you follow a certain process?
Jambel: In general, Llywelyn, Dan, and I produce demos on our own. Once one is approved by the three of us, we work on it some more, add sections, more chords and plenty of reharmonisation until it tuns into a proper instrumental. That's when Tom joins in and adds the words.
ADVERTISEMENT - CONTINUE READING BELOW
Would you say that there's a common theme or topic among all of your songs? If so, what is it?
Jambel: The key word is smooth. It needs to groove and be smooth. The rest can be anything.
Who would you consider as your inspiration when creating music? Who do you often listen to?
Jambel: We all listen to so many different kinds of music, but I always end up coming back to Steely Dan, and also a bit of house music. These days, it's essentially DJ Koze.
What made you want to come back to the Philippines? 
Jambel: Last year's show at 19 East was a memorable one so when [we were] asked to do it again, we said yes right away. But due to our schedule, we cannot stay for more than a couple of days. Hopefully these won't be spent in traffic jams!
ADVERTISEMENT - CONTINUE READING BELOW
How has your interaction with Filipino fans been?
Very brief, but memorable. And sweaty. People sang along to our songs and we signed plenty of records and posters for them. We can't wait to be back, it's going to be pretty special.
What are your future plans as a band?
To keep on making music we like, how we like [it].
Share this story with your friends!
---
Help us make Spot.ph better!
Take the short survey
More Videos You Can Watch
Load More Stories