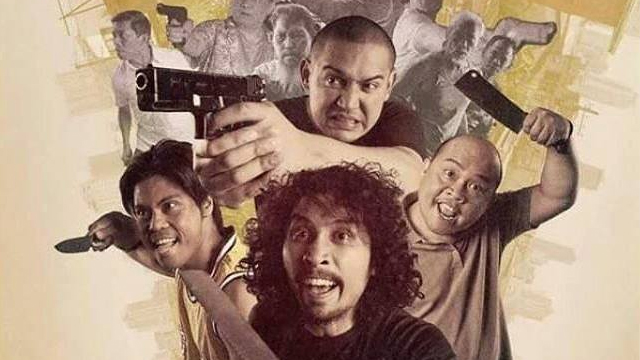 (SPOT.ph) It already had an advanced screening on November 23 at the U.P. Cine Adarna, and while it's still set to open in cinemas nationwide on November 28, Ang Pangarap Kong Holdap is having trouble getting slots for screenings in theaters—because of its title.
Mavx Productions, the studio behind the comedy film, talked about the issue on their Facebook page. "Today is a sad day for us. Ang Pangarap Kong Holdap cannot get cinema slots. According to them, the movie is sending a bad connotation to the public because of its title (when the only intention is to entertain the audience and give a good laugh for less than two hours). This is our own way of making it lite for the Filipino people." They continue, "The movie is more than its title. We think what you're doing is the REAL HOLDAP."
The film, directed by Marius Talampas, revolves around a group of three holduppers (played by Pepe Herrera, Jerald Napoles, and Jelson Bay) hilariously trying to plan the perfect crime with their new recruit (Paolo Contis). Though most of their schemes aren't always the best, they come across a big mission that might just make them the best holduppers in the fictional Barangay Husay in Tondo.
ADVERTISEMENT - CONTINUE READING BELOW
LJ Reyes, Contis' girlfriend, also talked about the issue on her Instagram account, saying, "The movie has been rated R-16 by the MTRCB, which means only 16 years old and above are allowed to watch the film. Kids below 16 years old are not allowed because of some language and content. As a parent, I appreciate and respect this rating and would've rated this movie the same. However, as an artist and audience (who has already seen the complete edit of the film), I am deeply saddened. Why?" She then lists down the reasons why viewers should watch the movie, the first one being, "Marius Talampas's witty comedy as a writer and impeccable comedic timing and visuals as a director make this film unique from it's contemporary."
She also argues, "The chemistry of the cast was undeniably strong! This is the first time the four main cast [members] worked together, but each brought a flavor of his own, injecting their own kind of humor and character. Supporting cast were also great as their characters."
Reyes then brings up how foreign films aren't treated the same, "I just think it's so ironic that we support foreign films orchestrating grand heists or films that just follows male-character-driven adventures, but cannot support our own just because of the title." She continues, "It's upsetting that we are limiting our fellow people, our artists, to create materials that the only intention was to make other people laugh, so they can lighten up somebody's lonely day or maybe a group of friends just wanted to have some laugh or take a break from a stressful day."
Reyes concludes, "We are happy to be given an opportunity to make young adults and older a chance to laugh and relax! What we are so unhappy about is that doors are being closed on us just because of the title used by the film to attract audience. It may not be an ideal situation because it's a fictional story created to make the audience laugh. It may resemble reality, but it is not reality. Just like the foreign films we all love and support. Let's not forget it's a comedy film not a documentary."
According to a Facebook post by Mavx Productions on November 25, more and more cinemas are slowly giving slots to the film. "Make sure to catch the movie as soon as it comes out, kasi alam nyo na di ba? Baka tanggalin at mawala even before the week ends." As of press time, the film will be screening at Greenhills Theater Mall, Sta. Lucia East Grand Mall, Gaisano Gensan, Gaisano Tagum, and Gaisano Davao when it opens on November 28.
Share this story with your friends!
---
Help us make Spot.ph better!
Take the short survey
More Videos You Can Watch
Load More Stories