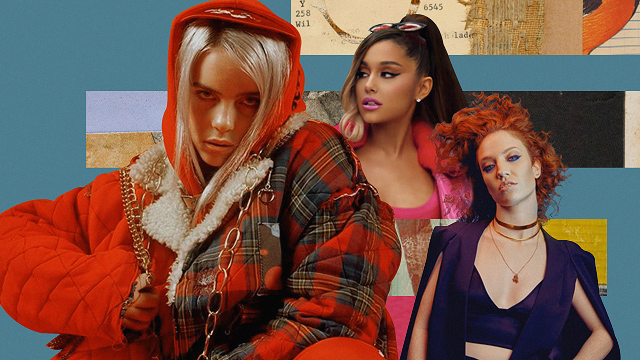 (SPOT.ph) You need not stick to just holiday classics playing on loop as you meet with family and friends this month. Spice up your party playlist with our song selections ranging from mid-tempo pop to hazy R&B and touching ballads. Start with Ariana Grande's latest smash hit and move on to Bazzi's hypnotizing single. Then, follow it up with sweet tunes from solo artists like Billie Eilish, Jeremy Zucker, and Jess Glynne. And don't forget to chill to the relaxing sounds of our very own Reese Lansangan, TALA, Kat Agarrado, Sassa, and Chan Millanes.
ADVERTISEMENT - CONTINUE READING BELOW
"thank u, next"
Artist: Ariana Grande
The pint-sized diva's hit breakup anthem is mellow enough, thanks to its dreamy undertones and R&B influence. Not only is it catchy, it also offers a positive perspective on an otherwise painful event. Grande sings about nothing but gratefulness for her past lovers. If you're newly single this holiday season, make this your jam.
Fun fact: The music video for "thank u, next" features references to the films Mean Girls, Bring It On, 13 Going On 30, and Legally Blonde. It also has appearances by several celebrities including Jonathan Bennett, Jennifer Coolidge, Kris Jenner, and Troye Sivan.
"Islands"
Artist: Reese Lansangan
Reese Lansangan, more popularly known for her folk-pop style, is exploring a new sound in "Islands." The sleek electro-pop single about moving on is held together by Lansangan's gentle vocals. It's guaranteed to pleasantly surprise you and make you crave further experimentation from this local indie favorite.
Fun fact: Lansangan reportedly kept the studio version of the song for almost two years before deciding to officially release it.
"Dreams"
Artist: Bazzi
Artist to watch for Andrew Bazzi recently released the music video for his single "Dreams" off his well-received debut album, COSMIC. The sensual R&B tune, complete with Bazzi's alluring croons, will transport you to a whole 'nother dimension and make you forget all the holiday stress.
Fun fact: The 21-year-old is a Michigan native now based in California.
"Labi"
Artist: TALA
TALA continues to impress with "Labi," an electronic ballad perfect if you're feeling romantic this month. It's filled with poetic and love-struck lyrics that will ease all your worries and put you in a loving mood. Share it with your friends too, if they haven't discovered this rising star yet.
Fun fact: The young singer-songwriter is also an Interior Design student.
"come out and play"
Artist: Billie Eilish
At only 16, American singer-songwriter Billie Eilish has a promising future ahead of her. Her latest offering is a moving holiday ballad about believing in yourself and sharing your gifts with the world—a fitting message for the season. Aside from the inspiring theme, take delight in the warmth of the vocals and guitars.
Fun fact: "come out and play" was created for Apple's Share Your Gifts campaign.
ADVERTISEMENT - CONTINUE READING BELOW
"You Got Me Trippin'"
Artist: Kat Agarrado
Kat Agarrado shines bright in her latest single. "You Got Me Trippin'" is a soulful offering masterfully sang by the well-loved Filipino singer-songwriter. The lyrics are all about about that "too good to be true" feeling we get when we consider ourselves unworthy of someone's love and attention.
Fun fact: "You Got Me Trippin'" is one of the 10 songs from Elements Music Camp 2018.
"comethru"
Artist: Jeremy Zucker
American up-and-comer Jeremy Zucker gets real and tackles the deep human need for authentic connections in "comethru." The song seems simple on the surface, but it is well-thought-out and nuanced. The stripped-down arrangement allows Zucker's clean vocals to glide through the memorable single.
Fun fact: Jeremy Zucker is a New Jersey native.
"Picking Petals"
Artist: Sassa
Sassa Dagdag wows fans with her latest single, "Picking Petals." Her full and strong vocals take center stage in this slow love track, and the maturity of her work makes you forget she's only 16. Play this impressive piece while chilling with friends, and you might just turn them into fans.
Fun fact: The young singer and guitarist was a finalist in The Voice Kids Philippines Season 2.
ADVERTISEMENT - CONTINUE READING BELOW
"Thursday"
Artist: Jess Glynne
English singer-songwriter Jess Glynne inspires empowerment and self-love in "Thursday." She shows both vulnerability and strength as she belts about quashing insecurities and breaking down walls. The song opens as an acoustic gem and blossoms into a self-affirming pop anthem—perfect for your wine-fueled heart-to-heart sesh during your get-together.
Fun fact: "Thursday," co-written by Ed Sheeran, is off Glynne's sophomore album titled Always In Between.
"Tuldok"
Artist: Chan Millanes
In "Tuldok," Chan Millanes contemplates fallouts and closures. He longs for answers to certain questions, and you can hear the passion in his striking vocals. As we end the year, perhaps this track can help you mull over and close a certain chapter of your life.
Fun fact: Chan Millanes was part of The Voice Teens Philippines Season 1.
Share this story with your friends!
---
Help us make Spot.ph better!
Take the short survey
More Videos You Can Watch
Load More Stories