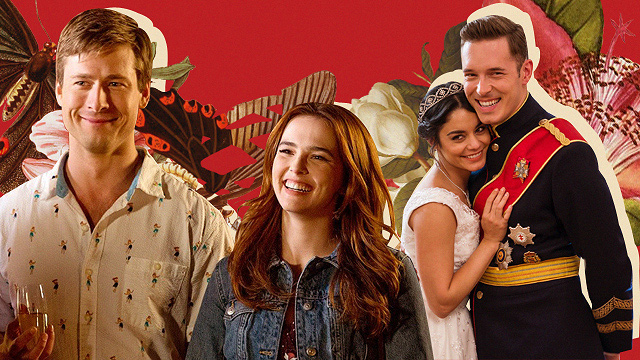 (SPOT.ph) There's something so pure and lovely about '90s romantic comedies, where a happily ever after is guaranteed no matter the obstacles or gimmickry along the way. After decades of drought, we've got a fresh new wave of rom-coms to restore our faith in love and hope and humanity at a time when the news cycle threatens to send even the most indifferent on a downward spiral.
ADVERTISEMENT - CONTINUE READING BELOW
This year gave us a bunch of movies that remind us of the magic of '90s rom-coms, and there's more to look forward to. Whether you're looking for something to watch in theaters or to stream on your gadgets, here are the '90s-reminiscent rom-coms from this year and scheduled for release in 2019.
Set It Up (2018)
Directed by: Claire Scanlon
The beauty of this Netflix original is that it borrows from past greats in a way that feels fresh and modern. Harper (Zoey Deutch) and Charlie (Glen Powell) are overworked assistants who conspire to set up their demanding bosses, or in Charlie's words, "full-on Parent Trap them." Harper, a writer looking for her big break, brings to mind characters like Josie from Never Been Kissed, while the setup premise and NYC setting recall a whole slew of rom-coms. If this were an actual '90s rom-com, both couples would end up together, but—spoiler alert—Set It Up is still pretty grounded in reality. Advancing the genre, it also fleshes out the funny best friends, giving them lives of their own apart from Harper and Charlie. The cast and crew have expressed interested in making a sequel, but there's no official word yet from Netflix. Should it push through, director Claire Scanlon says she wants to focus on the character of Kristen (Lucy Liu). 
The Kissing Booth (2018)
Directed by: Vince Marcello
The Kissing Booth has never-been-kissed Elle (Joey King) unknowingly locking lips with Noah (Jacob Elordi), the "stupid hot" older brother of her best friend literally since birth, Lee (Joel Courtney). Sparks fly after their kissing booth smooch, but the thing is, Noah is absolutely off-limits according to Elle and Lee's friendship rules. Not quite the universal crowd pleaser that Set It Up was, The Kissing Booth is a love-it-or-hate-it kind of movie. But if you like '90s rom-coms or you're in the mood for the cheesiest, gooeyest smooch fest, you can't go wrong with this one. The prom dress reveal, the public romantic gesture, the dramatic scene in the pouring rain—this movie directed by Vince Marcello ticks off all the boxes. Not to mention, it stars Molly Ringwald from the John Hughes films like Sixteen Candles, The Breakfast Club, and Pretty in Pink, which have inspired rom-coms through the years.
ADVERTISEMENT - CONTINUE READING BELOW
To All the Boys I've Loved Before (2018)
Directed by: Susan Johnson
Adapted from the young-adult novel by Jenny Han, To All the Boys I've Loved Before changed the game with its Asian representation and ushered in a new era of nice guys finishing first. In the movie directed by Susan Johnson, Lara Jean (Lana Condor) writes secret love letters to her high school crushes, including her older sister's boyfriend. When the letters are mysteriously mailed to them, she pretends to be in a relationship with one of the recipients, Peter (Noah Centineo), the heartbroken jock who also happens to be a straight-up nice guy. Their fake relationship inevitably leads to something real, like in '90s rom-coms Drive Me Crazy and Pretty Woman. With the movie's massive success, it's no surprise that the sequel, P.S. I Still Love You, is already in the works, while fans are hoping that the third one, Always and Forever, Lara Jean, won't be far behind.
ADVERTISEMENT - CONTINUE READING BELOW
Sierra Burgess Is a Loser (2018)
Directed by: Ian Samuels
When Sierra (Shannon Purser), an awkward high school student, receives a text message from Jamey (Noah Centineo), a football player from a different school, she soon realizes that he thinks he's texting someone else, specifically mean girl Veronica (Kristine Froseth). To keep up the pretense, Sierra strikes a deal with Veronica, offering tutoring lessons in exchange for her help in talking to Jamey. While the movie came out at the height of the Noah Centineo craze (see: To All the Boys I've Loved Before) and fleshed out the mean-girl archetype, it has received backlash for issues such as catfishing, as well as consent especially in one pivotal scene. Directed by Ian Samuels, the movie was inspired by Edmond Rostand's Cyrano de Bergerac, in the same vein that classics served as inspiration for '90s rom-coms such as Clueless (Jane Austen's Emma), 10 Things I Hate About You (William Shakespeare's Taming of the Shrew), and She's All That (George Bernard Shaw's Pygmalion).
ADVERTISEMENT - CONTINUE READING BELOW
The Princess Switch (2018)
Directed by: Mike Rohl
This delightful Christmas rom-com stars Vanessa Hudgens as Stacy and Margaret, a baker and a princess who look exactly the same. Brokenhearted Stacy, the baker, escapes to Belgravia for a prestigious baking competition with her business partner, Kevin (Nick Sagar). She meets Margaret, duchess and fiancé of Prince Edward (Sam Palladio), who persuades her to switch identities for a few days so that Margaret could experience the "normal" life. While Stacy and Margaret are not long-lost identical twins but most likely distant relatives, they immediately bring to mind Annie and Hallie (both played by Lindsay Lohan) from the '90s classic The Parent Trap. The transformation montage, the accents they have to learn, the hijinks that ensue from the switch—this movie directed by Mike Rohl evokes the sweetest kind of nostalgia.
Destination Wedding (2018)
Directed by: Victor Levin
Winona Ryder and Keanu Reeves reunite to the delight of fans in this movie about two people who hate each other's guts and are stuck together in a destination wedding. They first worked together in Bram Stoker's Dracula in 1992 and have continued to collaborate through the years (A Scanner Darkly, The Private Lives of Pippa Lee). In Victor Levin's Destination Wedding, they are the only talking characters, and it's their natural chemistry that ties everything together. What starts out as a hate-hate relationship between the surly pair develops into mutual affection despite their respective emotional baggage—a familiar trope in '90s rom-coms.
ADVERTISEMENT - CONTINUE READING BELOW
Second Act (2018)
Directed by: Peter Segal
Jennifer Lopez returns to the rom-com scene and proves she's still got it in Second Act. She plays Maya, a frustrated 40-year-old retail store worker who wants to prove that "street smarts equal book smarts." With the help of an overzealous but well-meaning friend who creates a whole new identity for her, she ends up bagging a high-paying job as a corporate executive. This theme of fake it till you make it—or till it blows up in your face but gives you valuable life lessons—is reminiscent of Lopez's 2002 film Maid in Manhattan and the 1992 film HouseSitter starring Goldie Hawn and Steve Martin. Directed by Peter Segal, who also helmed rom-com favorite 50 First Dates, the movie is scheduled for release in the U.S. this December.
Isn't It Romantic (2019)
Directed by: Todd Strauss-Schulson
Release date: February 2019 (U.S.)
Natalie (Rebel Wilson) is an architect living in New York City who is against all things rom-com. The one time she opens up to a potential romance, she gets knocked out and wakes up in a "PG-13 romantic comedy." The movie's got all the elements of '90s rom-coms like a love triangle-turned-square (with Liam Hemsworth, Adam DeVine, and Priyanka Chopra) and a stereotypical gay best friend (Brandon Scott Jones). Natalie's goal is to get a man to fall in love with her—if only to escape the softly lit dream world. Todd Strauss-Schulson directs this self-aware rom-com coming out in February 2019.
ADVERTISEMENT - CONTINUE READING BELOW
What Men Want (2019)
Directed by: Adam Shankman
Release date: February 2019 (U.S.)
Sports agent Ali (Taraji P. Henson) is sick of being underestimated and passed over for career advancement simply because of her gender. One day, she gains the ability to hear men's thoughts, which proves to be useful in her line of work but causes problems in her personal relationships. Directed by Adam Shankman who also helmed A Walk to Remember, the movie is a remake of the 2000 film What Women Want starring Mel Gibson. The inspiration may have just missed the '90s by a year, but What Men Want shows the classic rom-com trope of women as go-getters carving their own path in a man's world. The movie is set for release in the U.S. in February 2019.
Five Feet Apart (2019)
Directed by: Justin Baldoni
Release date: March 2019 (U.S.)
Will (Cole Sprouse) and Stella (Haley Lu Richardson) are teenagers diagnosed with a life-threatening disease, which dictates that they be at least six feet apart from everyone else at all times. Stella lives by the rules, while Will lives to break them. There is a push-and-pull between them—hence, the movie title—as they navigate life as patients with cystic fibrosis and life as human beings with wants and needs. Directed by Justin Baldoni (Rafael from Jane the Virgin), the movie shows the eternal struggle between self-control and recklessness, a theme as old as time in the rom-com world. Five Feet Apart is scheduled for release in the U.S. in March 2019.
ADVERTISEMENT - CONTINUE READING BELOW
Share this story with your friends!
---
Help us make Spot.ph better!
Take the short survey
More Videos You Can Watch
Load More Stories