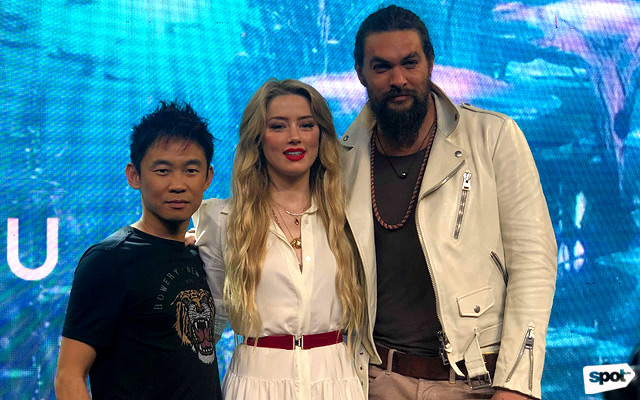 (SPOT.ph) No doubt one of the most highly anticipated movies of the year is DC's Aquaman. After Justice League, fans just couldn't get enough of the King of Atlantis played by Jason Momoa. The standalone film explores the origin story of Aquaman and how he has to become the bridge between the surface world and the underwater Kingdom of Atlantis.
ADVERTISEMENT - CONTINUE READING BELOW
As part of the film's global tour, Momoa himself, along with director James Wan and Amber Heard (who plays Mera) stopped by Manila today, December 11, to attend a Fan Event and the Asian Premiere of the film at the SM Mall of Asia. But before they met up with avid Pinoy fans, they talked to the press about working on the film, creating a story about sharing cultures, and being superheroes in real life.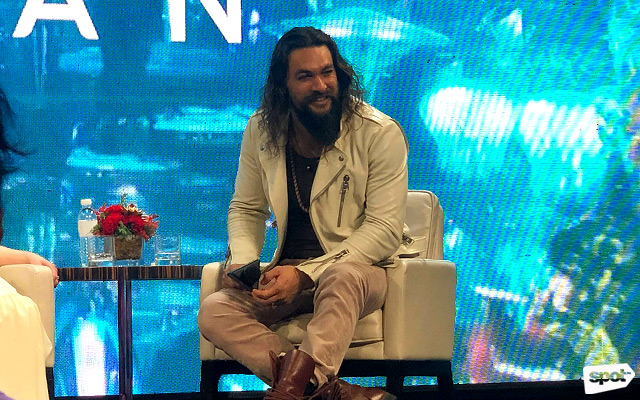 ADVERTISEMENT - CONTINUE READING BELOW
Recommended Videos
When asked about why interacting with fans during the global tour is important for him, Momoa answers, "Well, for me, and James, I think, it resonates with us because of our nationality. I mean, as far as I'm concerned, [the Philippines] is like the 10th island of Hawaii," he jokes. "There are more Filipinos than Hawaiians [in Hawaii], so we're kinda basically family, so I feel like it's an honor to be here."
Later on, Momoa shares about growing up in a part of Hawaii where there were many generations of Filipinos, Chinese, and Japanese. "I think Hawaii is definitely a melting pot of a lot of different cultures and my side of the island is definitely very special," he says.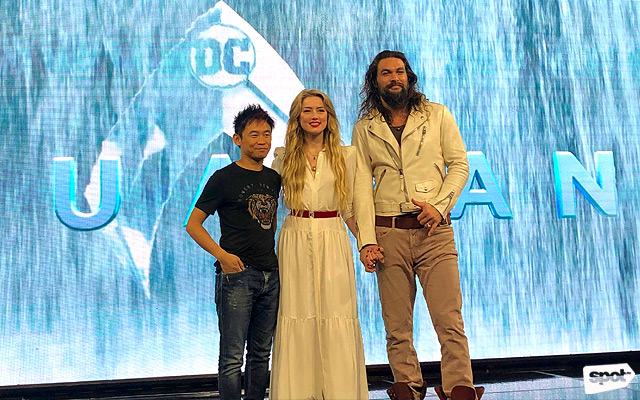 ADVERTISEMENT - CONTINUE READING BELOW
Wan, who is of Malay-Chinese descent and grew up in Australia, also opened up about being raised with differing cultures. "Culturally, I am from two separate worlds as well. And growing up, you kinda push one aside or embrace the other one more. But I realized that as I grow older, that I'm embracing the other side just as much now. And I think that is something we worked into the script—a story which is [about] a hero who is from two separate worlds and he doesn't quite feel like he belongs to either world. But what he ultimately discovers and realizes is [that] he is the best of both worlds and he ends up embracing his identity."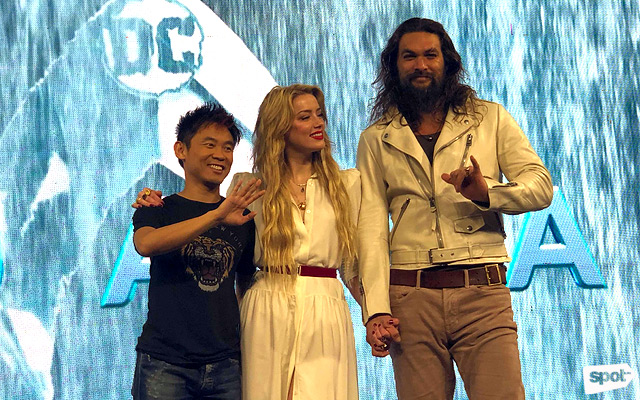 ADVERTISEMENT - CONTINUE READING BELOW
The director is most well-known for his work on horror films like Saw, The Conjuring, and Insidious. Aquaman may be his first venture into the superhero genre, but he says he was able to add some horror factors into the film. "Every movie I've made, regardless of any genre it's in, I learned stuff from it and I carry it on to my next project. What I learned from making scary movies is creating characters that people really care about—that's super important." He continues, "Because if the audience cares about your characters, when [the characters are in] scary situations, then you as an audience [member], you care about that and you feel the same way that they do. So it's the same approach [with] this film."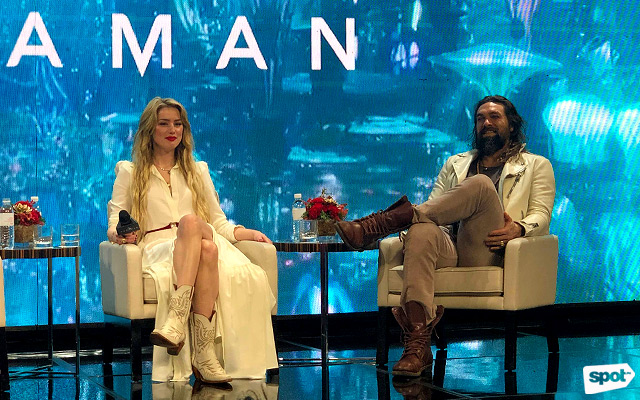 ADVERTISEMENT - CONTINUE READING BELOW
Aquaman isn't the only superhero featured in the film. The reluctant king is guided by Mera (Heard), who is also of royal descent. Describing her character, Heard says, "Mera is a warrior, she's a princess, but it's just a title. She's [an] active, driven, strong, fierce, badass, kickass, tough, intelligent, warrior-superhero in her own right—who just do happens to be a woman. And I love that about her." She's not just some accessory in the story, either. "She's really a driving force of the whole story. She is no damsel in distress."
Momoa echoes her sentiment, saying that he's also happy to see that more and more women are starring in superhero films. "Not only in DC," he says. "It's really cool what's happening like what with Black Panther did, we got Captain Marvel coming out," he says, referencing the Marvel movies. "And I think everything's shifting that way. It's good."
ADVERTISEMENT - CONTINUE READING BELOW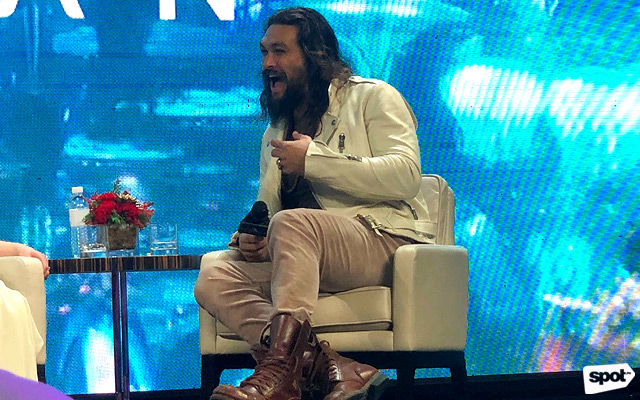 The film is just about to open in theaters worldwide, but there are already talks of a sequel. Momoa remained coy but hopeful about the possibility, saying, "I think we would all be very, very excited if [Aquaman] did well."
Aquaman opens in theaters tomorrow, December 12.
ADVERTISEMENT - CONTINUE READING BELOW
Share this story with your friends!
---
Help us make Spot.ph better!
Take the short survey
Load More Stories