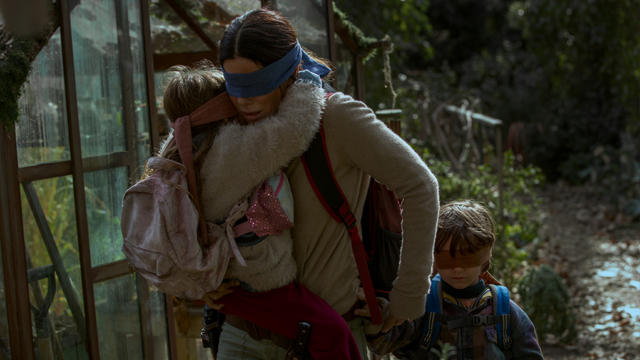 (SPOT.ph) Remember that Sandra Bullock movie where she had to find a way back to Earth after her space shuttle gets irreparably damaged by a debris storm? (Thanks, Russia!) All that, somehow, seems like a walk in the park compared to what she has to go through in Bird Box, which starts streaming on Netflix on December 21. Based on the 2014 post-apocalyptic debut novel of Josh Malerman (vocalist from the band The High Strung), Bird Box is a thoroughly engrossing psychological thriller that will have you biting your nails for most of its two-hour running time.
ADVERTISEMENT - CONTINUE READING BELOW
The film opens with a shot of Malorie (Bullock) at the start of a perilous two-day journey down a cold, winding river with two small children, whom she addresses only as "Boy" and "Girl." Chillingly, she tells them that they will be blindfolded throughout the trip. Open your eyes, she tells them, and they will die. The terror they are escaping is palpable, yet the "enemy," unseen. What are they running from and why is it so dangerous?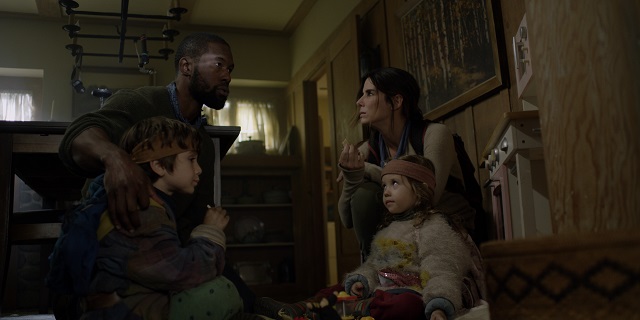 Part of the answer is revealed in a series of flashbacks. Five years before the present, Malorie is a misanthropic artist cooped up in her studio, her hermetic bubble from the outside world—she doesn't even talk to her own mother. Before a visit to her obstetrician, Malorie learns from her sister Jessica (Sarah Paulson) about a wave of unexplained suicides that is sweeping across the globe, striking Europe, Russia, and Asia. Inevitably, and shockingly sooner than expected, it manifests in Malorie's hometown with a visually chaotic scene where we learn more about the unseen force/monster/creature. No wonder the novel is subtitled "Don't Open Your Eyes"—just catching a glimpse of the monster is enough to guarantee a visit to the morgue (actually, in the aftermath, most of the dead just rot on the street).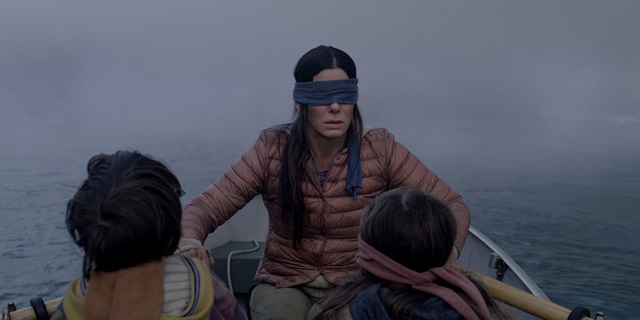 ADVERTISEMENT - CONTINUE READING BELOW
A heavily pregnant Malorie ends up finding refuge in a house along with a handful of other survivors (look for a stellar John Malkovich who portrays his grumpy old man character with effortless, devilish glee). In the house, we see Malorie taking baby steps in coming out of her shell, making friends and slowly learning how to trust other people in the process. Since we already saw at the start that Malorie was alone except for two children with her on the trip down river, we can guess (semi-spoiler alert?) that everybody else in the house must have died—but how and when that happens still brings chills down the spine.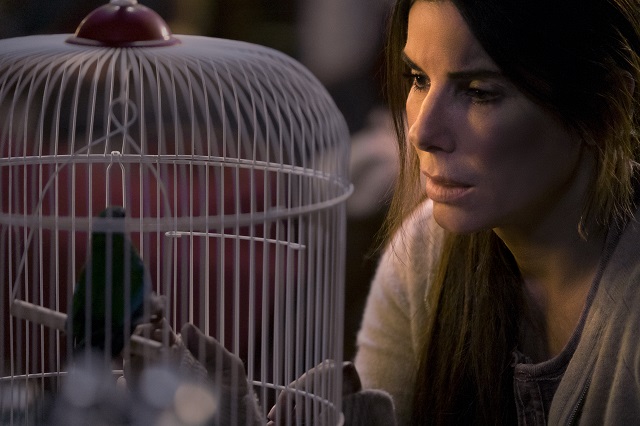 ADVERTISEMENT - CONTINUE READING BELOW
The titular Bird Box refers to an actual box containing three small birds that warn Malorie and the children when the creature is in their midst. It is also symbolic of the lives the surviving humans lead. To keep themselves safe, they lock themselves up in houses, board up the windows, don't allow strangers in, and almost never venture outside; like caged birds, they are alive but aren't free. Somewhere in the film, we see Malorie get into an argument with Tom, another survivor, when he tells the children a story. "You're giving them false hope," she says, only to be rebuked by Tom who tells her, what is life if you don't have dreams?
Beneath the terror lurking on the surface, the movie is about the human condition, the bonds and connections we make in these selfish, cynical, "me-first" times. Do we build a wall and keep others at bay just to survive in this dog-eat-dog world? Or let our guards down, allowing our humanity to shine through, and, by risking it all, truly live? That's the thing: We know the right choice. Making it is another story.
ADVERTISEMENT - CONTINUE READING BELOW
Rating: 4 out of 5 spots
Birdbox starts streaming on Netflix on December 21.
Photos courtesy of Netflix
Your guide to thriving in
this
strange new world.
Share this story with your friends!
---
Help us make Spot.ph better!
Take the short survey
More Videos You Can Watch
Load More Stories