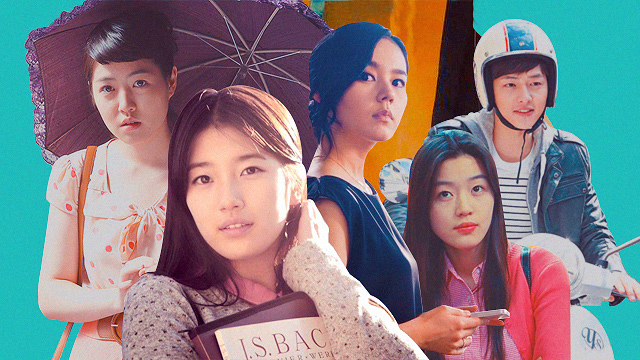 (SPOT.ph) When you're in the mood for something romantic but can't sit through 13 episodes to watch your fave K-Drama stars fall in love, Korean rom-coms are the way to go! The land of hallyu knows a thing or two about romance and making audiences swoon, so don't be surprised if you'll be laughing or crying (or both!) as you breeze through our movie picks below.
ADVERTISEMENT - CONTINUE READING BELOW
My Sassy Girl (2001)
Starring: Jun Ji Hyun and Cha Tae Hyun
You can't talk about Korean rom-coms without the classic that spawned a handful of remakes all over the world. Based on a series of true stories published in a blog, the fun and wacky plot starts when a man (Cha Tae Hyun) encounters a drunk woman (Jun Ji Hyun) standing too close to the tracks of a train station.
Windstruck (2004)
Starring: Jun Ji Hyun and Jang Hyuk
Widely considered by fans as an unofficial prequel to My Sassy Girl, this 2004 film stars the same actress, Jun Ji Hyun, as an ambitious police officer who accidentally accuses (and arrests) a teacher as a pickpocket. If you loved My Sassy Girl, this movie contains several subtle references to the 2001 classic.
Architecture 101 (2012)
Starring: Uhm Tae Woong, Han Ga In, Lee Je Hoon, and Bae Suzy
This rom-com follows two college students in the '90s, Seung Min and Seo Yoon, who meet in their introductory architecture class, and immediately fall in love. 17 years and a breakup later, the adult Seo Yoon asks Seung Min to design her new home on Jeju Island. The twist? Seung Min is engaged and he's about to move to the U.S.
All About My Wife (2012)
Starring: Im Soo Jung, Lee Sun Kyun, and Ryu Seung Ryong
Jung In (Im Soo Jung) and Doo Hyun (Lee Sun Kyun) meet in Nagoya, Japan, and quickly fall in love. Seven years of marriage later, the mild-mannered Jung In is miserable with his wife's constant nagging and endless complaining. In desperation, Doo Hyun recruits his next-door neighbor (Ryu Seung Ryong) to seduce his wife and make her leave him first.
Cyrano Agency (2010)
Starring: Park Shin Hye, Uhm Tae Woong, and Choi Daniel
Based on a 1897 French play, Cyrano Agency revolves around Byeong Hoon (Uhm Tae Woong), who sets up a dating agency that promises a 100% success rate at making people fall in love. Things get complicated when their new client, Sang Yong (Choi Daniel) hires them to make Byeong Hoon's ex fall for him.
The Beauty Inside (2015)
Starring: Han Hyo Joon
When Woo Jin turns 18, he wakes up with a strange condition where he starts every day with a different face, gender, and nationality. Sometimes, he's a man, other times, he's a woman, but he remains the same person on the inside. This beloved rom-com features an excellent ensemble cast playing the same person, including Park Shin Hye, Lee Beom Soo, Park Seo Joon, Kim Sang Ho, and more.
ADVERTISEMENT - CONTINUE READING BELOW
Penny Pinchers (2011)
Starring: Song Joong Ki and Han Ye Seul
If you know Song Joong Ki from Descendants of the Sun, you're in for a surprise in this rom-com. Unlike his charming and gallant character in the popular K-Drama, he plays Ji Woong, an unemployed college graduate who's so poor that he can't even afford condoms for his dates. He befriends his neighbor, Hong Sil, who teaches him her wild and hilariously frugal ways.
Miss Granny (2014)
Starring: Na Moon Hee, Shim Eun Kyung, and Lee Jin Wook
Veteran actress Na Moon Hee stars as an elderly woman in her 70s who suddenly finds herself in the body of her 20-year-old self. When she realizes that no one in her life recognizes her, she decides to make the most of her situation and lives a new life as a musician. Fun fact: There's a Pinoy remake starring Sarah Geronimo, James Reid, and Xian Lim. 
ADVERTISEMENT - CONTINUE READING BELOW
Like for Likes (2016)
Starring: Lee Mi Yeon, Yoo Ah In, Kang Ha Neul, and Choi Ji Woo
If you liked Western rom-coms like Love, Actually, He's Just Not That Into You, and Valentine's Day, this Korean romance film is right up your alley, as it features interconnected love stories from all walks of life. The movie brings together six singles in Seoul, weaving three romance plots that show the good and the bad in relationships.
Whatcha Wearin'? (2012)
Starring: Ji Sung and Kim Ah Joong
Yoon Jung (Kim Ah Joong) tries to spice up her five-year relationship by having phone sex with her boyfriend. Things get especially interesting when she accidentally calls a total stranger, Hyun Seung (played by Ji Sung), who's trying to get over his ex-girlfriend. From there, their friendship blossoms and turns into something more.
Share this story with your friends!
---
Help us make Spot.ph better!
Take the short survey
More Videos You Can Watch
Load More Stories