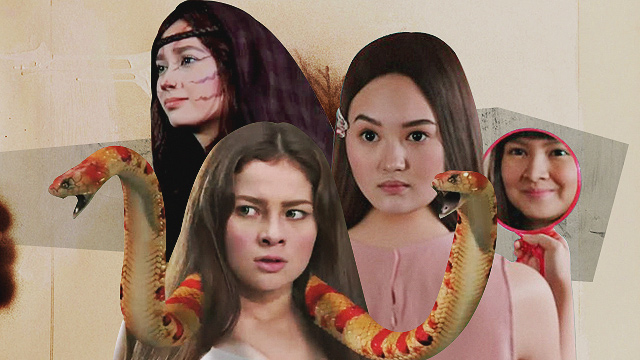 (SPOT.ph) If you've been watching teleseryes for a long time, you may have gotten used to the standard set of characters and formulaic yet tried-and-tested plots that networks roll out year after year. We know it by heart: The poor yet pretty heroine with the heart of gold always wins in the end, because good always trumps evil. Every so often, however, we come across shows that deviate from the norm, make us do a double take and ask, "WTF did I just watch?"—and still, we keep watching.
ADVERTISEMENT - CONTINUE READING BELOW
Here's a list of intriguing teleseryes that, despite unusual characters and the near-impossible situations they present, have hooked thousands of viewers over the years.
Kara Mia (2019)
In this trending teleserye by GMA-7, Barbie Forteza and Mika dela Cruz star as Kara and Mia, sisters who share the same head and body. While conjoined twins do exist in real life, they don't normally look like the mythological Janus. It's a very unusual situation that encourages a barrage of questions, such as: How do they shampoo and wash their hair and make sure nobody accidentally swallows water or gets shampoo in her eyes? Do they even scratch their head, and do they end up scratching the other twin's face when they do? How can you fit two separate brains into one skull?
Since Kara and Mia are two different people with two separate brains, each has a mind of her own and they often disagree. At worst, they end up slapping each other's faces and pulling each other's hair with the same pair of hands. It's a test of who has more control over the hands and fingers they share.
Onanay (2018)
This teleserye takes us through the life of Onay, a woman with Achondroplasia (a genetic disorder that causes dwarfism) who finds true love, marries, and starts a family of her own. Jo Berry stars in the title role, while Adrian Alandy portrays Elvin, her husband. Just when her life seems perfect with the addition of a newborn daughter, Onay gets abducted and is raped by her abductors. Her husband dies in a car chase, and she discovers she is again pregnant. Elvin, however, isn't the father.
Moon of Desire (2014)
It tells the story of Ayla (Meg Imperial), otherwise known as DJ Lav, who hosts a famous radio program called Moon of Desire. Listeners are in awe of the sultry voice hosting the show and are keen to see the woman behind it. Ayla, however, never lets her listeners see her in the flesh. She is covered in hair from head to toe, suffering from hypertrichosis, a medical condition also known as werewolf syndrome.
ADVERTISEMENT - CONTINUE READING BELOW
Galema: Anak ni Zuma (2013)
Loosely based on Zuma, a 1976 comic book and a 1987 film of the same title, the story is a bit unnerving from the onset. Zuma (Derick Hubalde), a notorious monster and criminal, rapes a woman named Galela (Sheryl Cruz), who gives birth to a baby girl named Galema (Andi Eigenmann). Like her father, Galema also has snakes around her neck, which she hides under her hair. When she gets angry or feels threatened, however, the creatures come out to protect her.
Felina: Prinsesa ng Mga Pusa (2012)
Pregnant women who get cursed don't usually suffer the consequences. It's the unborn children who suffer the brunt of every evil curse. Felina (Arci Muñoz) is the victim of such circumstances, and what's worse is she was cursed by her own father to take after the one thing her mother feared—cats. Felina gets separated from her real family and ends up being the number-one freak act in a circus—and that's just the beginning.
ADVERTISEMENT - CONTINUE READING BELOW
Alakdana (2011)
Adana was born with the tail of a scorpion. Luckily, she can keep it hidden and look like any normal girl—just don't make her angry. Even if a pretty Louise delos Reyes portrays Adana, you still wouldn't want to make that poisonous tail come out.
Agua Bendita (2010)
Agua and Bendita (Andi Eigenmann) are identical twins born in a well-to-do family, but here's the catch: When submerged in water, Agua looks like a normal girl, but once she steps out, she takes on the color of the sea and transforms to liquid. The normal but spoiled twin, Bendita, and their mother, Mercedes (Vina Morales), aren't exactly thrilled when they learn of Agua's existence because really, it isn't every day that you discover your own flesh and blood is made of water. Agua wasn't born that way due to some unusual biological phenomenon; it's because their father, Marcial (John Estrada), made their mother drink stolen holy water during a delicate time in her pregnancy.
ADVERTISEMENT - CONTINUE READING BELOW
Kambal sa Uma (2009)
Here's another set of twins with unusual physical features, though not through the workings of some enchanted being. Shaina Magdayao and Melissa Ricks play Vira and Ella, two sisters who bear the physical attributes of a rodent not because they were cursed, but because their mother loved to snack on fried field mice when she was pregnant with the two. Vira looks pretty normal and keeps the mat of rodent hair on her back a secret. Ella, however, has ears and a full head of rodent hair that say it all.
Bakekang (2006)
Normally, a beautiful but poor girl portrays the heroine, or a then-aesthetically challenged girl who gets plastic surgery—or a magic spell to alter her appearance—and returns to seek revenge on her persecutors. In Bakekang, however, Sunshine Dizon stays true to ugly form all throughout and even gives birth to two daughters, played by Yasmien Kurdi and Lovi Poe. Here's the twist: The pretty daughter is the one with the kind heart, and the ugly one makes their mother suffer. Physical beauty is only skin deep, after all. Bakekang proves that a woman doesn't need to undergo a makeover and look like a beauty queen to get the respect and justice she deserves.
ADVERTISEMENT - CONTINUE READING BELOW
Kampanerang Kuba (2005)
Mara Clara meets Hunchback of Notre Dame meets Beauty and the Beast. There's an incident that involves the switching of two babies, which makes life difficult for one of the children. The child in question? Imang (Anne Curtis), a hunchback who becomes the kampanera of the parish where she was abandoned by her own father. Like any other underdog with a physical defect, Imang is ridiculed and persecuted because of her appearance. And just when we think life would never improve for her, things do turn for the better with the help of that one thing that can make all things possible: magic. Imang, without the bump on her back and that ghastly face, is actually a kind and beautiful barrio lass.
Share this story with your friends!
---
Help us make Spot.ph better!
Take the short survey
More Videos You Can Watch
Load More Stories