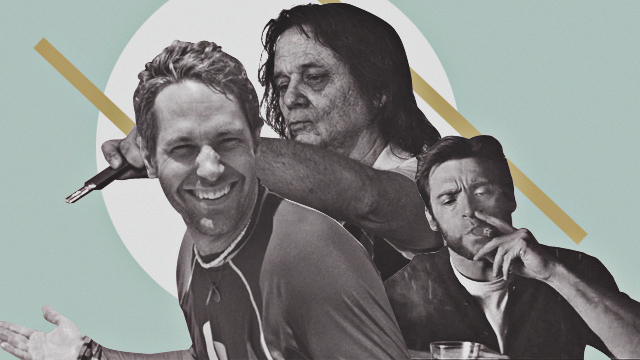 (SPOT.ph)  Cameo appearances are nothing new. Film legend Alfred Hitchcock was known for short appearances in his own films, M. Night Shyamalan's movies almost always feature him in a small role, and Stan Lee can be found in most Marvel movies. But sometimes a cameo is better when it features someone you least expect to make an appearance. Check this list to see if you missed some:
ADVERTISEMENT - CONTINUE READING BELOW
Brad Pitt in Deadpool 2 (2018)
Directed by: David Leitch
In the second Deadpool movie, we are introduced to the X-Force, an offbeat superhero team assembled by Deadpool (Ryan Reynolds) himself. No one expected to see the invisible The Vanisher, but he is revealed at the end when he is accidentally electrocuted and is revealed to be played by Brad Pitt. The cameo may have only lasted a few seconds, but it took two hours to shoot.
Emma Watson in This is the End (2013)
Directed by: Seth Rogen and Evan Goldberg
This is the End is basically an apocalypse film full of cameos, with the likes of Channing Tatum, Michael Cera, Rihanna, and the Backstreet Boys appearing as themselves. While Emma Watson's appearance was used to market the movie, it was still hilarious to actually see her break into James Franco's house to steal all the drinks.
Bill Murray in Zombieland (2009)
Directed by: Ruben Fleischer
Zombieland was an unexpected critical and commercial hit, and what was even more unexpected was Bill Murray's cameo as himself. When he, with the help of Tallahassee (Woody Harrelson) and Wichita (Emma Stone), tries to pull a prank on Columbus (Jesse Eisenberg) by pretending to be a zombie, he gets shot and pulls off a funny death scene the way only he can. Hard to believe Harrelson only called Murray up to do the cameo two days before it was set to be shot.
Tom Cruise in Tropic Thunder (2008)
Directed by: Ben Stiller
It's easy to miss Tom Cruise in a film starring Ben Stiller, Robert Downey, Jr., and Matthew McConaughey, especially since he's in a fat suit complete with prosthetic arms (both Cruise's idea). Cruise plays Les Grossman, the movie executive who puts the pressure on everyone to get the filming of the movie done. Grossman inexplicably loves to dance (also Cruise's idea), and the end credits feature him dancing by himself.
ADVERTISEMENT - CONTINUE READING BELOW
Justin Bieber in Zoolander 2 (2016)
Directed: Ben Stiller
Whether you love or hate Justin Bieber, you probably loved his cameo in this sequel. He gets riddled with bullets at the beginning of the film but manages to post a final selfie (with Zoolander's signature Blue Steel face, of course) before he dies. Ben Stiller has actually said in interviews that the Biebs' death was part of the original 2010 script, and was retained as he became an even bigger star.
Daniel Radcliffe in Trainwreck (2015)
Directed by: Judd Apatow
Daniel Radcliffe's movie-within-a-movie cameo is actually one of the funniest parts of Trainwreck. He stars in The Dogwalker, a bad Sundance-like film that Amy (Amy Schumer) and Steven (John Cena) watches in one of their dates. In the the black-and-white movie, Daniel Radcliffe plays a dog walker who flirts with Marisa Tomei's character. The whole mini-film was actually improvised by the two actors.
ADVERTISEMENT - CONTINUE READING BELOW
Paul Rudd in Forgetting Sarah Marshall (2008)
Directed by: Nicholas Stoller
It's hard to forget Paul Rudd shouting, "You sound like you're from London!" or singing "The weather outside is weather," in this comedy. Just when you think Kunu is about to share profound advice with Peter (Jason Segel), the surfing instructor throws a curveball by saying something hysterical instead. He is one of the most hilarious supporting characters in the movie that it's a wonder they gave the spin-off movie to Aldous Snow (Russell Brand) and not him.
Tom Felton in Get Him to the Greek (2010)
Directed by: Nicholas Stoller
Tom Felton plays himself in this movie, where he bumps into Aaron (Jonah Hill) at a bar. Aaron messes up the whole thing by telling a couple of bad Harry Potter jokes, causing a weirded-out Felton to walk away. In real life though, Felton is actually a big Johan Hill fan, so he was only too happy to take part in the movie.
ADVERTISEMENT - CONTINUE READING BELOW
Billie Lourd in Star Wars: The Force Awakens (2015)
Directed by: J.J. Abrams
While Billie Lourd's Lieutenant Connix plays a big role in The Last Jedi and is speculated to play a bigger role in Episode IX, she only has one line in The Force Awakens. In a blink-and-you'll-miss-it scene, Connix asks Princess Leia (Carrie Fisher): "General, are you seeing this?" Hardcore Star Wars fans know this to be a memorable moment as Lourd is Fisher's daughter. Lourd actually auditioned for the role of Rey, but when Daisy Ridley was cast, director J.J. Abrams still wanted to include her in the film, so he gave her the role of Connix.
Hugh Jackman in X-Men: First Class (2011)
Directed by: Matthew Vaughn
Never mind the timeline and continuity questions that Hugh Jackman's cameo in X-Men: First Class raises—it was pretty badass to see Charles Xavier (James McAvoy) and Erik Lehnsherr (Michael Fassbender) try to recruit Wolverine as part of the X-Men, only to get a curt "Go f*ck yourself." Jackman was actually unsure if the cameo would make it to the final cut, but thankfully, it did.
ADVERTISEMENT - CONTINUE READING BELOW
Share this story with your friends!
---
Help us make Spot.ph better!
Take the short survey
More Videos You Can Watch
Load More Stories