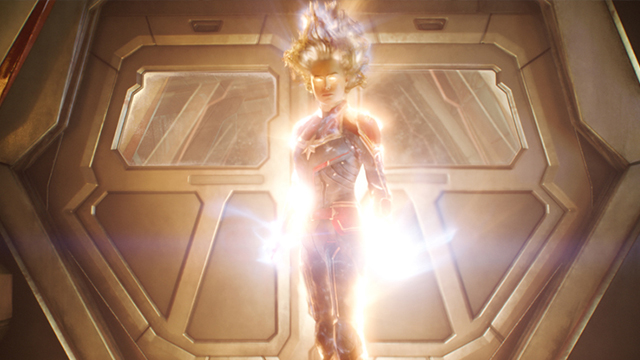 (SPOT.ph) It was the pager heard all over the galaxy—or, more accurately, the universe. Before Nick Fury (Samuel L. Jackson) became one of the (not-so-spoiler alert!) disintegrated casualties at the end of Avengers: Infinity War, he pulled out a pimped-out beeper and pressed a button. The only clue as to who the person at the end of the line could be is the blue, white, and red logo with a star in the middle. If was, of course, a call for help meant for none other than Captain Marvel a.k.a. Carol Danvers. Starring Brie Larson, Captain Marvel gives fans a look into who could possibly defeat the Avenger-killing Thanos—and to put it bluntly, Thanos doesn't stand a chance.
ADVERTISEMENT - CONTINUE READING BELOW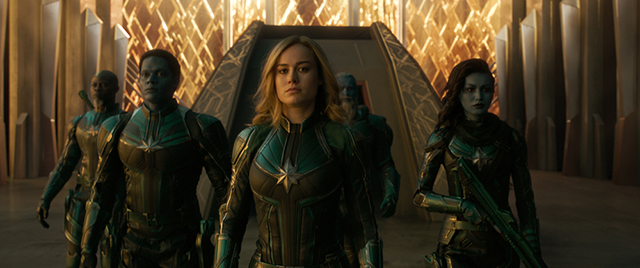 Vers (Larson) is a highly prized member of Starforce, an elite group of Kree soldiers led by Yon-Rogg (Jude Law) that also includes star sniper Minn-erva (Gemma Chan). The Kree don't let anything get in their way to win the war they've waged against other alien races, especially not the Skrulls, who can turn into any living being they set their eyes on. One of their battles with these shape-shifters brings Vers to Earth, where she finds clues and sees fragments of her past as Carol Danvers, a star pilot of the Air Force. Her search for the truth leads her to a trip down memory lane with the de-aged, pre-eyepatch, and kitty-loving Fury (Jackson) and a few intense run-ins with Talos (Ben Mendelsohn), the kitty-hating leader of the Skrulls.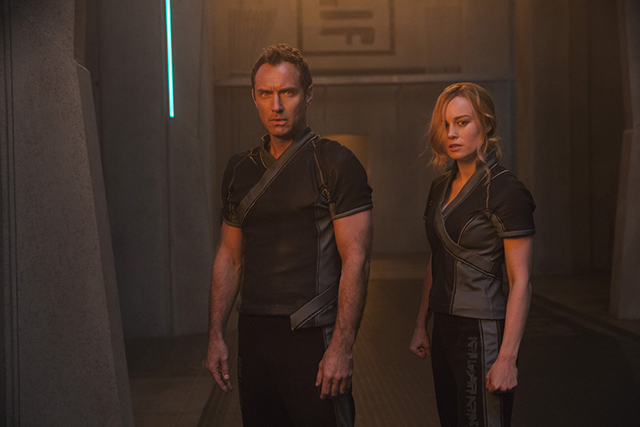 If there's anyone who's going to love the leather-clad Captain Marvel, it's the '90s kids. The unmistakable blue and yellow of the Blockbuster store, the Radio Shack full of wires, and the life-giving punk-rock soundtrack are sure to give you nostalgic whiplash. Think Guardians of the Galaxy, only less dancing, more rocking out at karaoke night. The good thing is, the film doesn't depend too much on its early-vintage setting to get you hooked. It doesn't get stuck in a world of callbacks for entertainment but instead delivers quick-hit gags that include ones about slow Internet and loading pages.
ADVERTISEMENT - CONTINUE READING BELOW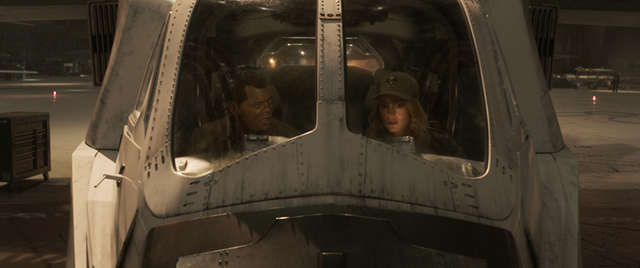 Larson and Jackson delightfully steal the show as a formidable buddy-cop duo, what with their witty banter, lighthearted chemistry, and complementary badassery. As cool as it is to see Fury with two eyes, it's even cooler to see him without all the power that's yet to be bestowed onto him as the director of S.H.I.E.L.D. You'll be glad to know he's just as clever with a piece of tape as he is with extraterrestrial power cubes. Just a few years into the spy life, he's also just getting to know the ever-loyal rookie, Agent Coulson (Clark Gregg).
ADVERTISEMENT - CONTINUE READING BELOW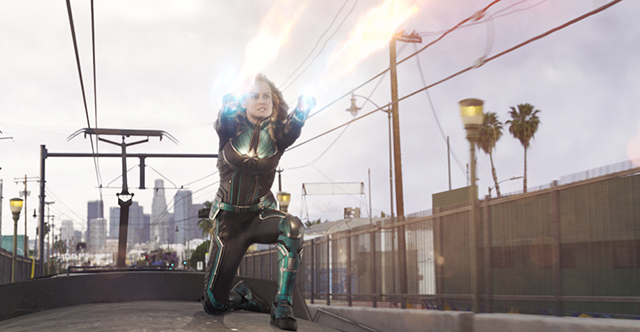 Ironically enough, Captain Marvel's powers might just be her downfall. Even in handcuffs, her enemies already don't stand a chance against the photon blasts she shoots from her hands. (That, by the way, can conveniently boil water.) You can only imagine how unstoppable she could be (and is) with her full force, so there's not really much of a fight than there is of her just whooping everyone's ass.
ADVERTISEMENT - CONTINUE READING BELOW
While the movie makes a case for Captain Marvel overcoming the limits that have been imposed on her, there's not much weight to it that it's almost a given how every fight with her will turn out. Whereas Avengers: Infinity War and Thor: Ragnarok—or heck, even just Thor—made an-all-too-powerful Norse god look desperate, Captain Marvel doesn't create the same emotional impact that makes you feel that the world is really in grave and serious danger. The lack of a challenge also stems from the not-so-ominous villain, who is brooding and menacing at most. You can't really feel threatened by a bad guy who immediately calls for backup when things don't go as planned.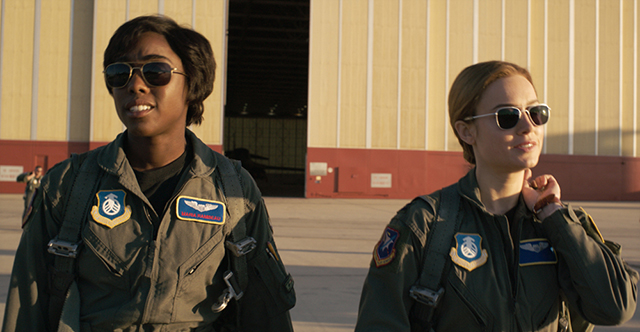 ADVERTISEMENT - CONTINUE READING BELOW
That said, the real strength of Captain Marvel lies in the relationships—though quickly built—she has with other people. Directors Anna Boden and Ryan Fleck did a good job fleshing out what they could from a superhero who's practically stuck in between worlds. The fun she has with Fury kicking intergalactic butt might just give the Men in Black a run for their money. And the deep connection she has with the competitive former co-pilot Maria Rambeau (Lashana Lynch) is reminiscent of that of Captain America and Bucky's.
Captain Marvel might overpower her undermatched enemies in Marvel's first female-led flick, but it's all the more reason to see her go face to face with Thanos in the upcoming Avengers: Endgame. If this is just a teaser of what she can do (and it probably is), then, good luck, Thanos—you're going to need it.
Rating: 3.5 out of 5 Spots
ADVERTISEMENT - CONTINUE READING BELOW
Captain Marvel opens in cinemas on March 6.
Photos courtesy of Marvel Studios
Share this story with your friends!
---
Help us make Spot.ph better!
Take the short survey
More Videos You Can Watch
Load More Stories