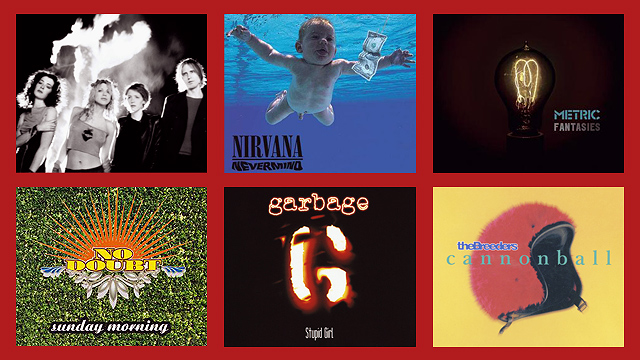 (SPOT.ph) If you've seen the movie and gotten around to listening to the Captain Marvel OST, then you'd find that it's a mix of mostly rock and a few R&B tracks that are either oozing with copious amounts of girl power or so edgy, they can stir up enough energy to get you through the day. On the other hand, the songs are fairly easy on the ears of those who can't handle too much angst fused into music. It pays homage to classic rock bands like Heart, British post-punk/new wave-inspired act Elastica, and '90s alternative rock groups Nirvana and Garbage—among others.
If you enjoyed listening to their songs while watching the film (and you want more suggestions even after generating your own Captain Marvel-inspired Blast from the Past playlist on Spotify), here are 10 other tracks that you must add to your playlist, and blast on the speakers on your next house party or hangout session.
ADVERTISEMENT - CONTINUE READING BELOW
"Black Sheep"
Artist: Metric
In one of the Canadian rock band's more popular—and arguably most impressive—releases, Emily Haines's soothing yet powerful voice wafts over a bed of synths, distorted guitar riffs, and heart-pounding drum beats. Despite it being a power track, a synthesizer and a catchy melody make the song quite danceable. Haines herself prances around the stage whenever Metric performs "Black Sheep" live. And it might just be the song that'll make you regret not buying tickets to the band's only show in Manila in 2013.
Fun fact: Brie Larson performed the song as Natalie "Envy" Adams, the vocalist of a fictional band in another comic book-inspired film—Scott Pilgrim vs. The World.
"Don't Get Me Wrong"
Artist: The Pretenders
This is what pop-rock in the '80s sounds like. If you got a kick out of listening to Heart's "Crazy on You" and Lita Ford's "Kiss Me Deadly," both of which are included in the Captain Marvel soundtrack, then "Don't Get Me Wrong" is a song you'll easily fall in love with. It starts with an engaging bass line interspersed with jangly guitar riffs, flowing into an infectious melody that could get anyone's head bobbing and feet stomping to the beat. Chrissy Hynde's husky vocal chops are a beautiful contrast to the saccharine lyrics, giving the song the grit it needs.
Fun fact: This hit song by The Pretenders has been played in Hollywood films such as Romy and Michelle's High School Reunion and Bridget Jones's Diary.
"Stupid Girl"

Artist: Garbage
"Only Happy When It Rains" is the only song by Garbage that you'll hear on the Captain Marvel OST, but do a bit of searching on Spotify and you'll find at least five other tracks to your liking. One of them would probably be "Stupid Girl," another track from the band's self-titled debut album. This particular song is memorable for quite a few reasons: An engaging and dominant bass line complemented by smooth and steady percussion, scratchy effects that sound a lot like audio feedback, and ambient synth flourishes that are a staple in Garbage's trademark electronic rock sound.
Fun fact: The song is about wasting one's potential when he or she could be so much better. Despite the song's title, it's supposed to be genderless and a wake-up call for anyone who needs it.
"Lithium"
Artist: Nirvana
There were older, lesser-known bands that could be considered as the pioneers of the grunge in the mid-1980s, but admittedly, it was Nirvana and its sophomore album, Nevermind, that brought the movement the mainstream attention it deserved. Kurt Cobain was considered a genius, and while he died too early at 27 years old, he is remembered as one of the figures responsible for laying down the foundations of the Seattle music scene and opening doors for other bands. While not nearly as popular as "Smells Like Teen Spirit," Nirvana's groundbreaking single; or even "Come As You Are," which also appears on the Captain Marvel soundtrack; "Lithium" is arguably one of Nirvana's most beautiful songs. It strikes a melodious, stirring balance of quaint and forceful parts, shifting from Cobain's timid storytelling to him screaming the lyrics out. The song is about a man who takes refuge in religion while grieving over the death of his girlfriend.
Fun fact: The producer of Nevermind is Butch Vig, Garbage's drummer and co-producer.
ADVERTISEMENT - CONTINUE READING BELOW
"Malibu"
Artist: Hole
Here's another song to listen to if you liked the title track of Hole's Celebrity Skin—it also comes from the same album. "Malibu" is tame in comparison to Hole's previous work, which doesn't come as a surprise given that the album Celebrity Skin marks the band's departure from its punk and grunge musical style. "Malibu" is a fun song to listen to, and it's almost equal parts pop and alternative rock. It hooks you instantly with the first line and gets you swaying and later singing along to effervescent harmonies. It's the sort of song you'll play on an instantaneous beach trip.
Fun fact: All the lyrics of the songs in Celebrity Skin were written by Hole vocalist Courtney Love, who was also the wife of the late Kurt Cobain.
"Where is My Mind"
Artist: Pixies
While the Pixies might not be as popular to mainstream listeners as say, Nirvana or Weezer, it certainly deserves a decent amount of respect, having greatly influenced the aforementioned bands as well as Bush and Blur. "Where is My Mind" is a track from the band's first full-length studio album, Surfer Rosa. Frontman Black Francis tells you to "Stop" right at the beginning and strums his acoustic guitar as Kim Deal sings "ooh-hooh" in that ghostly voice, then Joey Santiago steals the show with that unforgettable guitar lick. This haunting song is supposedly inspired by one of Black Francis's scuba diving experiences and with lyrics like "I was swimmin' in the Caribbean/Animals were hiding behind the rock," that theory seems accurate, although open to interpretation. This song should be quite familiar. It's the one you hear playing over the end credits of Fight Club, in that scene where Edward Norton and Helena Bonham Carter hold hands while the skyscrapers get demolished one by one.
Fun fact: Lead guitarist Joey Santiago is Filipino. He was born in Manila, and baptized Joseph Alberto.
ADVERTISEMENT - CONTINUE READING BELOW
"Cannonball"
Artist: The Breeders
Pixies bassist Kim Deal formed The Breeders initially as a side project, but it became her main act when the Pixies disbanded. Her twin sister, Kelley, joined the band eventually. "Cannonball" is the most popular (and overplayed) track from Last Splash, the band's commercially successful second album. The song's hook? A highly infectious bass line that's enough to give you LSS.
Fun fact: "Cannonball" was used in the opening scene of the film A Walk to Remember, right before a bunch of high school students dares one of the guys to jump off a tall structure, which results in an accident.
"Sunday Morning"
Artist: No Doubt
Among the rock bands that were formed and gained mainstream personality in the '90s, No Doubt stood out for its distinct sound, which was quite far from what was referred to as "grunge" and "alternative." And while "Don't Speak" is the song everyone knows, "Sunday Morning" is the one that embodies what No Doubt truly was, in the beginning—a ska/reggae/rock band. If you enjoyed listening to "Just a Girl" on the Captain Marvel OST, then you will absolutely have fun jumping and dancing to this song in ska fashion. 
Fun fact: You could call "Sunday Morning" a legit family affair. The song was written by siblings Gwen and Eric Stefani and No Doubt bassist Tony Kanal. It's about Gwen and Tony's relationship and breakup. The music video for this was filmed at the garage of Gwen and Eric's grandparents' home in Anaheim, California.
ADVERTISEMENT - CONTINUE READING BELOW
"Runaway Train"
Artist: Soul Asylum
Two R.E.M. songs are on the Captain Marvel soundtrack: "Man On the Moon" and "Crush With Eyeliner." Both are mid-tempo tunes that are easy to digest and probably strum on a guitar if you know how to play one. If you liked both songs, here's an alternative from another band: Soul Asylum's runaway hit, "Runaway Train," which won a Grammy for Best Rock Song.
Fun fact: While the music video for "Runaway Train" includes photographs of missing children, the song isn't about runaways but rather, a personal testament of frontman David Pirner's struggle with depression. Music video director Tony Kaye confirmed that 26 children were found after being featured in the video.

"Better Man"
Artist: Pearl Jam
Much like "Crush With Eyeliner," this song comes on a bit strong in the beginning, then slows down with only Eddie Vedder's sexy baritone layered over guitar and bass tracks, before exploding with a full suite of instruments. Although it was never released commercially as a single, this song from Pearl Jam's third studio album, Vitalogy, is easily one of the band's biggest hits. It stayed on the number one spot of the Billboard Mainstream Rock chart for eight weeks.
Fun fact: Eddie Vedder wrote the song when he was in high school. And while the song's title is "Better Man," it tells the story of a woman.
ADVERTISEMENT - CONTINUE READING BELOW
Share this story with your friends!
---
Help us make Spot.ph better!
Take the short survey
More Videos You Can Watch
Load More Stories