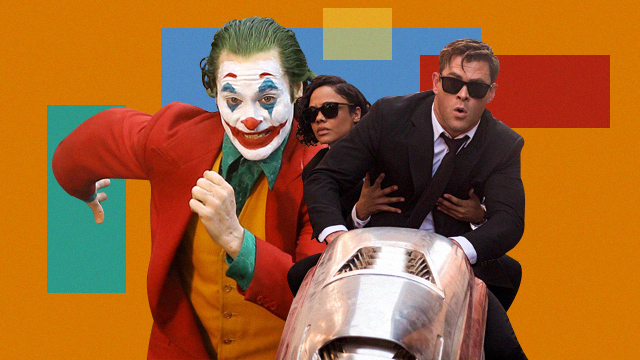 (SPOT.ph) Reboots and remakes have come to make up a big chunk of Hollywood fare, whether people like it or not. Every year, some of the most exciting projects have new directors and new talents tackling a classic story—otherwise, we wouldn't have things like Ocean's 8, Halloween, and A Star is Born, all of which were released in 2018 alone. But of course, not everything succeeds. For every Jurassic World or Spider-Man: Homecoming, you have a Tomb Raider or a Robin Hood. Still, there's no denying the excitement one has for the possibility of a wonderful new take on an old story, and below, we've compiled a list of the 10 most exciting reboots and remakes that are in the works right now.
ADVERTISEMENT - CONTINUE READING BELOW
Hellboy
Release date: April 12
Hellboy had some trouble getting back on the big screen after 2008's Hellboy II: The Golden Army. Guillermo del Toro's on-again-off-again third installment with Ron Perlman didn't pan out, so this opened the door for a full-on reboot. Taking a page out of Deadpool's book, Hellboy goes full R-rated in all its bloody violent glory for this reboot, as Neil Marshall (The Descent and the "Blackwater" episode of Game of Thrones) takes over directing duties. Stranger Things star David Harbour takes over the role of the superhero demon Hellboy with Milla Jovovich, Ian McShane, Daniel Dae Kim, and Thomas Haden Church rounding out the cast. Marshall and Harbour promise a darker, grittier version of the beloved comic.
Men in Black: International
Release date: June 14
Instead of bringing back its stars, the Men in Black franchise decided to go younger, and about 50% more female. Dubbed as a spin-off, but also acting as a soft reboot, Thor: Ragnarok co-stars Chris Hemsworth and Tessa Thompson take over as lead agents (Agents H and M) in a mission that will take the MIB agents all over the world, making it a global case that expands the Men in Black universe. Emma Thompson is the one former cast member appearing (that we know of), reprising her role as the head of the U.S. branch of MIB from the previous film, while Liam Neeson plays the head agent of the U.K. branch of MIB. Playing some of the weird and wacky aliens this time around include Rebecca Ferguson and Kumail Nanjiani.
Joker
Release date: October 4
Joaquin Phoenix joins the likes of Heath Ledger, Jack Nicholson, and Jared Leto in portraying the legendary comic-book supervillain on the big screen. Whether or not Phoenix's take on the character will be a successful one is still up in the air, but he at least looks like he's having fun. The Hangover trilogy director (yes, him) Todd Phillips directs this non-DCEU version of the Joker (so, no, he is in no way related to the Jared Leto version that was seen in Suicide Squad) in which the title character is a failed stand-up comedian who becomes insane and becomes a criminal mastermind. Zazie Beetz and Robert De Niro star alongside Phoenix in what could be the most unique Joker yet.
The Addams Family
ADVERTISEMENT - CONTINUE READING BELOW
Release date: October 18
They're creepy and they're kooky and they're back in animated form! The Addams Family returns to the pop culture sphere with a 3D-animated version that looks even darker and more bizarre than any previous iteration. Conrad Vernon and Greg Tiernan, who co-directed the raunchy 2016 animated comedy Sausage Party, will probably add a lot of strange and witty animation and comedic beats, and the brilliant cast—including Oscar Isaac as Gomez, Charlize Theron as Morticia, Chloe Grace Moretz, Finn Wolfhard, Bette Midler, and Allison Janney—can easily bring these iconic characters to life. With a storyline that features a reality TV host, it looks like we're bringing the Addams into the 21st century, which would make for a film that's very different from the prior versions.
Charlie's Angels
ADVERTISEMENT - CONTINUE READING BELOW
Release date: November 1
Say "Good morning" to a new batch of Angels, as Kristen Stewart, up-and-comer Naomi Scott, and newbie Ella Balinska play three new Angels ready to kick ass, save the day, and have fun doing it. No stranger to female-centric films, Elizabeth Banks (Pitch Perfect 2) is behind the camera, which would make it the first film in the franchise directed by a woman. Banks will also be in front of the camera, playing one of three Bosleys (the middleman between the Angels and Charlie)—the other two being Djimon Hounsou and Patrick Stewart—because this time around, the Agency is a worldwide operation, with multiple Bosleys all over the world, as well as multiple Angels (rather than the standard one team of three). Heartthrobs Sam Claflin, Chris Pang, and Noah Centineo also star. The two earlier films directed by McG were charming, silly, enjoyable fun, and time will tell if the 2019 version captures the same spirit.
ADVERTISEMENT - CONTINUE READING BELOW
Little Women
Release date: December 25
Writer-director Greta Gerwig's follow up to the Oscar-nominated Lady Bird is another coming-of-age drama, except this time she takes a time machine back to 1860s Massachussets for a Greta-fied version of Louisa May Alcott's novel, Little Women. Though this is the eighth cinematic adaptation of the classic, it will be most compared to the most famous iteration—the 1994 version that starred Winona Ryder, Kirsten Dunst, Claire Danes, Christian Bale, and Susan Sarandon, and went on to snag three Oscar nominations. Gerwig has assembled quite the cast for this, though, with Emma Watson, Saoirse Ronan, Florence Pugh, and Eliza Scanlen as the March sisters, and a supporting cast that includes Laura Dern, Timothée Chalamet, and Meryl Streep. A powerhouse ensemble with a master at writing coming-of-age characters, 2019's Little Women will be a major contender for next awards season.
ADVERTISEMENT - CONTINUE READING BELOW
Darna
Release date: 2019/2020
The long-gestating Darna remake is still undergoing some tough times, but ABS-CBN Films is hopeful that it's coming very soon. Liza Soberano takes over the role of the Philippines' most famous superheroine after the likes of Marian Rivera and Angel Locsin donned the iconic red and yellow. When Erik Matti dropped out, things weren't looking good, but Heneral Luna's Jerrold Tarog was quickly hired to replace him, which puts the film back on track even if that means a new set of rewrites and pre-production. Many anticipate Darna flying back to the screen, and with Tarog behind the camera, this could be the most visually exciting Darna yet.
ADVERTISEMENT - CONTINUE READING BELOW
The Voyage of Dr. Dolittle
Release date: January 17, 2020
There have been several adaptations of the character of Dr. Dolittle, a doctor who can speak with animals and takes care of them instead of humans, with probably the most famous version being played by Eddie Murphy. This new remake will star Robert Downey Jr. in the title role with an all-star voice cast (for the talking animals) that includes Downey's fellow Avenger Tom Holland, as well as Rami Malek, John Cena, Kumail Nanjiani, Selena Gomez, Marion Cotillard, Ralph Fiennes, Octavia Spencer, and Emma Thompson. That's not even counting the live action cast that will include Antonio Banderas! How "for kids" and what kind of tone this film will be is still under wraps, but the excitement is very high.
ADVERTISEMENT - CONTINUE READING BELOW
Magic Temple
Release date: TBD
ABS-CBN Films recently announced that they would be remaking the Peque Gallaga classic fantasy-adventure film Magic Temple over two decades after the original, which came out in 1996. The Metro Manila Film Festival award-winner will be rebooted by Birdshot director Mikhail Red, and is being positioned as a Harry Potter-style film series instead of a standalone. With the likes of Stranger Things becoming huge hits nowadays, it seems like this story about teenagers battling mystical and mysterious forces might just be the perfect film to bring back from the ashes, and with film technology the way it is today, we'd say it's fair to expect something visually exciting.
Share this story with your friends!
---
Help us make Spot.ph better!
Take the short survey
More Videos You Can Watch
Load More Stories