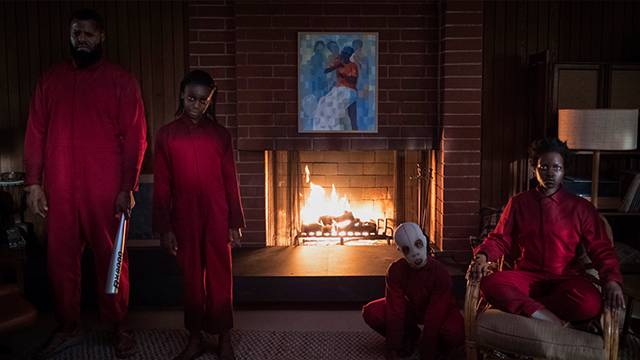 (SPOT.ph) Get Out was one of 2017's landmark films, breaking barriers and box office records for films featuring African Americans, specifically under the horror genre, and placed director Jordan Peele among the top new writer-directors to watch for. His sophomore feature, naturally, is very highly anticipated, and the question of whether or not Peele's first effort was a fluke or not is immediately answered with the brilliant and stunning Us. While a bit broader in its story, horror, and subtext than Peele's previous film, Us shows that Peele has an excellent grasp of the genre, and knows that the best horror films don't rely on jump scares and monsters, instead relying on build-up of chills, thrills, and big ideas presented in terrifying metaphor, which Us is overflowing with.
ADVERTISEMENT - CONTINUE READING BELOW
The film opens in 1986, showing a very '80s TV showing very '80s commercials surrounded by very '80s décor (including some movies on VHS that give us hints about what Peele might have been inspired by). This transitions into scenes at an amusement park, where a family of three is enjoying a night out. Young daughter Adelaide (Madison Curry) walks away from her parents and ends up inside a hall of mirrors type attraction labeled FIND YOURSELF, and here she runs into something so horrifying, she comes back shocked, distraught, and what a psychiatrist labels as a sort of PTSD.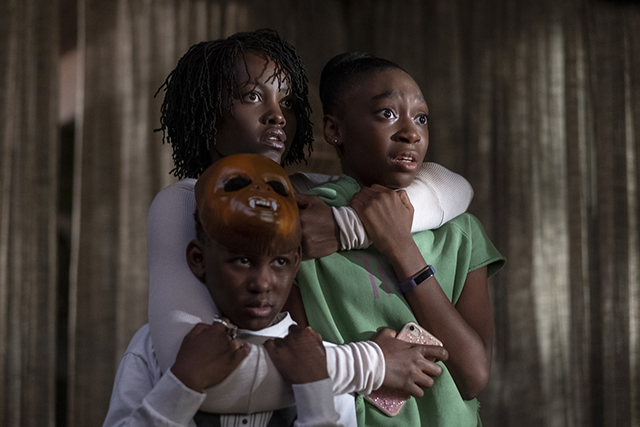 ADVERTISEMENT - CONTINUE READING BELOW
Recommended Videos
Years later to present day, Adelaide (now played by Lupita Nyong'o), has a family of her own. She's married to Gabe (Nyong'o's Black Panther co-star Winston Duke) and has two children (Shahadi Wright Joseph and Evan Alex). They're on a summer getaway to their beach house, the same one that is a short drive away from the amusement park that scarred Adelaide when she was a child—an experience she has never told her family about. It's not long before strange coincidences occur, and on their first night there, a strange family of four invades the home. As revealed in the trailer, the invading family is made up of identical copies or doppelgangers of Adelaide, Gabe, and their children, and they hold the four hostage. What follows is a terrifying war against what Peele believes is the biggest danger to us all—our own selves.
ADVERTISEMENT - CONTINUE READING BELOW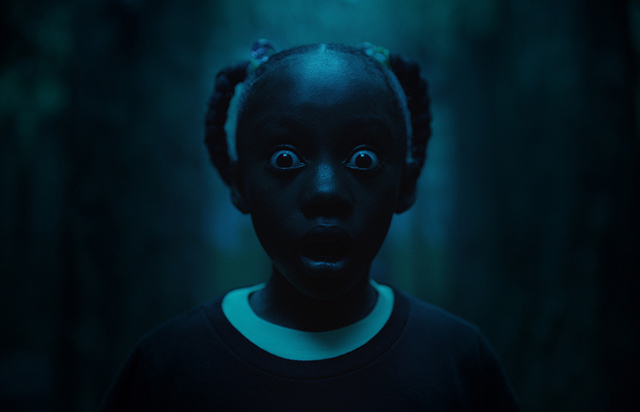 While Get Out has a much more original and interesting subtext of racial allegory, Us takes the more common adage of our worst enemies being ourselves and runs with it in thrilling fashion. Gorgeous images mixed with haunting ones populate the screen from start to finish, with Peele showing full command of how to scare your audience while also making great points about people and their worst selves. Peele has also written Us in a way that allows you to enjoy what's going on. Us is a lot funnier than it's expected to be, especially when it settles into the absurdity of the situation. It's a tension-filled thrill ride, yes, but it's also hilarious and makes points about human beings, and more specifically, America.
ADVERTISEMENT - CONTINUE READING BELOW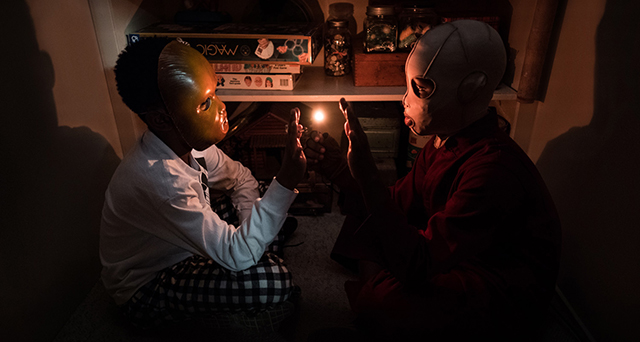 Peele has created a terrific double-feature of modern American horror. Steeped in American mythology and history, both Get Out and Us (it can't be coincidence that the title can also be seen as US, or United States) are firmly American stories, with both making sharp critiques on Americans and their rocky history. One of the characters says, "We're Americans" at one point, a simple statement that's packed with so many different meanings, it's actually spine-chilling. However, even with its distinctly American themes, Us is in no way unreachable for other audiences, as at its core, it is about a family trying to survive assailants, while also revealing something sinister about humanity.
ADVERTISEMENT - CONTINUE READING BELOW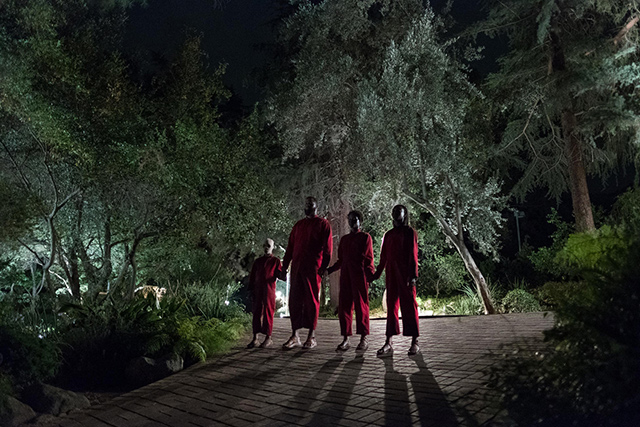 When it comes to the film's horrors—the doppelganger group wearing blood-red coveralls and brandishing sharp golden scissors—it's their mystery that's most terrifying. They communicate with animalistic growls except Adelaide's doppelganger, the only one who can speak. They smile menacingly, wear nightmare-inducing masks, and seem to have no soul or care what they do. It's a scary thought, that these people that look exactly like us are about to also kill us, and Peele uses this effectively. Of course, a lot of that has to do with the cast.
ADVERTISEMENT - CONTINUE READING BELOW
Everyone is basically playing dual roles, but Nyong'o is the outstanding one, as she shines more than she has since she won an Oscar for 12 Years a Slave. She's both a loving mom terrified of what is ahead of her, and a terrifying killer with a frightening voice. As the only doppelganger (or in the film's press kits, they are called "the Tethered") who can speak, Nyong'o spouts creepy stories while bug-eyed, and her performance is easily unforgettable and sits among the top monster performances in horror right alongside the likes of Kathy Bates and Anthony Hopkins.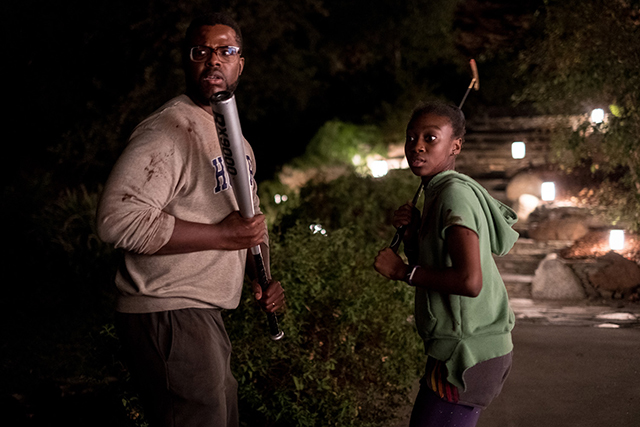 ADVERTISEMENT - CONTINUE READING BELOW
Duke, best known as M'Baku from Black Panther, is also perfectly cast as the dad-joke making dad who brings the lighter moments. The younger cast, including Curry, Joseph, and Alex, are all terrific in their roles—some of which require a lot of physical work and maniacal looks. The Handmaid's Tale's Elisabeth Moss and one-half of comedy duo Tim & Eric, Tim Heidecker, also appear as Adelaide and Gabe's friends and while they have less screentime, they put in some memorable performances, particularly Moss.
Us may not be more of what Get Out brought to the table, but it's awesome to see a filmmaker like Peele show that he can do several different things within the same genre—something that few directors can really do. Lots of horror film directors dive into the same well, but Peele understands the true things that scare an already dangerous world, and then presents fascinating metaphors in there. Us shows that Peele is no fluke, and with several more horror products coming up for him, horror fans should be getting in line on the blood-red carpet for him because he's in it for the long haul—and that's only good news.
ADVERTISEMENT - CONTINUE READING BELOW
Rating: 4 out of 5 Spots
Us premieres in theaters today, March 20.
Photos courtesy of Universal Pictures
Share this story with your friends!
---
Help us make Spot.ph better!
Take the short survey
Load More Stories