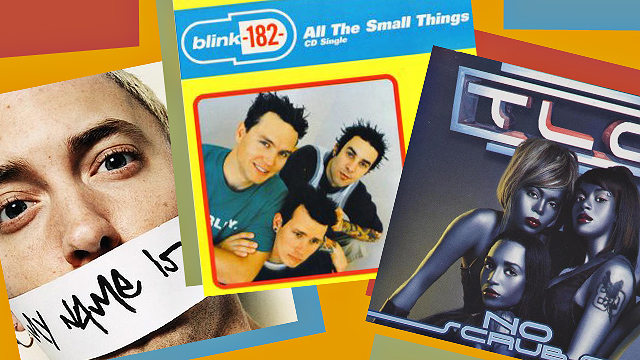 (SPOT.ph) Do you still remember what kind of music you were listening to 20 years ago? You probably think you've forgotten the songs released in 1999, but we bet you still know most of the lyrics to the year's hits, especially since it was a particularly eventful time for music—several local and foreign artists (who we now consider as icons in their respective genres) released their debut albums, Napster was launched, and the first ever Coachella Valley Music and Arts Festival was held in California.
If you want to take a trip down memory lane (or just remind yourself how old you are), check out these hit songs that will turn 20 this year:
"I Want It That Way"
Artist: Backstreet Boys
The Backstreet Boys released Millennium in 1999, and in keeping with their tradition of churning out upbeat lead singles, "Larger Than Life" was originally planned to be released first. But in an effort to sound more mature, they ultimately chose "I Want It That Way" for their lead single. Despite critics saying that the lyrics of the song don't make any sense at all, the song was nominated for three Grammy Awards, including Song of the Year and Record of the Year.
"Sometimes"
Artist: Britney Spears
After the success of her debut single "...Baby, One More Time," Britney Spears became even more popular with the release of her second hit song, "Sometimes." While rehearsing choreography for the music video, Spears injured her knee, forcing her to cancel TV appearances and delay the music video shoot for about a month. In 2005, Spears was sued for copyright infringement—a songwriter from Indiana named Steve Wallace claimed he wrote the song. The lawsuit was eventually dismissed.
ADVERTISEMENT - CONTINUE READING BELOW
"Genie in a Bottle"
Artist: Christina Aguilera
Did you know Christina Aguilera recorded a Spanish version of "Genie in a Bottle" titled "Genio Atrapado?" (The opening "Vamos, vamos" might remind of you Dora the Explorer.) It even had its own music video. The original English track ranked number one on the Billboard Hot 100, staying there for five consecutive weeks, and eventually became the second best-selling single of 1999 (losing to Cher's "Believe").
"All the Small Things"
Artist: Blink 182
"All the Small Things" is Blink 182's most successful single ever, managing to get airplay on pop radio stations and peaking at number six on the Billboard Hot 100. Although the song is catchy in itself, its popularity was fueled by its music video, which parodied several other pop music videos, including the ones for the first three songs on this list.
"Butterfly Carnival"
Artist: Sandwich
In 1998, Raymund Marasigan, Diego Castillo, Myrene Academia, Mike Dizon, and Marc Abaya formed Sandwich. "Butterfly Carnival" was the first single from the band's debut album Grip Stand Throw. The track eventually bagged Song of the Year at the 1999 NU Rock Awards. Sandwich also won Best New Artist, while Grip Stand Throw was named Album of the Year.
"My Name Is"
Artist: Eminem
Although "My Name Is" became a hit and helped cement Eminem's place in music history, it also resulted in a lawsuit filed against him. In the song, he raps, "I just found out my mom does more dope than I do," prompting his mother, Debbie Mathers, to sue him for U.S. $10 million. They settled for U.S. $25,000, but in the end, she only received U.S. $1,600.
ADVERTISEMENT - CONTINUE READING BELOW
Recommended Videos
"Picha Pie"
Artist: Parokya ni Edgar
Three years after the release of their debut album Khangkhungkherrnitz—which included three parodies—Parokya ni Edgar released their third album, Gulong Itlog Gulong. The album featured the single "Picha Pie," a parody of Gloria Gaynor's "I Will Survive." The track was sung by Vinci Montaner—who usually took back-up vocal duties—making the track stand out even more.
"Summer Girls"
Artist: LFO
If some of the lyrics to "Summer Girls" don't make sense to you, that's because the song wasn't really written to mean anything. Lead singer Rich Cronin has said in interviews that the song was full of inside jokes and that it was actually only meant to be a demo. The unmixed recording was leaked to a radio station, a DJ played it on air, and the rest is history.
"No Scrubs"
Artist: TLC
"No Scrubs" was released in February 1999, and since then women all over the world had an anthem for annoying losers who wouldn't stop hitting on girls. It also contains one of Lisa "Left Eye" Lopes's most memorable rap verses (which actually wasn't part of the album version). The music video bagged the 1999 MTV Video Music Award for Best Group Video, making TLC the first artist to win the award twice. "No Scrubs" was included in Weezer's Teal Album, an all-covers album released just this January.
"Agent Orange"
Artist: Slapshock
Slapshock is widely considered as one of the pioneers of rap-metal in the Philippines. Two years after their formation, the band released their debut album 4th Degree Burn, which eventually earned platinum status, thanks in part to their debut single "Agent Orange." The popularity of the song helped put the band on the map, along with other singles from the album, like "Evil Clown" and "Madapaka."
ADVERTISEMENT - CONTINUE READING BELOW
Share this story with your friends!
---
Help us make Spot.ph better!
Take the short survey
Load More Stories