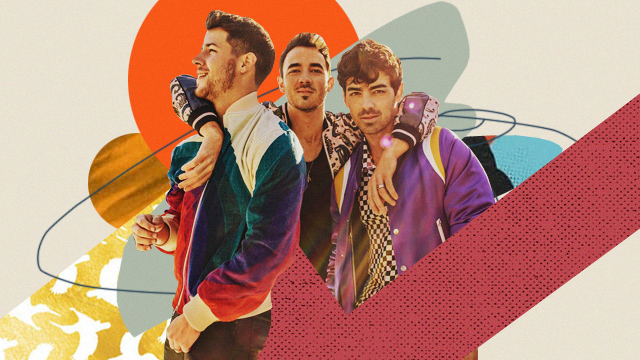 (SPOT.ph) We don't know about you, but when it comes to the most intense of heartbreakers, the sudden excruciating silence by a favorite musical act ranks pretty high on our list. Whether it's a band that breaks up or a singer who goes on hiatus, it feels like saying goodbye to a treasured friend. You can only hold on to their greatest hits and hope they'll make music again one day. But every now and then, fans do get lucky.
ADVERTISEMENT - CONTINUE READING BELOW
Here are our pick of artists making a comeback from the '80s, '90s, and early 2000s:
Backstreet Boys
Throwback tracks to listen to: "Quit Playing Games (With My Heart)," "As Long As You Love Me," "I Want It That Way," and "Shape of My Heart"
The Backstreet Boys weren't playing games with our hearts when they announced their comeback and marked it with the release of their 10th studio album, DNA. In it, the well-loved quintet showcases an updated pop sound with the same vocals and charming appeal we all swooned over back in the day. The men of BSB also prove they can still deliver synchronized choreography in their music video for "Don't Go Breaking My Heart." Now celebrating 25 years in the music business, the boys will soon embark on with a massive world tour, which includes a stopover in the Philippines on October 28.
Spice Girls
Throwback tracks to listen to: "Wannabe," "Stop," and "Say You'll Be There"
ADVERTISEMENT - CONTINUE READING BELOW
Recommended Videos
The Spice Girls seem to have a good idea of what we want—what we really, really want. While their upcoming tour will only grace venues in the U.K. and will be one Spice Girl less (we miss you, Posh!), this event gives us hope that the phenomenal '90s girl group will again start making new music together. This isn't the first time the girls are reuniting after a long break (remember their epic performance at the 2012 London Olympics?), but it never gets old and we can never have enough. 
Westlife
Throwback tracks to listen to: "Fool Again," "Flying Without Wings," "Uptown Girl," and "If I Let You Go"
Irish boy band Westlife officially reunited in 2018 after disbanding in 2012. Their comeback single "Hello My Love," off their highly anticipated 11th studio album, is a soaring pop ballad that successfully announced the vocal group's return. The band has described their new music as "current" but still very much "Westlife" in interviews, which sounds like a fine combination to us. Soon, the boys will be going on The Twenty Tour and they'll be stopping by Manila on July 29 and 30.
ADVERTISEMENT - CONTINUE READING BELOW
Swedish House Mafia
Throwback tracks to listen to: "Don't You Worry Child," "Save the World," and "One (Your Name)"
The Swedish House Mafia trio announced in 2018 their much-awaited reunion, which will be marked by three shows at the Tele2 Arena in Stockholm, Sweden in May 2019. Word on the street is that new material will be played for fans then, a highly welcome piece of news since many hearts broke when they went on hiatus in 2013. Expect to hear fresh club bangers from this EDM juggernaut very soon.
Avril Lavigne
Throwback tracks to listen to: "Complicated," "Sk8ter Boi," "Girlfriend," and "My Happy Ending"
Canadian singer-songwriter Avril Lavigne has had a successful comeback inspired by her battle with Lyme disease. From entertaining us with her pop-punk sound back in the day, she is now tugging at our heartstrings with more moving music. "Head Above Water," her first single since 2015, is an uplifting anthem showcasing her vocal prowess. She also recently dropped a more upbeat number featuring Nicki Minaj called "Dumb Blonde," which gives off a very 2000s vibe.
ADVERTISEMENT - CONTINUE READING BELOW
Samantha Mumba
Throwback tracks to listen to: "Gotta Tell You," "Always Come Back To Your Love," and "Somebody Like Me"
Irish songstress Samantha Mumba recently announced she would be releasing a new album, almost two decades since her debut. She has reportedly teamed up with U.K. producer and songwriter MNEK, who has worked with the likes of Dua Lipa, Little Mix, Madonna, and Kylie Minogue. Reports also say she will be sticking to her pop-R&B sound, and we're not complaining—this return looks like it'll be worth the wait.
Jonas Brothers
Throwback tracks to listen to: "Burnin' Up," "When You Look Me In the Eyes," "Lovebug," and "S.O.S."
Younger music lovers are ecstatic about the return of the Jonas Brothers. The Disney-born trio just unveiled their first single since their split in 2013—"Sucker" debuted at number-one on the Hot 100 songs chart and has been a crowd favorite since because its catchy and nostalgic pop sound. They then followed it up with a more laid-back summer anthem called "Cool."  It seems all is well again for the brothers, who reportedly had trouble reconciling their creative differences prior to their disbandment. 
ADVERTISEMENT - CONTINUE READING BELOW
Jesse McCartney
Throwback tracks to listen to: "Beautiful Soul," "Leavin'," "Just So You Know," and "Right Where You Want Me"
American singer, songwriter, and actor Jesse McCartney returned to the music scene in 2018 with "Better With You," his first track in four years. It's reminiscent of his sugary love songs but also feels edgier and more current. It also serves as the lead single for his upcoming sixth studio album. Filipino fans have another reason to rejoice because the pop heartthrob is going on tour and will be making a stop in Manila on July 13 at the New Frontier Theater.
Hootie & The Blowfish
Throwback tracks to listen to: "Let Her Cry," "Only Wanna Be With You," and "Hold My Hand"
Before 2018 ended, South Carolina-born band Hootie & The Blowfish announced they are getting back together to produce new music and go on tour. The Group Therapy Tour will be their first full-scale tour in more than a decade, and the new record will be their first in almost 15 years. The group's return will also mark the 25th anniversary of their 1994 debut album, Cracked Rear View, which went platinum 16 times after its release.
ADVERTISEMENT - CONTINUE READING BELOW
The Cure
Throwback tracks to listen to: "Friday I'm In Love," "Boys Don't Cry," "Why Can't I Be You?" and "Just Like Heaven"
In December 2018, The Cure frontman Robert Smith confirmed the band is finishing up its first album in a decade. Being inducted into the Rock and Roll Hall of Fame reportedly inspired the group to finish the record, to the delight of fans. The Cure is also busy performing this year to celebrate the 30th anniversary of their 1989 album, Disintegration.
Share this story with your friends!
---
Help us make Spot.ph better!
Take the short survey
Load More Stories