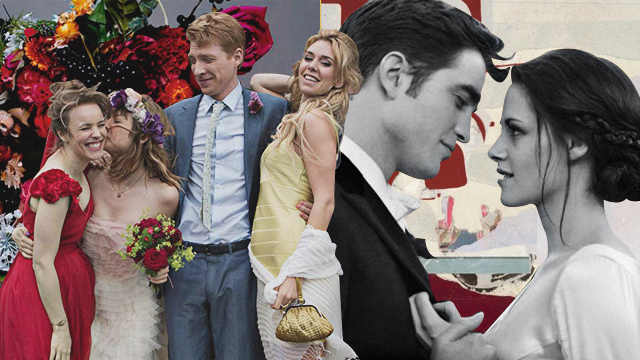 (SPOT.ph) It's wedding-planning season—the perfect time to revisit movie moments that range from romantic to bittersweet to all-out crazy. If you're looking for inspo for your own dream wedding or you simply want to be entertained, there are plenty of films to check out on your next movie marathon.
ADVERTISEMENT - CONTINUE READING BELOW
Here are 10 Hollywood movies from the 2000s featuring unforgettable wedding scenes.
Crazy Rich Asians (2018)
Dubbed the wedding of the year in the storyline, Colin (Chris Pang) and Araminta's (Sonoya Mizuno) over-the-top nuptials in Crazy Rich Asians is the movie wedding of 2018. In a grand church-turned-tropical jungle, Araminta walks down the aisle barefoot with a stream of water mimicking the way a river flows. Adding to the effect are the lights shaped like fireflies held up by guests. Not only is the wedding ceremony an extravagant affair, it also pushes the story forward with Rachel (Constance Wu) and Nick (Henry Golding) falling in love further, Eleanor (Michelle Yeoh) realizing the depth of her son's feelings for a woman she doesn't approve of, and Astrid (Gemma Chan) facing a future without her husband. Bonus: this is the scene where Kris Aquino's Princess Intan is revealed to be a pivotal character in the blockbuster hit.
ADVERTISEMENT - CONTINUE READING BELOW
Recommended Videos
Bride Wars (2009)
Simmering tensions between best friends Emma (Anne Hathaway) and Liv (Kate Hudson) that started from a double booking come to a boil when their wedding ceremonies are held across the hall from each other. After an embarrassing video of Emma (courtesy of Liv) interrupts Emma's walk down the aisle, the gloves come off as Emma storms down the hall to tackle her supposed maid of honor. The two brides grappling with each other in a cloud of tulle and satin is quite the scene. It's definitely not the dream wedding they've been planning since childhood, but their fight does lead to reconciliation and a drama-free reception.
Mamma Mia! (2008)
The wedding scene of the campy musical comedy about a bride-to-be looking for her father is just as unforgettable as the ABBA songs that the story is based on. In a small Greek chapel atop a huge rock by the sea, the wedding ceremony of Sophie (Amanda Seyfried) and Sky (Dominic Cooper) is interrupted by revelation after revelation: 1) Sophie tells mom Donna (Meryl Streep) that she secretly invited her three possible dads to the ceremony, 2) Donna reveals that she doesn't know who Sophie's real dad is, and 3) Harry (Colin Firth), Sam (Pierce Brosnan), and Bill (Stellan Skarsgard) are all too happy to split father duties. With the unconventionally happy ending to her search for her father, Sophie realizes that she doesn't want to get married yet and proposes to Sky that they travel the world instead. But why waste a good wedding? Sam proposes to Donna who says, "I do, I do, I do" 21 years after they first met.
ADVERTISEMENT - CONTINUE READING BELOW
A Star Is Born (2018)
In this remake about music and love and addictions, Jack (Bradley Cooper) and Ally's (Lady Gaga) whirlwind love story leads to an impromptu proposal and wedding. After a night of getting blackout drunk, the country music singer makes an engagement ring from a guitar string on the spot. He quietly proposes to the young singer in the middle of a meal with friends. On the same day, they tie the knot as their song "I Don't Know What Love Is" plays in the background. The scene is made bittersweet as the story inevitably turns tragic.
Sex and the City (2008)
There are two unforgettable wedding scenes in this movie that takes off from the HBO series. There's the first time that Carrie (Sarah Jessica Parker) and Big (Chris Noth) are supposed to get married in New York City Hall. When Big is a no show, Carrie runs off in a flurry of couture and tears with friends Miranda (Cynthia Nixon) and Charlotte (Kristin Davis). Big realizes his mistake and intercepts the bridal car, but Carrie is heartbroken and embarrassed and strikes him with her bridal bouquet. Eventually, they make up and return to City Hall for a more low-key wedding, an ending that polarizes fans to this day.
ADVERTISEMENT - CONTINUE READING BELOW
Made of Honor (2008)
This rom-com is about a player who realizes he's in love with his long-time best friend, only for her to return from a trip engaged to someone else. Even worse? She asks him to be her maid of honor at the wedding. Tom (Patrick Dempsey) says yes to have the chance to prove that Hannah (Michelle Monaghan) should be with him and not Colin (Kevin McKidd), though things don't really go according to plan. In a last-ditch effort to be with her, Tom races to her wedding on a horse, literally crashing the ceremony for a classic stop-the-wedding moment. Interesting tidbit: Made of Honor came out the same year that McKidd became part of TV series Grey's Anatomy as Owen Hunt, joining Dempsey's Derek Shepherd.
About Time (2013)
Ever since he found out that he could travel back to times he's already lived, Tim (Domhnall Gleeson) has been trying to perfect every moment in his search for love. But there's something to be said about the beautiful mess of life, like his wedding with Mary (Rachel McAdams). A rainstorm drenches guests and ruins their outdoor reception, but Tom realizes that the wedding is perfect in its own way.
ADVERTISEMENT - CONTINUE READING BELOW
A Christmas Prince: The Royal Wedding (2018)
In this sequel to the Netflix original movie, a bride-to-be who wants a simple wedding comes head to head with strict royal protocols that come with marrying a prince. In the end, Amber (Rose McIver) and Richard (Ben Lamb) tie the knot in a ceremony that blends their two worlds together: simple yet regal and full of love.
27 Dresses (2008)
Tess (Katherine Heigl) has always been the perfect helpful bridesmaid—27 times over—and now she finds herself planning her sister's wedding to the man she's been secretly in love with for years. She learns to put herself first with the help of best friend Casey (Judy Greer) and reporter Kevin (James Marsden), who writes about her sister's wedding announcement and later, a hurtful piece about Tess's 27 times as a bridesmaid. Eventually, Tess and Kevin make up and get married with all 27 brides each wearing the bridesmaid dress they had Tess wear at their respective weddings.
ADVERTISEMENT - CONTINUE READING BELOW
Twilight: Breaking Dawn - Part 1 (2011)
Love it or hate it, you've got to admit that the human-vampire wedding is one of the most hyped movie weddings in the past decade or so. Bella (Kristen Stewart) and Edward (Robert Pattinson) sealed the deal in a beautiful ceremony in the forest, with vampires, werewolves, and humans in attendance.
Share this story with your friends!
---
Help us make Spot.ph better!
Take the short survey
Load More Stories