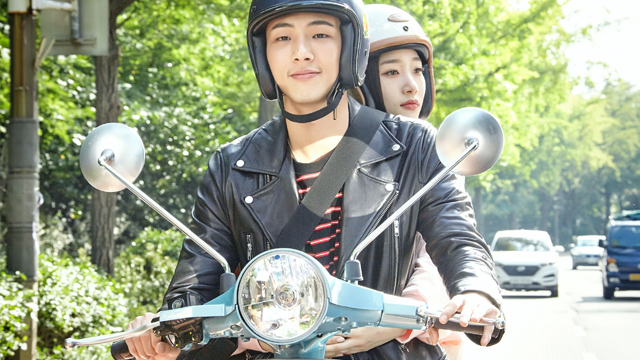 (SPOT.ph) They say there's nothing quite like your first love—but what if you also meet your last love? In Netflix's newest K-Drama, My First First Love, that's what happens to Song-i (Jung Chae-yeon), who's been lifelong friends with Tae-o (Jisoo) a.k.a. Mr. First Love. While they never officially become an item, things get complicated when she starts falling for his best friend Do-hyeon (Jin-young) a.k.a. Mr. Last Love.
ADVERTISEMENT - CONTINUE READING BELOW
It also doesn't help that Song-i and Tae-o live together in Tae-o's home with his other friends, the hilarious aspiring musical actor Hun (Kang Tae-oh) and the runaway heiress Garin (Choi Ri). These college students are all going through different firsts—first romance, first time without their families, and first time in the real world.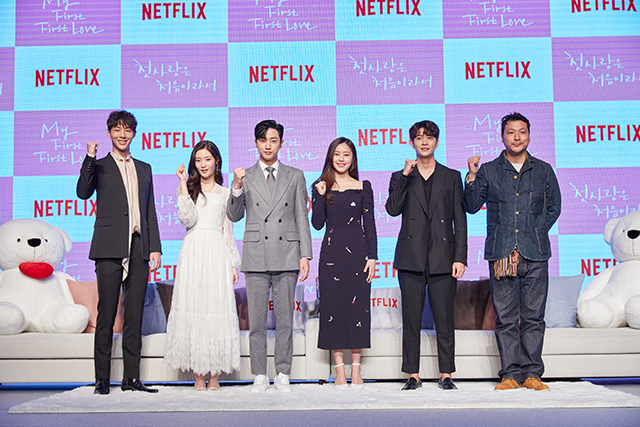 SPOT.ph got to talk to My First First Love's cast and director Oh Jin-seok in Seoul and they tell you why you'll fall in love with the show when it premieres on April 18.
Here are the reasons why you'll want to binge-watch My First First Love on Netflix:
The complicated, coming-of-age love stories are totally relatable.
Best friends who may or may not have feelings for each other? Check. Can't choose between two people that you like? Got it. Don't like your best friend's significant other for reasons you don't understand? Yup. The sort-of love triangle among Tae-o, Song-i, and Do-hyeun will have you switching from one team to the other. Jisoo puts it best when he says, "Tae-o is somebody who you can date but Do-hyeun would be the kind of person you would want to marry."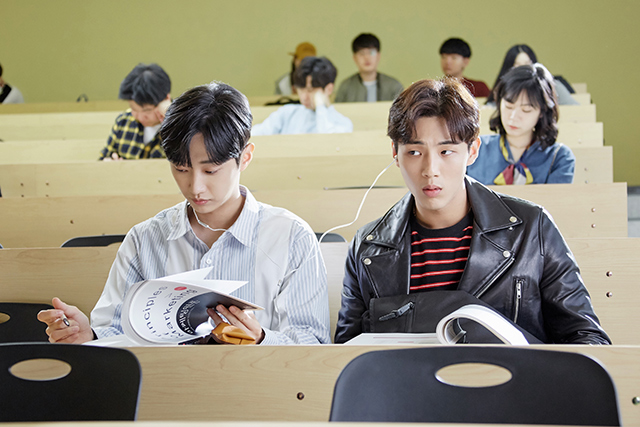 ADVERTISEMENT - CONTINUE READING BELOW
Even Choi Ri (who plays Garin) and Kang Tae-oh (who plays Hun) had difficulty choosing between the fun-loving, spontaneous Tae-o and the brooding, serious-minded Do-hyeun. But Choi RI says she'll choose Tae-o for Song-i because he's a reliable friend that you can go to. Meanwhile, Kang Tae-oh says he'll pick Tae-o because, "If Tae-o starts dating Song-i, then he will not hang out with [my character, Hun] anymore, and I want him to spend more time with me."
They've got family drama, too.
Aside from the complicated love lives of the characters, you'll also see some family issues brought up in the show—that's actually the reason they all end up living in Tae-o's house in the first place. Song-i gets evicted from her home, Garin wants to live independently from her rich, controlling mother, and Hun's parents disapprove of his dream to become a performer. Tae-o himself also wants to prove to his father that he can live on his own.
ADVERTISEMENT - CONTINUE READING BELOW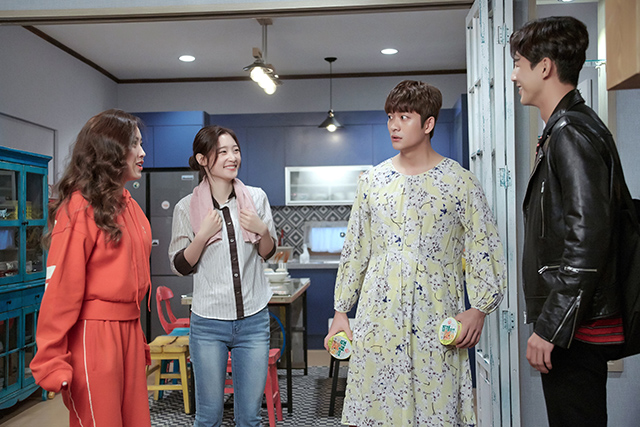 At one point or another, you'll be able to connect with some of their struggles with living on their own. Kang Tae-Oh shares, "It's about four young adults who are actually starting to live their life for the first time. So, it's that time of their life when they are experiencing love and dreams and everything in life for the first time."
ADVERTISEMENT - CONTINUE READING BELOW
The actors are perfect for their roles.
Jisoo is known for his darker and more serious roles in movies and shows like One Way Trip, Fantastic, and Bad Guys 2 (though you probably also remember his cameo role as Kim Bok Joo's co-worker in Weightlifting Fairy Kim Bok Joo). You get to see a more lighthearted side of him in My First First Love. "I've been playing some bold, masculine roles up to now, but I think this time I'm trying out something that is more [apt with] my age and a bit more lively and cheerful and I have high expectations about how I'll portray that in the series."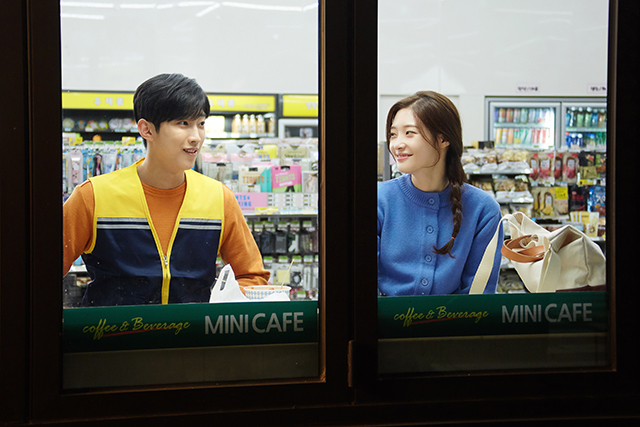 ADVERTISEMENT - CONTINUE READING BELOW
Director Oh Jin-seok says he chose Jung Chae-yeon (one of the members of K-Pop group DIA) as the resilient Song-ri because of her musical background. "My image of 'first love' is more of a modest image rather than going for the person out of your league. And even though Chae-yeon is very fancy onstage...she has this accessible, adorable, and endearing energy with her."
The director also says that Jin-young's character Do-hyeun "is very adamant and could come off as a very tough person but in fact, within him, has a lot of doubts." And he says Do-hyeun having to decide within himself is "very well-portrayed" by Jin-young.
It's more than just about your first love.
The show may be called My First First Love, but it also takes on real-life problems that everyone goes through at one point in their lives. Kang Tae-oh says, "They are making mistakes and they get hurt along the way. But through that pain, they actually mature. So, it's not just about love, but it's also about all this coming-of-age drama that unfolds through mistakes and they eventually become mature people."
ADVERTISEMENT - CONTINUE READING BELOW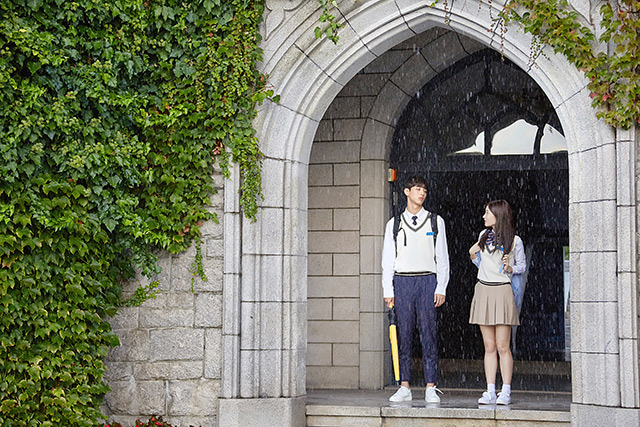 Director Oh says, "I really wanted to show the coming-of-age aspect of the show. It doesn't necessarily mean that [the characters] become somebody famous or someone important. But if they grow—even a little bit—that's what I wanted to show."
Season 2 is already on its way.
Admit it—sometimes it's hard to get attached to a show if you're not sure about its future. The good news is, the second season of My First FIrst Love is already happening. Director Oh reveals they first planned for the show to be a 16-episode series so they already filmed everything. They then decided only have eight episodes in Season 1, which means you have more to look forward to after your binge-watch.
ADVERTISEMENT - CONTINUE READING BELOW
My First First Love starts streaming on Netflix on April 18.
Your guide to thriving in
this
strange new world.
Share this story with your friends!
---
Help us make Spot.ph better!
Take the short survey
More Videos You Can Watch
Load More Stories