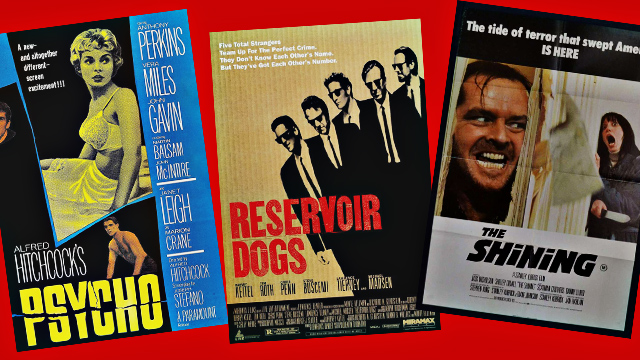 (SPOT.ph) What makes a film a "classic"? It's open to interpretation, but usually, a classic film is a memorable, influential, and timeless body of work. Critics loved it at the time it was first screened, and it is still considered a masterpiece 10, 20, or even 30 years later.
ADVERTISEMENT - CONTINUE READING BELOW
These days it's fairly easy to access cinematic classics—you just have to pick "Classics" under the genres of movies on Netflix, and you'll find a selection from past decades that movie buffs can't miss.
Here are our picks among the classic movies you can watch on Netflix:
E.T. the Extra-Terrestrial (1982)
This Steven Spielberg classic (we can't stress enough what a classic it is) tells the story of two unlikely friends: a boy named Elliot and an extraterrestrial who gets stranded on Earth. Elliot's new friend—whom he calls E.T.—may be an alien, but is sympathetic to the young boy's personal issues. Although it is considered a sci-fi film,  E.T. the Extra-Terrestrial, at its core, is also a touching tale of friendship.
You'll notice that some of the scenes in this movie are vaguely similar to ones you may have seen in the series Stranger Things. You can't miss them, and it's obvious that the creators of the series made direct references to the now 37-year-old film.
ADVERTISEMENT - CONTINUE READING BELOW
Recommended Videos
Forrest Gump (1994)
"My momma always said life is like a box of chocolates. You never know what you're gonna get." This famous quote and life lesson is from the movie Forrest Gump. Tom Hanks plays the intellectually challenged but kind-hearted Forrest, who witnesses some of the most important events in American history and influences them, without intending to.
The comedy-drama won a Golden Globe and an Academy Award for Best Picture, as well as Best Actor for Tom Hanks and Best Director for Robert Zemeckis. It runs for more than two hours but you'll barely notice how much time you've spent in front of the screen because you'll be too busy crying or laughing the whole time.
The Shining (1980)
Jack Nicholson plays Jack Torrance, an aspiring writer who struggles with his sanity when he stays at a haunted hotel with his family. Jack's psychic abilities allow him to peek into the hotel's past and the horrifying events that lead to the demise of its former occupants. Directed by Stanley Kubrick and based on a novel by Stephen King, The Shining has some of the most memorable and iconic scenes in horror movie history. You can expect a lot of blood, supernatural beings, and a musical score that will send shivers down your spine, but one other thing that will scare the living daylights out of you is the vision of a deranged Nicholson—that face is worth a thousand goosebumps.
ADVERTISEMENT - CONTINUE READING BELOW
Psycho (1960)
The unforgettable bathtub scene from Psycho has become so iconic, it's now used as a trope in pop culture and mainstream media. "The Murder," which was used as the musical score for this particular scene, has likewise been utilized to incite fear or imply danger in other films and TV commercials. Try watching the scene with headphones—goosebumps guaranteed. Alfred Hitchcock's psychological thriller is considered the granddaddy of slasher films, but its aesthetic value and influence on modern cinema transcend the impact of any mutated psychopath to ever appear onscreen.
The Princess Bride (1987)
On the surface, the screen adaptation of William Goldman's novel of the same title is much like any fairytale movie with a princess as the centerpiece. There's a villain out to destroy the protagonist's happily ever after, there are allies to the princess and the villain, and a dashing hero whom everyone expects will save the day. As the film progresses, you realize it's anything but your normal fairytale; more a parody of it, as a matter of fact. The Princess Bride is an irreverently funny fairytale rom-com done in good taste. It also gets plus points for breathtaking views of the British and Irish countryside.
ADVERTISEMENT - CONTINUE READING BELOW
Ghost (1990)
This plotline hinges on the existence of the supernatural, but it's treated with a light touch. It plays with the idea of spirits having unfinished business, and in this case, the spirit is played by a young Patrick Swayze who refuses to walk toward the light unless he ensures the safety of his fiancée—a young woman in serious trouble played by Demi Moore. Ghost is a tragic love story tinged with fantasy and suspense. You might feel fear while watching it—specifically, the fear of losing someone.
Reservoir Dogs (1992)
Before Quentin Tarantino made our jaws drop with Pulp Fiction, there was Reservoir Dogs, his first feature-length film. It lays down the series of events that precede and follow a failed diamond heist. The cult classic showcases components of Tarantino's signature style: non-linear storytelling, violence, profanity, and crime. There's also dark humor and a cast of crazy-tough characters portrayed by Harvey Keitel and Steve Buscemi, to name a few.
ADVERTISEMENT - CONTINUE READING BELOW
Scent of a Woman (1992)
This gem of a film stars Al Pacino as Lieutenant Colonel Frank Slade, a blind and cranky retired U.S. Army officer with a fascinating ability to identify the specific brand of perfume a woman is wearing. Nineties' heartthrob Chris O'Donnell plays Charlie Simms, a prep-school student who takes on a part-time job assisting the retired lieutenant.
Frank is a sarcastic, angry, aging man and Charlie can barely stand him at first. In fact, not too many people can stand Frank—not even his own family. Frank and Charlie fly out to New York to experience the high life in the big city on Frank's dime, and their shared experiences provide a venue for the two men to get to know and understand each other.
Alien (1979)
If you've been following the Alien franchise over the past few years, you've probably shrieked in horror or panic upon seeing Chestbursters and Facehuggers attack their victims in outer space. So you've geeked out on Prometheus and Covenant, the most recent of Alien movies or even the Alien Vs. Predator crossovers; you might as well revisit the sci-fi horror film that started it all: Ridley Scott's Alien. This movie follows the crew of a commercial space tug who encounter—you guessed it—an Alien.
ADVERTISEMENT - CONTINUE READING BELOW
Ferris Bueller's Day Off (1986)
Here's another reason to thank the late great John Hughes, who so gracefully captured the nuances of teenage life through his films. Ferris Bueller's Day Off is a lighthearted comedy about a high-school student who skips classes to go on a personal field trip. It depicts high-school life in the '80s which, if you think about it, might not be too different from your own high-school experience. In the film, Ferris (Matthew Broderick) squeezes himself in between scenes and faces the camera to share his thoughts with viewers, as if he were sharing an actual conversation with him. There's a lot of humor, coming-of-age realizations, and relatable situations, all in one feel-good package.
Your guide to thriving in
this
strange new world.
Share this story with your friends!
---
Help us make Spot.ph better!
Take the short survey
Load More Stories