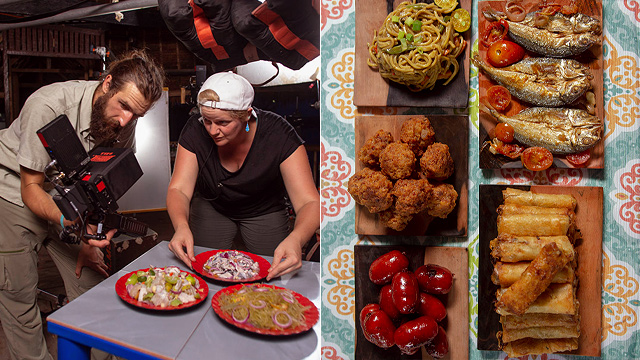 (SPOT.ph) One of the best—not to mention filling—ways to learn about the culture of a place is by getting a taste of the local cuisine, and part of the culinary experience in every bustling city is street food.  The stories behind them capture local flavors, heritage, and the heart of common folk. These are the stories we will find in Netflix's new documentary series, Street Food.
ADVERTISEMENT - CONTINUE READING BELOW
The first season of Street Food takes us on a culinary journey through key cities in Asia. More than the new flavors we hope would reach our taste buds or the textures and colors we'll see on our screens, it's the human-interest stories and humble origins of street food that make the show stand out from others. These stories are told primarily from the perspective of people who have made street food the source of their livelihood, making them as heartfelt and sincere as possible.
One particularly touching story is that of Florencio "Entoy" Escabas, the 71-year-old founder of Entoy's Bakasihan, an eatery in Cordova, Cebu. Bakasi is the Cebuano term for reef eels.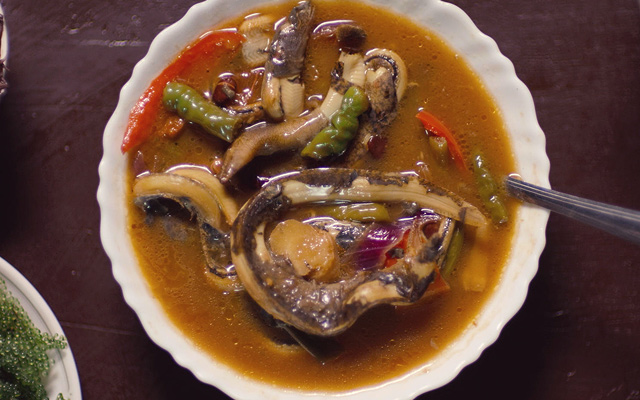 The specialty dish of Entoy's Bakasihan is the Nilarang Bakasi (Sour Stew with Reef Eels). Nilarang is a native Cebuano dish often compared to sinigang and made from boiling fish with herbs and vegetables, and soured with green mangoes and fermented black beans.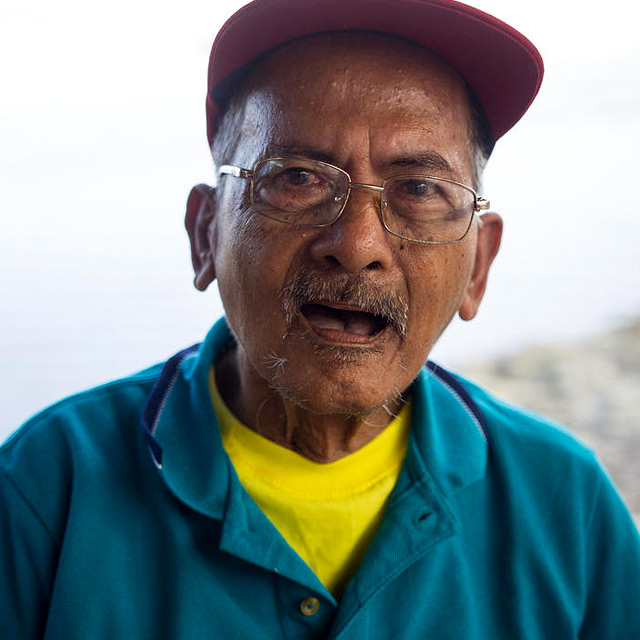 ADVERTISEMENT - CONTINUE READING BELOW
The eatery has not only become a good source of livelihood for Escabas's family; it has also helped the fishermen in their barangay earn a better living. The elder Escabas was once a fisherman himself—for 30 years, as a matter of fact."Life is always hard for fishermen in this poor village. So I decided to create this business in order to improve the lives of fishermen," says Escabas in Cebuano during an interview. He then tells the story of how he came up with the idea of putting up the Bakasihan years ago.
When Escabas was 15 years old, he met the woman he refers to as "the love of my life"—Bernarda. They got married and had four children. To provide for the family, Escabas worked as a fisherman. Fishing was something that came naturally to him at this point, as his grandfather—the same man who gave him the nickname, Entoy, had taught him how to catch fish when he was only five years old.
ADVERTISEMENT - CONTINUE READING BELOW
As he went fishing, he noticed that reef eels were abundant and easy to catch; nobody, however, wanted to buy them. So he gathered a group of fishermen to help him think of ways to get people to want to try the lowly fish. Their solution? A seaside eatery.
Entoy developed a recipe for Nilarang Bakasi with his wife, Bernarda, who was known to be a great cook.
At first, only the residents of Barangay Buagsong knew of Entoy's Bakasihan. But word soon spread and even non-locals started coming to try the dish, which went on to gain a reputation as an effective aphrodisiac. People began to refer to reef eels as "the Viagra of Cebuanos." Childless couples who were suddenly able to conceive attested to its effectiveness. Beda Escabas, Entoy's daughter-in-law, tells SPOT.ph that while she is uncertain about bakasi's effectiveness as an aphrodisiac, a couple who had been childless for five years had a child a year after having Nilarang Bakasi.
ADVERTISEMENT - CONTINUE READING BELOW
The Escabas' small business fulfilled its purpose: it helped ensure that Entoy's children and grandchildren would have a brighter future, while also helping the community flourish. 
Then, tragedy struck: Typhoon Yolanda struck in 2013 and wiped out their eatery and fishing boats. Later, Entoy suffered a stroke and Bernarda, a heart attack. Bernarda did not recover and died of cardiac arrest.
"Losing Bernarda left a big hole in my heart," Entoy recalls.
Entoy soon realized that it was time to turn over the business to his children. The Escabas children have been managing the new eatery, with more items on the menu including shrimps, lambay (blue crabs), pugita (octopus), sa-ang (spider conch), kinilaw (Cebuano ceviche), and lato (sea grapes). Entoy's Bakasihan continues to be a source of income for the fishermen in Cordova, as well as a way to support Entoy's 25 grandchildren. 
"I truly believe that one of the reasons I have so many of them is because of the reef eels," says Entoy in jest. The story of Florencio Escabas and Entoy's Bakasihan is just one of the inspiring tales you'll find in the Cebu episode of Street Food. There are also the stories of Leslie's Lechon, Rubilyn's Carinderia, and Azul Tuslob-Buwa, and the passion and hard work that's gone into each of these eateries.
ADVERTISEMENT - CONTINUE READING BELOW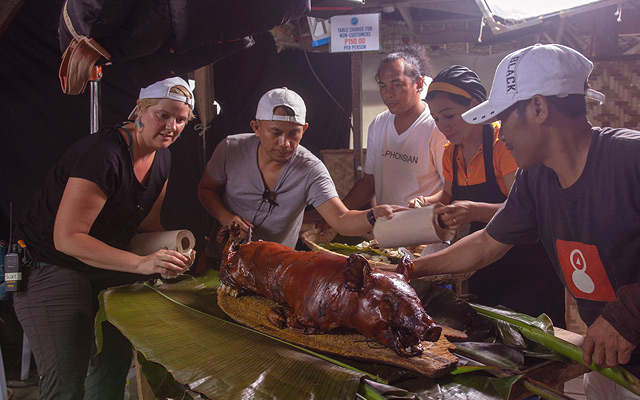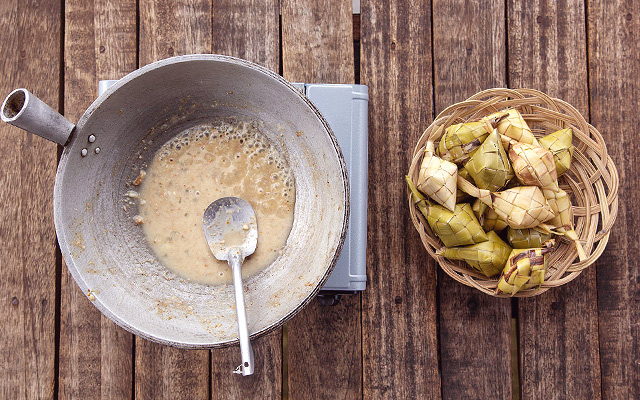 ADVERTISEMENT - CONTINUE READING BELOW
Lechon, as you may already know, is whole roasted pig. Tuslob-buwa roughly translates to "to dip in bubbles." It is a simmering pot of garlic, onions, pig's brain, and liver; and is consumed by dipping rice wrapped in banana leaves into the fondue-like mixture.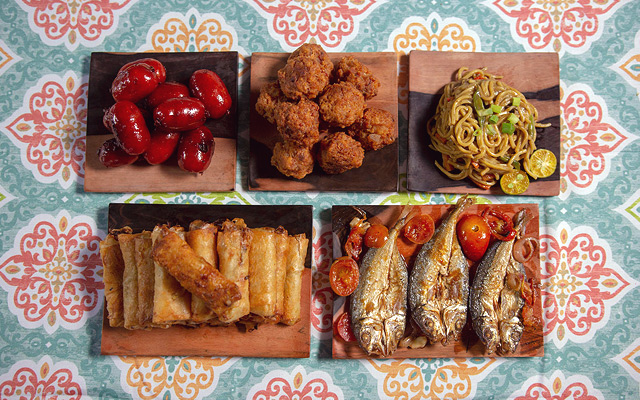 ADVERTISEMENT - CONTINUE READING BELOW
Rubilyn's Carinderia serves a variety of dishes, and one of them is lumpia or Chinese-style spring rolls which, although borrowed from another culture, has become as much a part of Cebu's street-food scene as lechon, tuslob-buwa, and chicharon (fried pork belly).
The Cebu episode is only one of nine episodes in the first season of Street Food. The rest of the episodes—all eight of them— will make you want to visit other Asian cities for their street food, like Jay Fai's Tom Yum, Drunken Noodles, and Crab Omelet in Bangkok, Thailand; Nihari Stew and Samosa from Delhi, India; Gudeg (Braised Jackfruit) and Jajan Pasar (Indonesian traditional cake) from Yogyagarta, Indonesia; and Mung Bean Pancake and Kimchi Dumplings from Seoul, South Korea.
Each episode of Street Food runs for more or less 30 minutes. And although it's essentially a documentary series, the cameras hop from one spot to another, inadvertently capturing the rich culture of the cities featured. You'll see food, places, people, and their customs—almost like flipping through the pages of a travel magazine.
ADVERTISEMENT - CONTINUE READING BELOW
Street Food starts streaming on Netflix on April 26.
Your guide to thriving in
this
strange new world.
Share this story with your friends!
---
Help us make Spot.ph better!
Take the short survey
More Videos You Can Watch
Load More Stories