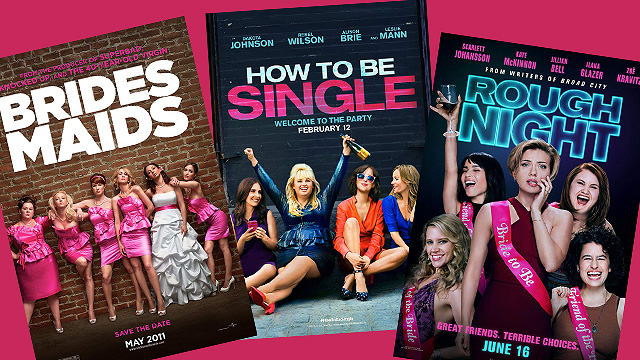 (SPOT.ph) There are so many things that make the Netflix movie Someone Great something, well, great. For one, the cast is stellar and diverse: The movie is top-billed by Gina Rodriguez from Jane the Virgin, Brittany Snow from Pitch Perfect, DeWanda Wise from She's Gotta Have It, and LaKeith Stanfield from Atlanta and Get Out. 
It's a rom-com, yes, but it's more of a love story of three friends Jenny (Rodriguez), Blair (Snow), and Erin (Wise). Devastated by her breakup with her boyfriend of nine years, Nate (Stanfield), Jenny is dead set on having one last wild night in New York with her friends before she moves for a new job. While the breakup kicks off the story and painfully lingers via flashbacks, the movie also explores the three girls' struggles in love, work, and everything in between. 
At the heart of the laughs and the tears—as you might know from Jane the Virgin, when Rodriguez cries, the whole world cries—are hard-won growth and self-love, as well as the enduring, evolving bond of female friendships. As the credits roll, you might find yourself wanting more.
ADVERTISEMENT - CONTINUE READING BELOW
Here are 10 movies to watch if you liked Someone Great: 
The Sisterhood of the Traveling Pants (2005)
A magical pair of pants serves as the physical connection of four teenage friends as they spend the summer apart: Bridget (Blake Lively) in Mexico, Lena (Alexis Bledel) in Greece, Carmen (America Ferrera) in South Carolina, and Tibby (Amber Tamblyn) in Maryland. But what truly binds them through the years is their love for one another, which is the backbone of the book-based movie. The 2008 sequel takes them farther apart physically and emotionally. 
Pitch Perfect (2012)
New girl Beca (Anna Kendrick) was all too happy to keep to herself in her new school, but her vocal chops attract the attention of the Barden Bellas, an all-female acapella group. Despite her reluctance, Beca auditions to be a part of the group, who eventually become lifelong friends through the course of the film franchise. In between hilarious jokes and catchy mash-ups, the film explores the sisterhood of the Barden Bellas and Beca's growth in terms of making music and opening herself up. Bonus: Someone Great's Brittany Snow plays Barden Bellas co-leader Chloe! 
Legally Blonde (2001)
Breakups are tricky: Sometimes they make you drown your sorrows in tubs of ice cream, sometimes they lead you to apply to Harvard Law School. When Elle Woods (Reese Witherspoon) is dumped by her politician wannabe boyfriend, Warner (Matthew Davis), she makes it a mission to become a lawyer and win him back. ("What—like it's hard?") While she doesn't win this case per se, what she gets is so much better: A high-profile internship, a law degree, and most of all, self-love and self-worth. 
Celeste and Jesse Forever (2012)
In the same way that Jenny and Nate from Someone Great were together for what seems like forever, best friends Celeste (Rashida Jones) and Jesse (Andy Samberg) have been a couple since high school. After several years of marriage, they decide to separate but continue to be joined at the hip. They agree to see other people and when this gets real, it's not long before they stop being friendly exes. After some time apart, they reunite at a wedding and discover that they really are forever, just not in the way they expected.  
ADVERTISEMENT - CONTINUE READING BELOW
How to Be Single (2016)
In New York, four women approach singlehood in different ways. Newly separated from her college boyfriend, Alice (Dakota Johnson) moves to NYC for a new job in a law firm, where she meets Robin (Rebel Wilson). Robin unapologetically embraces being single and takes it upon herself to be Alice's wingwoman. Lucy (Alison Brie) is not having much luck in the dating department, while Alice's sister, Meg (Leslie Mann), is an OB-gynecologist who has never had the urge to have kids—until now. The movie is all about how to be single, how to date in New York, and how to find satisfaction and happiness on your own. 
He's Just Not That Into You (2009)
At the center of the intertwining stories of this ensemble rom-com is Gigi (Ginnifer Goodwin), who needs a little help navigating the dating scene in New York. While the movie is more about the complicated rules of dating, it also shows the very real need for backup in the form of friends when your heart and ego are on the line. There is one scene where Mary (Drew Barrymore) laments to her friend Anna (Scarlett Johansson) about having to reach out to men through different forms of communication, only to be rejected by all those platforms. It feels quaint watching it now that those platforms have quadrupled in the 10 years since the movie came out. 
ADVERTISEMENT - CONTINUE READING BELOW
Bridesmaids (2011)
Female friendships can be complicated and messy, especially when there's a big wedding and even bigger egos involved. When Lillian (Maya Rudolph) gets engaged, she asks best friend Annie (Kristen Wiig) to be the maid of honor. Annie meets Lillian's bridesmaids including Helen (Rose Byrne), and both are threatened by each other's friendship with Lillian. After a string of misfortunes and bad decisions, Annie gets kicked out of the wedding and Helen takes over the planning. A crisis brings them and the other bridesmaids back together, paving the way for a different kind of happily ever after for the girls. 
Rough Night (2017)
Reunited after 10 years for a bachelorette weekend, four college friends are hell-bent on having the best time ever even if it kills them—or a stripper. Jess (Scarlett Johansson), Blair (Zoe Kravitz), Frankie (Ilana Glazer), and Alice (Jillian Bell) are joined by Jess's friend from a semester abroad, Pippa (Kate McKinnon), during this crazy weekend that puts their friendship to the test.  
ADVERTISEMENT - CONTINUE READING BELOW
The Sweetest Thing (2002)
When you're crashing a destination wedding to track down someone who just might be the one, it helps to have your best friend along for the road trip, the unexpected bathroom disasters, and the harsh surprises. Christina (Cameron Diaz) and Peter's (Thomas Jane) flirting is cute, but the real treat here is best friends Christina and Courtney's (Christina Applegate) easy chemistry. 
Charlie's Angels (2000)
Girl power can take many forms—this one's quite the adrenaline rush. Natalie (Cameron Diaz), Dylan (Drew Barrymore), and Alex (Lucy Liu) are private investigators who work for a mysterious millionaire named Charlie. They kick ass, take names, and have each other's back. In the spy world, it's not easy to build relationships, but these strong, independent women trust each other with their lives quite literally. P.S. There's a reboot coming out this year starring Kristen Stewart, Naomi Scott, Ella Balinska, and Elizabeth Banks, so it's definitely worth re-watching this movie. 
ADVERTISEMENT - CONTINUE READING BELOW
Your guide to thriving in
this
strange new world.
Share this story with your friends!
---
Help us make Spot.ph better!
Take the short survey
More Videos You Can Watch
Load More Stories