UPDATED: The SPOT.ph Guide to the 24th French Film Festival
With screenings in Metro Manila, Cebu, Davao, and Bacolod!
(SPOT.ph) If you want to travel the world but can't get out of the Metro just yet, then why not start smaller and experience a different culture this June—through films, that is? The French Film Festival is back on its 24th run, with a selection of 15 movies to be screened at two cinemas in Metro Manila. You can catch these movies at Greenbelt 3 or Bonifacio High Street from June 12 to 18.
Organized by the French Embassy and in partnership with the Film Development Council of the Philippines, this festival is an opportunity for the Filipino audience to get to know each other's cultural similarities and differences. "Even if France and the Philippines are very far from each other—more than ten thousand kilometers—in many cases we have the same problems, the same interrogations, and [to see] how filmmakers are dealing with these questions the same way," said His Excellency Nicolas Galey, French Ambassador to the Philippines, in a press conference held May 30.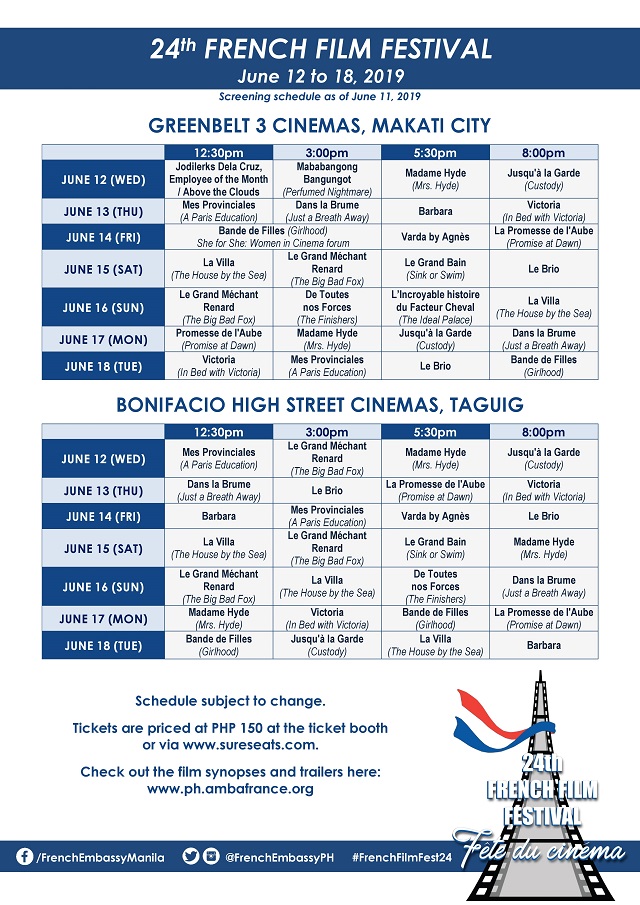 ADVERTISEMENT - CONTINUE READING BELOW
The festival will also celebrate the Philippine Independence Day on June 12 with a tribute to Philippine cinema. It will highlight Franco-Philippine relations with a screening of three films by Filipino directors: Pepe Diokono's Above The Clouds, Carlo Manatad's Jodilerks Dela Cruz, Employee of the Month, and National Artist Kidlat Tahimik's Mababangong Bangungot, which has a few scenes shot in Paris.  
French director Nils Tavernier will also be visiting the Philippines in time for this festival. Two of his films, L'Incroyable histoire du facteur Cheval (The Ideal Palace) and De Toutes nos forces (The Finishers) are part of the screenings. Both are based on true stories that center on the family.
A special forum on the difficulties of being a young girl in France and the Philippines is also scheduled on June 14. This forum is organized by the French Embassy and Spark!, a non-profit organization that champions women, and will happen during the special screening of Celine Sciamma's Bande de Filles.
The selection consists of several contemporary drama films and a few comedy ones, too. There will also be a documentary, an animation, and a science-fiction film in the mix. 
Here are the French films you can watch at the 24th French Film Festival:
L'Incroyable histoire du facteur cheval (The Ideal Palace) (2017)
Director Tavernier's film is based on the true story of an ordinary man who devotes most of his life building a perfect castle for his daughter. The castle he did build, located in the wonderful Auvergne-Rhône-Alpes region, is now a historical monument. 
CONTINUE READING BELOW
Recommended Videos
De Toutes nos forces (The Finishers) (2014)
Another of Tavernier's films, this drama follows the true story of a differently-abled child and his father completing the Ironman Triathlon.
Bande de Filles (Girlhood) (2014)
A coming-of-age film, Girlhood tells the story of a young girl whose life is changed when she befriends three liberated kids, who teach her to fight back against society's dead-ends. 
La Villa (The House by the Sea) (2017)
Another heavy-hitter, this drama film follows the last few days of an old man in his little house by the sea. When his solitude is broken by the arrival of a group of boat people, he proves he still has a few final lessons to impart on his three children.
Jusqu'à la Garde (Custody) (2018)
A drama about a child custody case taking a turn for the worst, it tells the story of a child torn between divorced parents. The tension between his mother and father only serve to push him closer and closer to the edge. 
Barbara (2017)
This drama focuses on the blurred lines between an actress and her character. It focuses on the limits of the creative processes actors and directors are willing to take in order to produce a work of art. 
Mes Provinciales (A Paris Education) (2018)
A group of students studying at the Sorbonne come together through their passion for filmmaking. But as their studies continue, differences and struggles in their lessons and personal lives arise.
La Promesse de l'Aube (Promise at Dawn) (2017)
ADVERTISEMENT - CONTINUE READING BELOW
Although based on the extraordinary life of French writer Romain Gary, it focuses more on his relationship with his mother, Nina. Her maternal love became the driving force behind his adventures, and the film shows the depth of this bond. 
Dans la brume (Just A Breath Away) (2018)
The only one of its genre in this selection, this science-fiction film is a story of survival. When a toxic fog engulfes all of Paris, Mathieu (Romain Duris) and Anna (Olga Kurylenko) must do all they can to save their daughter Sarah (Fantine Harduin), who suffers from an illness that requires her to stay inside an hermetic chamber in order to stay alive.
Le Grand bain (Sink or Swim) (2018)
If you're more into comedy, check out this film about a group of middle-aged men who start their own synchronized swimming team. Coached by a former champion, the team bravely face the ridicule of everyone around them and learn more than just synchronized swimming along the way.
Victoria (In Bed with Victoria) (2016)
This colorful film is sure to be a hit with rom-com lovers. Criminal Defense Attorney Victoria (Virginie Elfira) is already at an emotionally rocky stage of her life she bumps into her old friend Vincent (Melvil Poupaud) and old client Sam (Vincent Lacoste). Things take a turn for the worse when she has to defend Vincent from his girlfriend—who is accusing him of attempted murder— and Sam ends up working for her as a nanny.
Le Brio (2017)
ADVERTISEMENT - CONTINUE READING BELOW
A drama-comedy that talks about race, this movie follows Neïla Salah (Camélia Jordana), hopeful law student and renowned professor Pierre Mazard (Daniel Auteuil). As punishment for an outburst laced with racism tageted at Neïla, the professor is made to tutor her fo
Madame Hyde (Mrs. Hyde) (2018)
A fun little twist on Jekyll and Hyde, this film follows the eccentric outcast Mrs. Géquil (Isabelle Huppert) who, after being struck by lightning, transforms into the powerful and dangerous Mrs. Hyde. 
Le Grand Méchant Renard (The Big Bad Fox and Other Tales) (2017)
The only animated film in this selection, this movie is definitely one for the entire family. A seemingly quiet countryside hides a host of unique stories, from a fox that thinks itself a chicken, a rabbit that acts like a stork, and even a duck that wants to replace Father Christmas.
Varda by Agnès (2018)
A documentary from visionary director Agnès Varda—one of the big names of the French New Wave film movement—this unpredictable work sheds light on her creative process, while following her in her travels from Paris to Los Angeles and Beijing.
The festival will also visit other cities. It will run in Cebu from June 20 to 22, in Davao from June 28 to 30, and, for the first time ever, in Bacolod from July 10 to 12.
For more information, log on to the French Embassy website or visit their official Facebook page.
UPDATE (June 13, 2019): The article has been updated following minor changes to the screening schedule.
ADVERTISEMENT - CONTINUE READING BELOW
Share this story with your friends!
---
Help us make Spot.ph better!
Take the short survey
Load More Stories