(SPOT.ph) Jane Austen may have lived more than two centuries ago in the Regency era (a.k.a England in the early 19th century), but her stories still speak hardcore truths—albeit in her subtle yet cutting style. Part social commentary, part a study of human emotions; sometimes funny, sometimes sad, but always incredibly clever, her stories still pretty much depict the same world we live in now. They feature complex relationships between characters that range from just plain petty, morally confused, to downright bad, and, of course, a whole lot of tea. So whether you've never read a single word of Austen, or you've got Mr. Darcy's first (and second!) proposal to Lizzie Bennet absolutely memorized, we take a look at 10 movies that show just why her stories still ring true today.
Here are 10 Jane Austen movie adaptations that prove 19th-century England wasn't all polite conversation and dinner parties:
Love & Friendship (2016)
Who said the Regency era was all about propriety? Kate Beckinsale stars as the recently widowed Lady Susan, who in the movie is described as "the most accomplished flirt in all England," and follows her as she does her best to secure a wealthy husband for her daughter—and another one for herself, naturally. Based on Austen's lesser-known novella, Lady Susan, the title is actually from Love & Freindship, an unpublished collection of stories she wrote as a young teenager (which may explain the e before i). 
From Prada to Nada (2011)
We're sure you weren't quite expecting this to be on our list, but this movie is actually based on Austen's Sense and Sensibility. It follows sisters Nora (Camilla Belle) and Mary (Alexa PenaVega) who, after the sudden death of their rich father and the appearance of a seemingly greedy half-brother, are forced to move in with their maternal aunt. A feel good film to the core, this movie is great to watch with a sibling you love to hate.
ADVERTISEMENT - CONTINUE READING BELOW
Mansfield Park (1999)
Although based on one of Austen's more serious novels, this movie adaptation takes on a more comedic way of retelling the story of Fanny Price. Portrayed by Frances Ann O'Connor, Fanny is an orphan raised by rich relatives in Mansfield Park. Starved for affection (too relatable) but gifted with wit and a snarky attitude, things take a turn for the worse when Edmund (Jonny Lee Miller), the only person who ever paid her any real attention—btw, also her cousin—is entranced by a new arrival to the estate, Mary (Embeth Jean Davidtz).
Emma (1996)
We've all been there: our attempts at making things better only makes things worse. In this charming period comedy, Gwyneth Paltrow plays Emma, the well-meaning but severely misguided protagonist of the original novel. Her attempts at playing matchmaker only end terribly, not just for her, but also for Harriet (Toni Collette), the so-called friend she was trying to help.
Northanger Abbey (2007)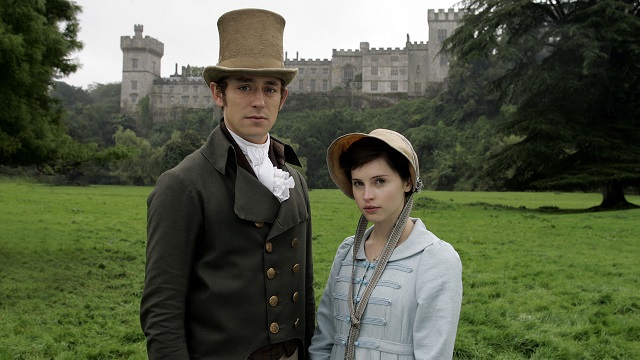 CONTINUE READING BELOW
Recommended Videos
This adaptation stars Felicity Jones as Catherine Morland, the tomboyish and naive heroine of this coming-of-age tale. Catherine has just been invited by the Allens, her family's wealthier friends, to spend the season in Bath. This, in Austen terms, means a couple months full of balls, picnics, and of course, matchmaking. Catherine's wild imagination, especially where her love of gothic novels are concerned, get in the way of the connections she makes, potential romantic one included!
Sense and Sensibility (1995)
A true classic for any Austen fan, this mostly-faithful adaptation of one of her most popular novels stars Kate Winslet and Emma Thompson—who also wrote, and won awards for, the screenplay—as sisters Marianne and Elinor, respectively. The two sisters are as different as can be, but having been kicked out of their family estate after the death of their father, they must learn to adjust to their new situation, and to each other. The late great Alan Rickman also joins the cast as Colonel Brandon, Marianne's love interest.
Bride and Prejudice (2004)
Who would have thought Bollywood and Austen could mix so well? We just had to include this take on our list as it proves the universality of Austen's stories, and also that nobody can resist Mr. Darcy, no matter what incarnation he takes on. In this one, Lizzie Bennet's character is turned into Lalita (Aishwarya Rai), a young Indian woman who helps run the family business. An encounter with the American Will Darcy (Martin Henderson) leads to a fun, colorful retelling of the timeless tale. And yes, there are dance numbers.
ADVERTISEMENT - CONTINUE READING BELOW
Clueless (1995)
Perhaps the most well-known take on Emma, this '90s cult classic pretty much made pop culture what it is today. Alicia Silverstone is practically synonymous with Cher Horowitz: Rich girl with a heart. True to Austen's Emma, Cher's good intentions are colored by her own wants, and this, coupled with her naiveté, often leads to disastrous results. But her journey to becoming a person with actual genuine morality is always a good watch, whether or not you've read the book.
Persuasion (2007)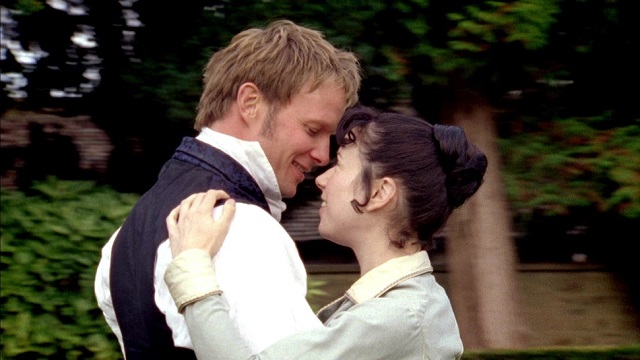 Known to be the uh, most passionate, of Jane Austen's novels, this Persuasion adaptation follows the original story of two people who meet again—after having broken off an engagement nearly a decade past. Austen knew just how to wield the magic of a good and proper slow burn long before fanfic even existed. Protagonist Anne Elliot is portrayed by Sally Hawkins (yes, she also played Elisa in The Shape of Water), while her old flame Navy Captain Frederick Wentworth is portrayed by Rupert Penry-Jones.
ADVERTISEMENT - CONTINUE READING BELOW
Pride and Prejudice (2005)
Thankfully, the 1995 BBC adaptation starring Colin Firth was a mini-series for television, because it would have been a challenge to choose one or the other. Keira Knightley's version of Lizzie Bennet is stubborn and we dare say, admirable, plus her chemistry with Mr. Darcy, as played by Matthew Macfadyen, is almost palpable through the screen. Who can forget that first proposal gone totally wrong, set under thunder and lightning? Who didn't feel the shared glee when Jane (Rosamund Pike) finally, finally admits her feelings for Mr. Bingley (Simon Woods)? And whose heart didn't skip a beat while watching that early morning walk in the misty British countryside? 
Share this story with your friends!
---
Help us make Spot.ph better!
Take the short survey
Load More Stories