(SPOT.ph) Looking to fly to Japan to experience their culture but can't make time for it yet? Film is always a good way to get a taste of a different culture without having to leave your seat. Now on its 22nd run, the Japanese Film Festival, also known as EIGASAI, is back with a selection of 17 films to be screened at selected cinemas in Metro Manila. You can catch these films at Shangri-La Plaza, the UP Film Institute, the Cultural Center of the Philippines, and Gateway Cineplex from July 3 to August 25.
Presented and run by the Japan Foundation Manila, the festival is held annually in July to commemorate Philippine-Japan Friendship Month. The film festival has been around since 1997 and serves as an avenue for the Filipino audience to familiarize themselves with Japanese culture through media as well as celebrating cultural similarities and differences.
See the schedule below:
ADVERTISEMENT - CONTINUE READING BELOW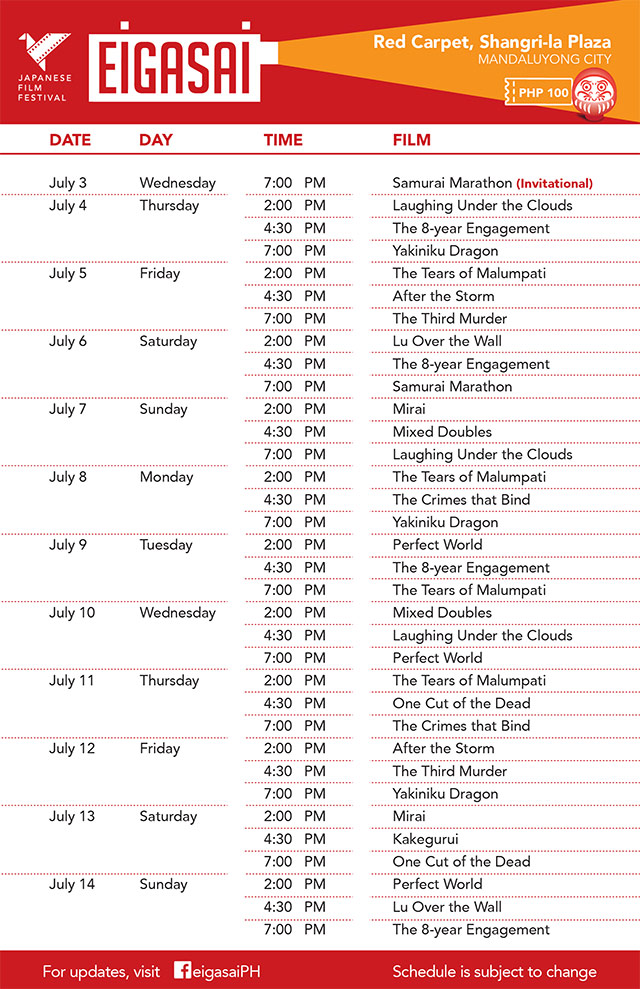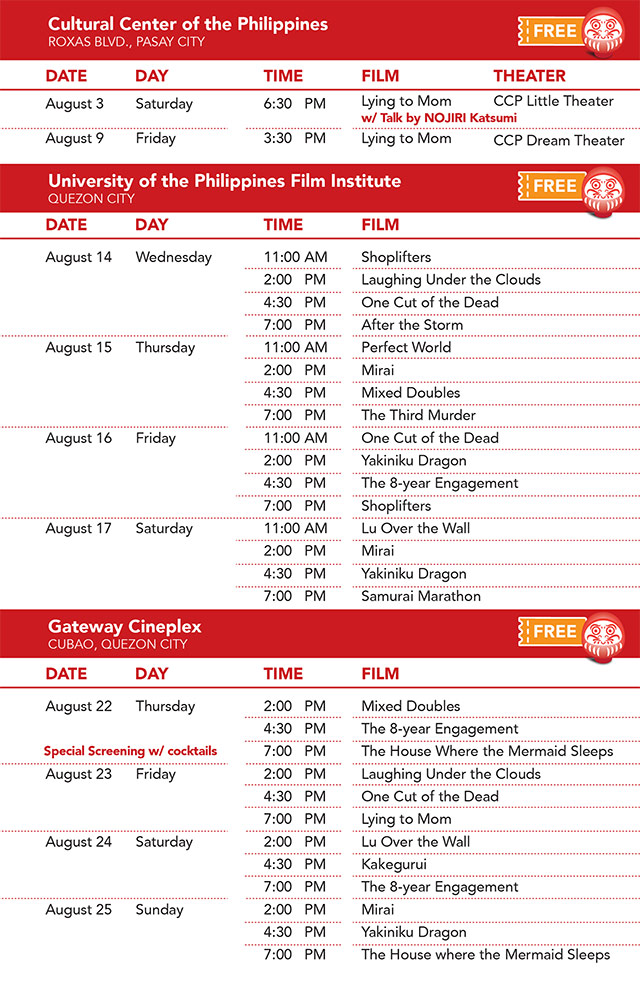 This year's lineup consists of adventure, comedy, drama, as well as science fiction. There will also be some animated films and films shot in the Philippines.
Here are the Japanese films you can watch at the 22nd EIGASAI Film Festival:
Samurai Marathon (2019)
A feudal lord stages a marathon across the mountains to whip his samurai into shape in preparation for combatting a U.S. invasion. Countless participants from all walks of life join, effectively launching the first marathon in Japan, but the Japanese government perceives it to be rebellion. The film is based on true events.
The House Where The Mermaid Sleeps (2018)
A desperate mother exhausts all means to bring her daughter, who is in a vegetative state, back to life, forcing her to make a decision that lets technology take over. Refusing to accept her daughter's true state, she questions the ethics of medicine and its practice. 
Yakiniku Dragon (2018)
ADVERTISEMENT - CONTINUE READING BELOW
The film narrates the life of a Korean family living in Japan as they run their barbecue shop "Yakiniku Dragon." Through vignettes of the daily lives of each member of the family, the film explores their reality after war.
Lying To Mom (2018)
A family's eldest son decides to end his life without warning, causing his mother to lose her memory due to shock. The father and little sister left behind decide to tell an elaborate lie to help his mother move on with daily living.
The Tears Of Malumpati (2019)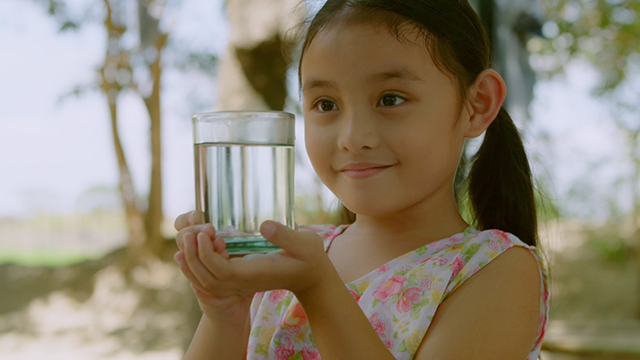 ADVERTISEMENT - CONTINUE READING BELOW
A heartwarming drama based on the true story of the Pandan Water Pipeline Project, where Filipinos and Japanese collaborated to provide potable water for Filipinos living in Pandan, a rural village on Panay Island. A Japanese student volunteers to help without much thought and realizes how grave the problem is once she arrives. 
After The Storm (2016)
A private detective wastes his earnings on gambling and neglects his family. Years later, he aims to come back into their lives with the firm resolve to be a better man.
The 8-Year Engagement (2017)
Based on a true story, the film tells the tale of a man who proposes to marry his girlfriend only for her to fall ill and never wake up. She awakens eventually, except she has forgotten everything and may never again be the person who she once was.
The Crimes That Bind (2018)
A seasoned detective invests his time and effort in solving a case, until his team discovers a theatrical director's involvement.
ADVERTISEMENT - CONTINUE READING BELOW
Laughing Under The Clouds (2018)
Adapted from a popular comic, the film features a snake demon that causes mass destruction until three brothers band together to defeat it.
Lu Over The Wall (2017)
Sad and alone, a boy decides to join a school band as they practice on Mermaid Island. Filled with energy and fun, this animated film tackles friendship, family, and love.
Kakegurui (2019)
It's not uncommon to see kids going to elite schools for the rich, but this particular one is different from the rest: its students are ranked not based on grades but on how well they gamble. Featuring unique characters and odd turns everywhere, a new transfer students aims to get to the top.
Mirai (2018)
A spoiled boy's life changes when his younger sister is born, effectively dividing his parents' attention and love. His motivations change when his younger sister comes to visit him from the future, this time older and bigger than him. Love, family, and sibling ties are tackled in this vibrant animated feature.
ADVERTISEMENT - CONTINUE READING BELOW
Mixed Doubles (2017)
Two table-tennis stars end up in a relationship only for the boy to cheat on the girl. Absolutely devastated, she returns to her hometown to rejuvenate the now-defunct table-tennis team her deceased mother left behind, in the hopes of defeating her ex-boyfriend and the girl he chose.
The Third Murder (2017)
Guilty of murder, a man is once again accussed of killing more people and this time, he admits it. His lawyer starts an investigation in order to get imprisonment instead of the death penalty, but he uncovers truths about his client that end up causing more doubts.
One Cut Of The Dead (2018)
Orginally meant to serve as a water filtration facility, the location in which an indie production team and crew shoot their latest zombie film proves to have more hidden secrets than they thought, turning reel horror into a real one.
Shoplifters (2018)
Working as an efficient team, a dad and his son shoplift from a store. On the way back home, they rescue a shivering girl from the streets. An investigation on the girl's disappearance unravels the family's secrets.
ADVERTISEMENT - CONTINUE READING BELOW
Perfect World (2018)
After meeting a tragic accident, an architect becomes paralyzed waist down. A girl who once had a crush on him in high school encounters him again and is optimistic about living their lives together.
For more information, log on to the EIGASAI website or visit their official Facebook page.
Share this story with your friends!
---
Help us make Spot.ph better!
Take the short survey
More Videos You Can Watch
Load More Stories