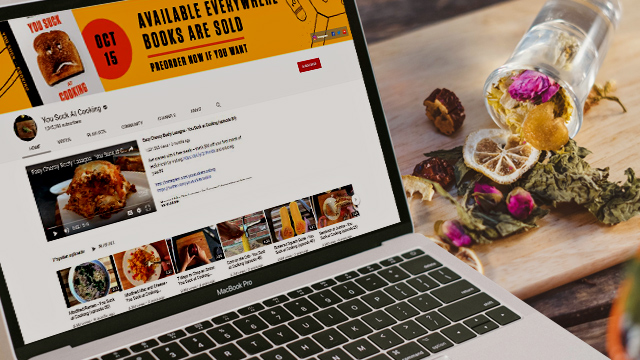 (SPOT.ph) On any given day—but especially on busy weekdays— it's tempting to just eat out or have food delivered through an app. While these convenient options have saved many a grumbling tummy, it's good to have a basic knowledge of cooking. Not only will your wallet thank you, but home cooking is also a healthier alternative and can even be a stress reliever once you get the hang of things. And sometimes, cooking at home can be faster than waiting for your food to be delivered in the insane Manila traffic! Whether you're figuring out your way around the kitchen, learning how to level up your cooking, or just looking for fun food videos to watch, these 10 YouTube vlogs are your best bet.
ADVERTISEMENT - CONTINUE READING BELOW
Here are 10 must-watch cooking vlogs: 
Bon Appetit
The beloved food magazine and website branched out to the vlog world with great success. With such a wide variety of cooking content on their YouTube channel, it seems like you'll never run out of videos to watch. But what truly sets it apart from other food channels is the relatable personalities behind the plates who just get what viewers want and need. Got a sweet tooth? You'll get a kick out of Gourmet Makes, where pastry chef Claire Saffitz creates genius hacks of Oreos, Cheetos, Snickers, and more. Want to see how celebrities fare in the kitchen? Food director Carla Lalli Music is the kitchen whisperer who can guide the most inexperienced person, famous or not, with just her voice in Back-to-Back Chef. Looking for meal inspo? From the Test Kitchen has the food editors taking turns to teach you how to make everything from the simplest pantry pasta to the most show-stopping Thanksgiving turkey. Keep an eye out for "BA's Best" recipes—they really are the best.
Pro Home Cooks (formerly Brothers Green Eats)
Even though the brothers behind the original vlog have gone their separate ways, all their helpful food videos are still on the channel. Before Josh and Mike Greenfield's professional breakup—they're still on good terms; they're brothers after all!—the channel was all about elevating college-student cooking. That transitioned into taking home cooking to the next level, surviving a busy workweek, and getting the most bang for your buck as a tax-paying adult. They taught viewers how to make six meals in five minutes, what skills to master as a home cook, and how to throw a dinner party with just pantry ingredients. Mike has taken over the channel now called Pro Home Cooks, while Josh just launched a lifestyle vlog called You Enjoy Life. On Pro Home Cooks, you can expect more tutorials for beginners and intermediate cooks—homemade kombucha, anyone?
ADVERTISEMENT - CONTINUE READING BELOW
Jun's Kitchen
Jun Yoshizuki is a Japanese home cook who makes amazing food in his small, neat kitchen. He reportedly started cooking in an effort to eat healthier with his American wife Rachel, with whom he has another vlog. On his solo channel, he teaches you how to make ramen, okonomiyaki, and sukiyaki, as well as how to properly sharpen knives and clean pots and pans. He even makes food from scratch for their cats—think sushi as a special treat! The best part of his vlog? His cats serve as his curious audience as he cooks and they're happy to sniff the (human) food for, you know, quality control. 
Cooking with Dog
Arguably the OG Japanese channel featuring a special furry guest, Cooking with Dog stars a woman who is simply known as the Chef and the late poodle Francis. The Chef whips up yummy dishes like nigiri sushi, curry udon noodles, and green tea tiramisu, while Francis keeps her company and narrates the recipe in English. Kawaii! Francis crossed the rainbow bridge three years ago, but he lives on in the Chef's talking apron and his lookalike stuffed toy, who have taken up the mantle of narrating the recipes. 
ADVERTISEMENT - CONTINUE READING BELOW
Pick Up Limes
Behind the vegan recipes and holistic lifestyle videos of this YouTube channel is dietitian Sadia Badiei. She is all for plant-based eating and has plenty of videos for the veg-curious, or those who are thinking of going vegan or vegetarian. Even if you're not one to ever give up meat, her channel is a great source of healthy, creative recipes to spice up your eating habits. In her very soothing voice, she teaches you how to make five kinds of hummus, vegan snacks, and 15-minute dinner meals. Aside from food tutorials, she posts motivational videos to help you develop good habits and manage your time.
Mind Over Munch
Trying a new eating plan or learning how to meal prep? This channel has a wide range of videos for those who want to eat healthier. Keto, vegan, Whole30, or just plain healthy eating—founder Alyssia Sheikh has something for every food lifestyle. Learn how to make the most Instagrammable bento boxes and DIY bubble tea, as well as how to meal prep for the week in an hour or so. Her meal prep videos are particularly helpful since she caters to individuals with different dietary requirements and big households with varying tastes and diets.
ADVERTISEMENT - CONTINUE READING BELOW
Solenn Heussaff
Aside from being an actress, painter, and designer, Solenn Heussaff shares cooking tutorials on her lifestyle vlog. It started out with the short-lived Naked Chef series with husband Nico Bolzico, where they cooked *alm-ost* naked "for no goddamn reason." Solenn goes solo in the rest of her cooking videos, where she whips up fish tacos, fried chicken, and her famous choco-chip cookies. The charming artist also appears in her brother Erwan Heussaff's cooking channel—check out their leche flan and choco-chip cookie battles!
Binging with Babish
Combining his love for food and pop culture, Andrew Rea recreates food from TV shows and movies in his YouTube channel. Think the Ratatouille—or more accurately, the Confit Byaldi—from Ratatouille, the Krabby Patty from SpongeBob SquarePants, and the Cubanos from Chef. His early videos show only his torso, but he has expanded with new tutorials and lifestyle content—showing his face, yes—in Basics with Babish and Being with Babish. Oh, and the name? It's a reference to West Wing character Oliver Babish.
ADVERTISEMENT - CONTINUE READING BELOW
Tasty
What started out as those addictive, bite-sized, top-shot tutorials on your feed has expanded to shows like Making It Big, where Tasty cooks super-sized chicken nuggets, fries, ramen, and more. The 20-pound jiggly cheesecake is particularly fascinating to watch. Ever wish you could reach into your screen and grab a bite of what you're watching? Tasty has a knack for knowing what people want and serves it up in Eating Your Feed, where they recreate the most viral food videos like the melted cheese-covered burger, flaming cheese wheel pasta, and chocolate crepe cake.
You Suck At Cooking
Whether or not you do suck at cooking, this vlog is one of the funniest, most entertaining cooking shows online. Tongue firmly in cheek, the narrator simply credited as Mel teaches you how to cook easy meals at home. Like mac and cheese? Why not level it up and make it a basiloni and teese (basil and tomato), ham sandamoni and cheesewich (sliced ham and mustard), or a macception (mac and cheese on top of mac and cheese)? The hilarious channel never takes itself seriously and is even helpful in its own way. Tip: If you want to recreate the food in his videos, check out the YouTube description for the full recipe.
ADVERTISEMENT - CONTINUE READING BELOW
Share this story with your friends!
---
Help us make Spot.ph better!
Take the short survey
More Videos You Can Watch
Load More Stories