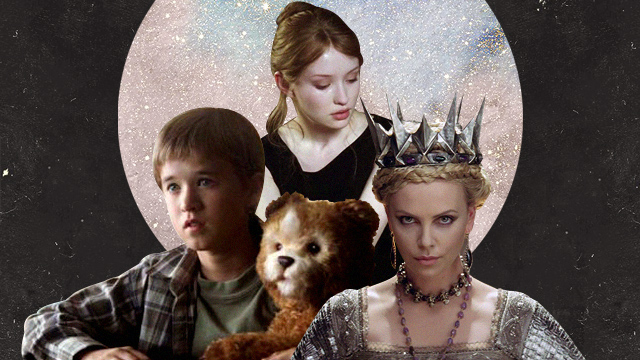 (SPOT.ph) We all know the formula to a fairy tale: it starts with "Once upon a time," and ends with "Happily ever after," complete with a damsel-in-distress and a knight-in-shining armor somewhere in between. But they weren't always the glistening, child-friendly stories they are now. The original versions of some popular fairy tales are actually pretty morbid. Sleeping Beauty, for example, was raped by a king in her sleep; every step the little mermaid took felt like a knife stab (plus the prince ends up marrying someone else); and Peter Pan killed Lost Boys that were getting too old.
These morbid origins haven't been completely lost to time though. If you're looking for a perspective that isn't as spotless as the remakes we have now, then check out this roundup of movies that aren't for the PG crowd. Still full of the fantastical elements that capture every kid's imagination, these movies turn fairy tales as we know them right on their heads.
Here are 10 movies that give your childhood fairy tales a completely different look:
Freeway (1996)
Just a few years before Reese Witherspoon took on her role as the supposedly-naïve Elle Woods in Legally Blonde (2001), she played a modern, darker version of Little Red Riding Hood. Vanessa Lutz (Witherspoon) is a minor on the run from authorities trying to get to her grandmother when she is picked up by a kind-looking stranger named Bob (Kiefer Sutherland)—except Bob turns out to be a serial killer. This retelling is a heart-racing thriller with more twists—and blood—than you'd expect.
Snow White and the Huntsman (2012)
An action-packed retelling of Snow White's tale, this movie features Kristen Stewart as Snow White, Charlize Theron as the evil Queen Ravenna, and Chris Hemsworth as Eric the Huntsman. The huntsman character is expanded in this remake, but we won't spoil much for sake of this version's fantastical world. No worries though, as it's still full of dwarves, an evil queen, a magic mirror, plus some epic battle scenes between magical creatures, and an awesome final showdown between the two royal ladies.
AI: Artificial Intelligence (2001)
If the 1940 animated classic Pinocchio didn't have you crying for the wooden puppet as a child, then this retelling is sure to get you. Director Steven Spielberg pulls out all the stops for his version, which focuses on David (Haley Joel Osment), a humanoid robot who, well, just wants to be a real boy so that his human "mother" Monica (Frances O'Connor) would love him back. David navigates the treacherous world of 22nd-century United States—the effects of global warming are ravaging the Earth—with Gigolo Joe (Jude Law), also a humanoid robot, in search of the Blue Fairy, whom he hopes will grant his wish.
The Red Shoes (1948)
Before Natalie Portman made everyone shiver in the Black Swan (2010), ballet dancer and actress Moira Shearer gave us a classic performance as the tragic Victoria Page in this unforgettable remake. Based on Hans Christian Andersen's tale The Red Shoes, it follows Victoria as she goes from being an unknown dancer to playing the lead role in a new ballet—aptly titled The Red Shoes. Victoria is torn between her life on and off the stage, between the affections of the opera company's head and the composer, and is slowly consumed by the fictional role that she takes on.
Sleeping Beauty (2011)
A somewhat melancholic look at human desire and relationships, this film takes on a more literal meaning for the term "sleeping beauty." Emily Browning plays Lucy, a university student who takes on a job sleeping with men for money—but not in the way we usually take it to mean. She works for an agency that caters to rich men who happen to have a penchant for lying next to nude, sleeping girls. The debut work of director Julia Leigh, the film competed for the Palme D'or during the 2011 Cannes Film Festival.
Hansel & Gretel: Witch Hunters (2013)
Ever wonder what happened to Hansel and Gretel after they pushed the witch into the oven? Well, at least in this film, they grow up to be bad-ass witch hunters. This dark fantasy-action-horror-comedy film covers pretty much all the bases for a fun watch. Join adult Hansel (Jeremy Renner)—who is now diabetic thanks to the gingerbread house they feasted on as kids—and Gretel (Gemma Arterton) as they traverse their medieval world in search of some evil butts to kick.
Tale of Tales (2015)
If you spent hours as a kid looking at the beautiful illustrations that usually accompanied fairy tales, this one's for you. Tale of Tales is a European fantasy film based on the works of 16th-century writer Giambattista Basile, and moves between several different, but always beautiful, stories. Each one takes on the fantastical elements of fairy tales, but resonates with very modern themes: lust and rape, greed and obsession, and more.
Pan's Labyrinth (2005)
One of director Guillermo Del Toro's first films to gain global attention, Pan's Labyrinth is a great example of blending reality and fiction. Ofelia (Ivana Baquero) is a young girl growing up in the middle of fascist Spain. Her adventures in a fantastical world offer an escape from the troubles of her real life: a sickly, pregnant mother and a terrifying military stepfather. We never quite know just what is real in the movie's world, but that's just one of the main reasons it should be on your watch list.
The Brothers Grimm (2005)
We all know The Brothers Grimm—German academics responsible for collecting and popularizing in the 18th-century most of the tales we know today—but this movie reimagines how they came to write their stories. Will (Matt Damon) and Jake (Heath Ledger) Grimm are medieval versions of con-artists who track down and hunt "mythical creatures" threatening villages for money, of course. Their ploy goes well until they encounter a real fairy tale: an evil queen (Monica Bellucci) kidnapping women for their youth and beauty. Lena Headey also joins the cast as Angelika, a headstrong huntress.
The Lure (2015)
Forget everything you know about mermaids: this one's really not for kids. The Lure is a Polish horror musical film about two mermaids and their, um, misadventures on land. Golden (Michalina Olszaska) and Silver (Marta Mazurek) are mermaid sisters who first become strip club dancers, then the leads to a rock band. Critics have called the film "genuinely weird," and with murder, sex, rock and roll, and mermaids involved, we can see why.
Share this story with your friends!
---
Help us make Spot.ph better!
Take the short survey
Load More Stories