(SPOT.ph) When Makoto Shinkai's Your Name hit theaters back in 2016, it became so popular that social media was filled with photos of couples furiously scribbling on their palms with markers. Your Name proved to a worldwide audience that a whimsical animation is an effective medium to present a more mature narrative. A few years later, we finally have the follow-up film, Weathering With You, depicting an all too familiar season in our country. Will this movie make us feel right as rain?
Weathering With You follows Hodaka Morishima (Kotaro Daigo), a runaway high school student who escapes to start a new life in Tokyo. Dangerously low on funds, the teen seeks food and shelter by working for an occult magazine run by Keisuke Suga (Shun Oguri) and Natsumi (Tsubasa Honda). During one of Hodaka's paranormal investigations, he comes across Hina Amano (Nana Mori), a girl with the ability to change the weather and clear stormy skies using the power of prayer. With Tokyo experiencing heavy rainfall, Hodaka convinces Hina to help others enjoy a sunny day by using her powers. Unbeknownst to both of them, this magical gift of being a hare-onna (fair weather maiden) comes at a serious price.
ADVERTISEMENT - CONTINUE READING BELOW
The first thing that comes to mind when discussing Shinkai's signature style is the mind-blowing, visually arresting artwork. Weathering With You does not disappoint in this department. The film presents shot after shot of beautiful urban and natural landscapes, with every little detail of the environment painstakingly drawn out, giving a truly immersive experience. And just like in Your Name, you are treated to a stunning shot of a jewel-toned sky—you might get so distracted that you'll miss the dialogue. But for majority of the film, the stormy weather and its smoky hue take center stage. We are taken through the entire range of the rainy season from a slight drizzle to an all-out hurricane, reflecting the increasing intensity of circumstances as the plot progresses.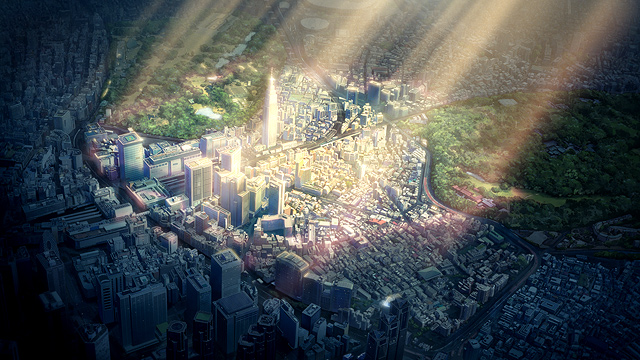 ADVERTISEMENT - CONTINUE READING BELOW
Recommended Videos
Only someone like Shinkai can make a rainstorm look like an art performance. The Tokyo scenes feature floods of clear sparkling water and leaves floating across the cityscape.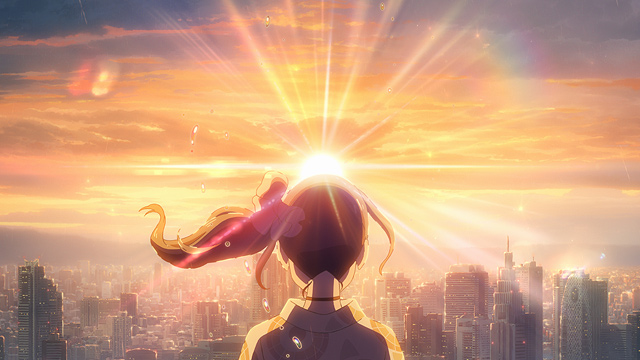 Weathering With You contains elements reminiscent of Your Name, which can be an instant draw for Shinkai fans. Star-crossed lovers? Check. Impending apocalyptic doom? Check. LSS-inducing song by Japanese rock band Radwimps? Check. The creator also has a way of fusing Shintoist beliefs and modern sensibilities, which make for a timeless tale. The anime has dreamlike sequences that romanticizes the less-than-favorable seasonal conditions. There are also some surprising revelations that startle the viewer out of this reverie when reality comes crashing down.
ADVERTISEMENT - CONTINUE READING BELOW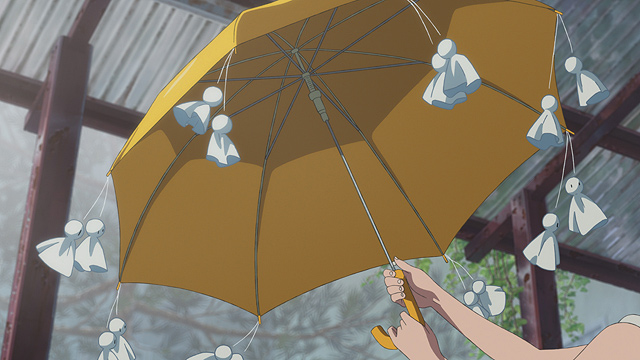 The main characters possess personalities, which similarly reflects the contrasting weathers struggling for dominance in the skies throughout the film. Hodaka is persistent in achieving his goals, constantly beating down obstacles like a torrential downpour. However, he can be brash in his single-mindedness to help others and achieve a goal, causing a lot of trouble for those around him. Hina is the more cheerful and optimistic of the two leads, spreading sunshine, both literally and figuratively, wherever she goes. However, Hina's selflessness can prove detrimental to her well-being as she constantly makes choices at the risk of her own comfort and safety.
ADVERTISEMENT - CONTINUE READING BELOW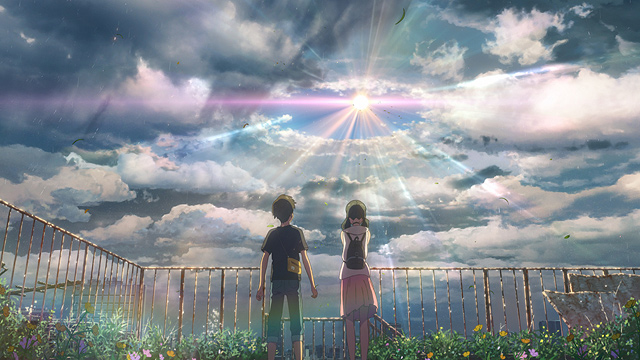 The supporting cast may be small but they are very memorable. Keisuke and Natsumi are cool and quirky adults that, unlike in most teen tales, are actually useful in assisting the main pair. The side character that served the most laughs was Nagi Amano (Sakura Kiryu), Hina's younger brother. This pint-sized playboy becomes Hodaka's mentor and offers wise-beyond-his-years relationship advice—mind you, Nagi is still a kid. This makes the latter reverently calling him "senpai" every chance he gets. What makes Nagi amusing is the world-weary way in which he carries himself as if the boy has seen it all. He's probably more mature than the actual adults in the film.
ADVERTISEMENT - CONTINUE READING BELOW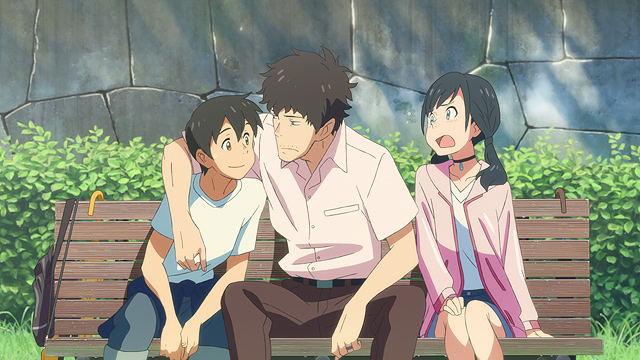 The film mostly follows Hodaka's storyline with Hina being shown through his hormonal, lovestruck perspective. Because everything we know about Hina is based on what Hodaka sees, she becomes this enigmatic character whom want to get to know. As she chants "Ame, ame, ame" (the Japanese word for rain) amidst the pitter-patter of the weather, we can't help cheering her on alongside Hodaka. Hina is an endearing character so we totally get why the guy is high-key—obvious lack of subtlety—into her.
ADVERTISEMENT - CONTINUE READING BELOW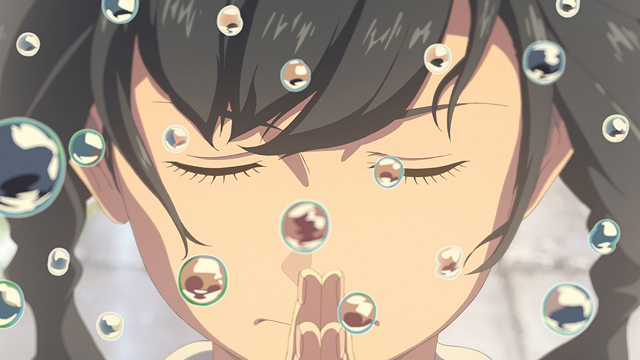 However, this fondness for Hina pushes Hodaka to do some crazy things in the film. The love story in this context comes at a price with collateral damage in its wake—the greater the risk, the greater the reward, and the greater the consequences.
Hodaka is one of the most polarizing protagonists in a Makoto Shinkai film to date. He dives into a situation without thinking ahead and makes selfish decisions for the benefit of his immediate social circle. We may not agree with his decisions but we understand them. After all, he's a 16-year-old boy in survival mode whose entire focus is taking care of his loved ones. The disdain toward some of his actions may stem from recognizing our own chaotic tendencies or from people we know. By immediately calling out Hodaka's flaws, we may resemble that which we resent or have been the unfortunate recipient of such behavior. On the other hand, Hina is a lot more mature and thinks beyond herself so age might not be the factor here. But both teens are realistically reactive in their own way.
ADVERTISEMENT - CONTINUE READING BELOW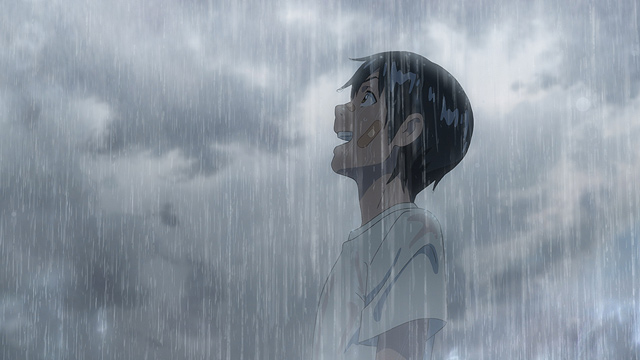 Hodaka and Hina's romance is innocent and impulsive—it makes us nostalgic for the kind of infatuation reminiscent of our puberty-driven past. The all-consuming passionate pursuit to be with the one you love while throwing all rationality out the window. It's a journey through the trials and tribulations of teen romance raised to paranormal heights. Everything else may be amplified, but the feelings will be very familiar.
ADVERTISEMENT - CONTINUE READING BELOW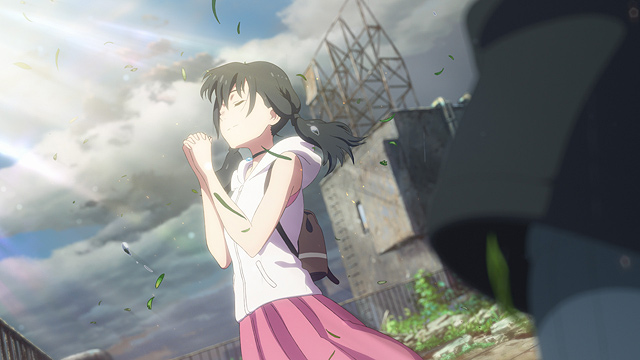 The movie's conclusion leaves you with a lot of questions that may never be answered. The premise could have been an excellent opportunity to delve into the real-world problems of climate change so it's too bad that they barely skimmed the surface.
ADVERTISEMENT - CONTINUE READING BELOW
So, what is our weather forecast for this film? Expect a wave of emotions, a flood of colorful artwork, and a slight chance of resentment toward the main guy's questionable decisions in life. Remember to keep an eye out for certain cameo appearances in the film that hint at a greater Makoto Shinkai Cinematic Universe. 
Rating: 4 out of 5 Spots
Weathering With You is coming out in theaters on August 28. Photos courtesy of Pioneer Films.
Share this story with your friends!
---
Help us make Spot.ph better!
Take the short survey
Load More Stories