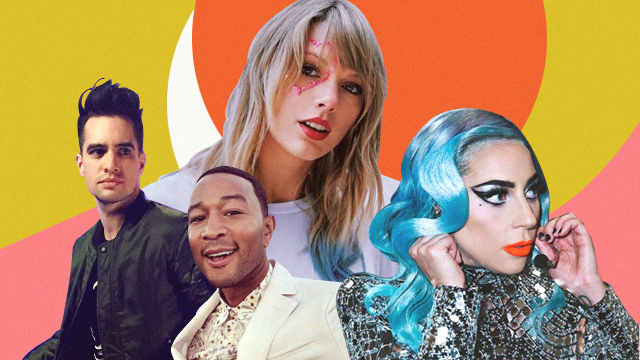 (SPOT.ph) Strawberries and cream, white tees and denim jeans, soup on a cold day—there are just some things you know will work out, and it's good to have some pairings you can always depend on. Sure, they may be reliable, but playing it safe leaves little to no room for innovation and could close doors on potentially great combos.
In the world of music, collaborations are nothing new, but some are completely out of nowhere that it leaves you wondering what even brought it about, only to be surprised by how well two different artists or genres could mesh together. If you're looking to spice up your playlist, we've listed collaborations that no one thought would happen, but still made for great sound.
Here are 10 collaborations you didn't expect would happen but did anyway:
"Boy With Luv" by BTS with Halsey
South Korean boy group BTS is known for their killer choreography and catchy tunes, but they've also recently had their fair share of collaborating with Western artists like Steve Aoki, The Chainsmokers, and even Fall Out Boy. Their latest collaboration with pop singer Halsey is their most successful yet, with her vocals on the energizing track a nice added touch. Halsey sings in Korean in this one, and had to learn the dance moves along with the boys! We bet you've heard this one on the radio and while you might not be able to sing along to the Korean lyrics on the first try, it's easy on the ears and it's impossible to not bob your head to the beat.
ADVERTISEMENT - CONTINUE READING BELOW
"ME!" by Taylor Swift and Brendon Urie
This collaboration would have been unimaginable 10 years ago due to Swift's strict adherence to country and Panic! At the Disco's distinct edgy sound. Fast forward to 2019 and it might shock you, but the two coming together for a track works surprisingly well. "ME!" is a self-love anthem that leaves a lot of room for experimentation—the result is an explosion of colors, fun personalities, and wild costumes. As if that wasn't a feast enough, the music video features elaborate dance numbers, pretty pastel outfits, and extravagant sets for your eyes to feast on.
"Old Town Road" by Lil Nas X featuring Billy Ray Cyrus
Lil Nas X was just messing around when he uploaded memes with his song for it to go viral. Soon enough, TikTok users picked up on it and started making their own videos, which prompted the song's rise on the charts. When the country rap song hit 19 on the Billboard Country charts, it was promptly taken down because it didn't quite fit the genre of country. Country singer Billy Ray Cyrus thought otherwise and tapped the newbie Lil Nas X for a collab and the rest is history. Both the original and the remix have skyrocketed to the top spot of the Billboard charts and stayed there for a record-breaking 19 consecutive weeks! You wouldn't usually associate country with rap but this track makes you question why you even thought that in the first place.
"Shallow" by Lady Gaga and Bradley Cooper
Lady Gaga's no stranger to the music industry, but actor Bradley Cooper hasn't exactly established his singing cred prior to their movie A Star Is Born. The gut-wrenching lyrics of this ballad, which was performed several times in the film, fit their characters Ally and Jackson perfectly. Their performance of the song not only won Gaga an Oscar for Best Original Song, it also won Cooper four Grammy awards including Song of the Year and Record of the Year.
"Higher" by John Legend, DJ Khaled, and Nipsey Hussle
DJ Khaled announces his name right before the first verse the rolls in—his trademark to every song, and this is no different from his previous hype tracks. What sets it apart is the addition of John Legend's cool and buttery vocals, which contrasts with rapper Nipsey Hussle's verses. Legend's discography may be romantic and serious for the usually energetic DJ Khaled, but it all comes together to form one cohesive track. "Higher" is dedicated to Hussle, who passed away in March of this year.
"Señorita" by Camila Cabello and Shawn Mendes
Working with your ex is a total no-no for some, but for Camila Cabello and Shawn Mendes, doing so resulted to a steamy collaboration. After their split, coming together for a track didn't seem too likely, but the couple proves they've still got it. Aside from the groovy guitar and sultry sound, the song also features Cabello's signature Spanish flare reminiscent of "Havana." This is their second collaboration after "I Know What You Did Last Summer."
ADVERTISEMENT - CONTINUE READING BELOW
"Do You Remember" by Chance the Rapper featuring Ben Gibbard of Death Cab for Cutie
Death Cab for Cutie's songs are far from being rap heavy, but the band's vocalist Ben Gibbard lending a catchy hook to Chance the Rapper's nostalgic track is a refreshing break from the rap verses and adds a whimsical and youthful feel to the entire song. Seeing the two artist names side by side doesn't seem to add up but a listen to the song may just remind you of the warm summers of your happy youth.
"Englishman/Jamaican in New York" by Sting and Shaggy
Sting's familiar raspy voice and precise manipulation of the guitar gives his songs distinct character. You probably wouldn't expect the song to receive a reggae treatment, but Jamaican artist Shaggy gives his own spin on the classic without being out of place. The rapport between the two artists makes room for both styles without overpowering each other and yields a fun jam session that has everyone clapping along. There's enough room for both an Englishman and a Jamaican in New York after all.
"Dancing With A Stranger" by Sam Smith and Normani
Sam Smith has been known for having his heart out and raw for his listeners to relate to and if you've cried to any of his songs, we get it completely. "Dancing With A Stranger" brings the pain and feels, but with the addition of former Fifth Harmony member Normani's full-bodied voice. The song's feel and treatment is different from that of Fifth Harmony's usual empowering bops, but the result of this collaboration is a sultry track that laments the ache of not being completely over someone while seeing other people.
"Beautiful People" by Ed Sheeran and Khalid
The acoustic-pop tracks from British singer-songwriter Ed Sheeran are guaranteed LSS hits, while Khalid's laid-back R&B tunes may have been your go-to for moments when you just want to chill. Both are popular in their own right and together, they've made a track that will guarantee replays until you're tired of the song. They're no strangers to the fame and fortune celebrity life provides, and the song is an invitation to just get away from it all.
Share this story with your friends!
---
Help us make Spot.ph better!
Take the short survey
More Videos You Can Watch
Load More Stories